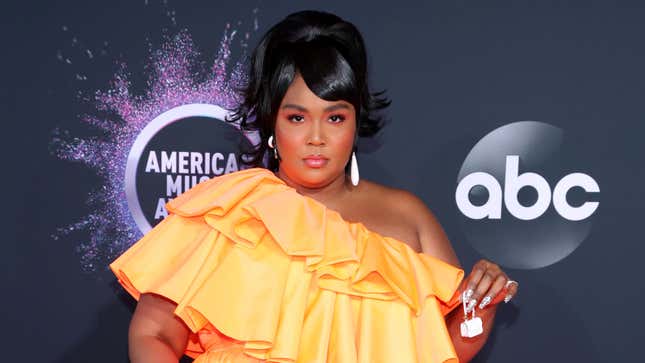 Honestly, we don't understand a world in which Lizzo—who indisputably had one of the biggest years imaginable in 2019—wasn't awarded anything whatsoever at this year's American Music Awards (or at least nominated for Artist of the Year). We admittedly had different expectations, especially after seeing the star featured in the AMAs advertising and delivering yet another rousing awards show performance (both of which are generally strong predictors that an artist won't be going home emptyhanded).
Cedric the Entertainer Shares Details Of His First Crime Novel & Tackles Our Random Rapid Fire Questions
But you know what? It's all good (maybe even "good as hell"), since we're also talking about a ceremony that crowned Taylor Swift "Artist of the Decade" (begging the question: whose decade?) and ain't really been great since the '80s (OK, the '90s). Therefore, this year we're giving the awards about as much weight as Lizzo could carry in the absurdly minuscule Valentino purse she wore on the red carpet with her tiered custom creamsicle-colored dress. Her very deliberate play on proportions reminded us that Lizzo is not only 100% that bitch but a larger-than-life talent.
Plus, for whatever logic its nominating committee and voters may have lacked, the 2019 AMAs still couldn't escape a #BlackGirlMagical takeover. The ringleader? Host Ciara, in one of her many, many looks of the night, this time wearing a custom ensemble by Bryan Hearns to open the show with her single "Melanin"—featuring friend La La Anthony in a nude-colored PVC bodysuit and corset by LaRoxx—filling the stage with black beauties of all shapes, sizes, hairstyles and hues.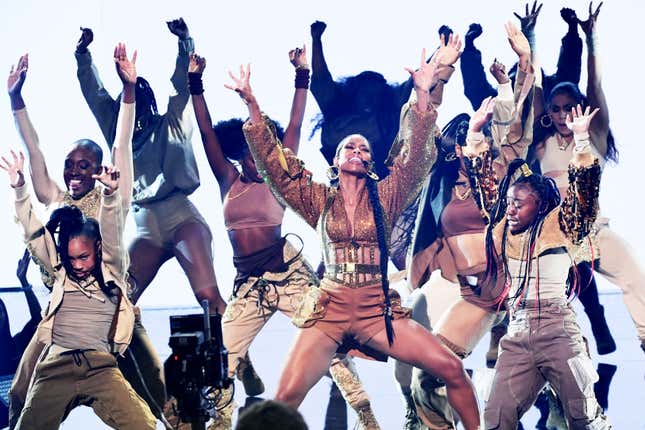 And again, there was Lizzo, this time wearing a tiered raspberry tulle creation by D. Auxilly (the fashion house of black female couture designer Dominique Galbraith). Lizzo and stylist Jason Rembert let the dress speak for itself for "Jerome," the turnt-up torch song the singer-rapper performed barefoot on a rotating turntable.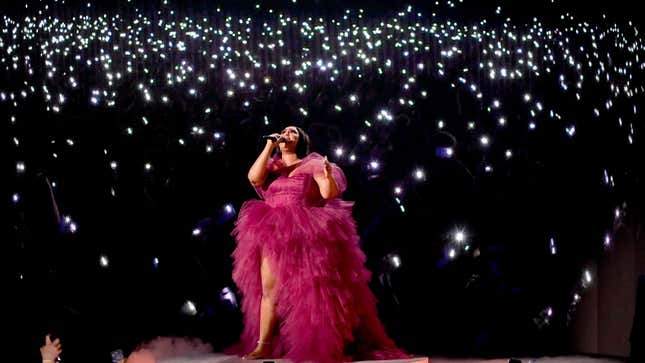 Those visuals were stunning, but if we're talking true diva moments, the award goes to Toni Braxton, who brought both nostalgia and "you new kids have no idea" realness to the performance of her epic hit, "Un-Break My Heart." Celebrating the 25th anniversary of her Best New Artist win (you know, back in the '90s, when the AMAs were not to be missed), Braxton wore a white lace gown with a draped chiffon shrug by Yousef Al Jasmi—and accessorized it with dancing violinists, a winter wonderland-themed video scape, and deeply dramatic pauses.
Plus, she still looks like this at 52.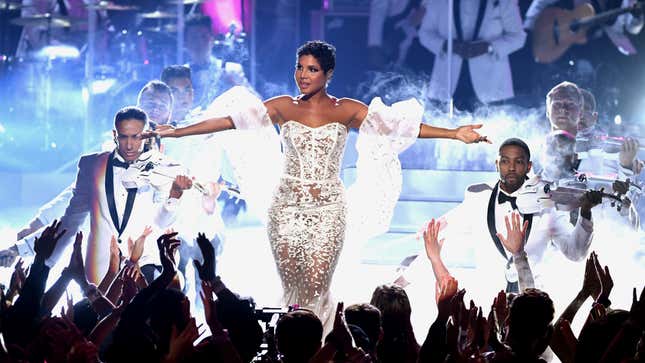 But underneath all the glamour, even an R&B icon is just like us; after her stirring serenade, which had the AMAs crowd on its feet throughout (shoutout to Billy Porter for holding down the background vocals from the audience), Braxton needed to get off of her feet, striking a dramatic post-performance pose in her trailer.
Speaking of Porter, he rightly told the audience to "look at me! I'm an entire mood!" during his moment on stage. This time, the perennial red-carpet favorite gave us teases of his upcoming role as fairy godparent in Disney's Cinderella reboot as he introduced the film's star, Camila Cabello, while wearing a white caped coat and skirt ensemble by Thom Browne with a headpiece by royal milliner Stephen Jones.
Also having fun with fashion? AMA winner Lil Nas X, who went with all-black designed looks on Sunday night, wearing a vivid, tiger print-accented chartreuse suit-and-gloves combo by 2019 CFDA/Vogue Fashion Fund winner Christopher John Rogers, worn with matching cowboy-inspired boots by United Nude x Shaun Ross. Another personality bringing color to the carpet was bounce pioneer Big Freedia, wearing multicolored Libertine prints and coordinating Nikes.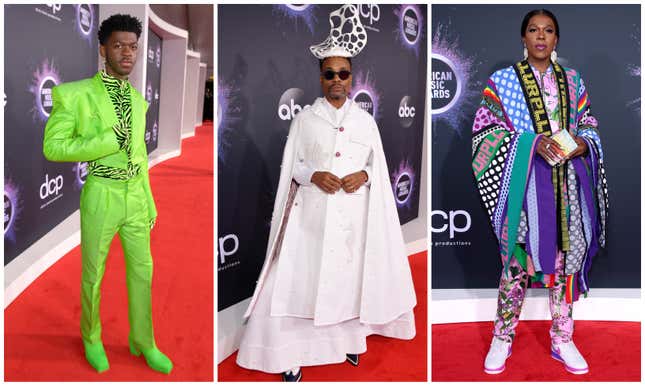 But the most vivid of the night may have been pop sensation Halsey. The AMA winner literally brought the color to the evening's proceedings in both her floral red carpet look by Marc Jacobs and during her performance—or should we say, performance art—as she and her dance partner played blank canvases for each other on stage.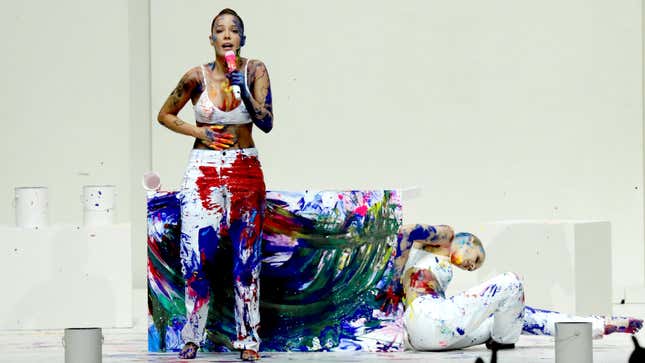 But again, since we don't understand a world or 2019 awards show in which Taylor Swift is awarded "Artist of the Decade" when Beyoncé has outpaced her in the past five years alone (and that's not shade or pitting woman against woman; that's just facts—Google is your friend, folks), we're giving the win of the night to Lizzo's little bitty purse. Also winners? The gorgeous black talent (we see you slaying that Ashi Studio, Regina King!) who turned out for the 45th annual AMAs. See them all in our slideshow below!