LeBron James isn't an Alpha, a Kappa, an Omega or a Sigma. But his tale of rising and falling and rising yet again reads like a classic Greek drama that fraternity brothers might study in college.
The plot twists have been numerous and surprising. In a work of fiction, they would strain our ability to suspend disbelief. In real life, his story stretches the limits of credulity. It's as unbelievable as Cleveland winning the city's first championship since 1964.
That was 20 years before "the Chosen One" was born in Akron, Ohio, about 40 minutes away. No one knew that he was predestined to lead the Cavaliers to their first NBA championship, but we're all witnesses after Sunday's thrilling Game 7 victory against the Golden State Warriors.
James had to cement his legacy over three consecutive games to pull the Cavaliers from a 3-1 deficit. He quick-dried it, too, polishing off the defending champs with a triple-double in the clincher (27 points, 11 rebounds and 11 assists) to complement a pair of 41-point efforts in the prior win-or-go-home games.
In the process, Cleveland became the first team to rally from 3-1 in the NBA Finals. James led both teams in points, rebounds, assists, steals and blocks, another unprecedented feat. He won his third finals MVP trophy and caused everyone to slow down on thinking that Golden State's Steph Curry has replaced him as the league's best player.
G/O Media may get a commission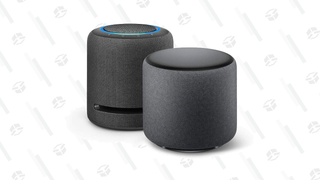 25% off - Prime Exclusive
Echo Studio + Echo Sub Bundle
If King James indeed had lost the crown during the regular season, he wrested it back with an overwhelming performance against the baby-faced sharpshooter, who fired blanks when the Warriors could ill afford them. James asserted his dominance over Curry, over Golden State and over the entire league in emphatic fashion. He swatted shots, knocked down jumpers, bulled to the basket, snatched rebounds, passed to open teammates and served as a general menace on both ends of the court.
"He's such a force physically, so powerful," Warriors coach Steve Kerr said after Game 7. "I thought he brought more force to the last three games than he did in the first four. But he's one of the greatest players of all time and obviously was the key to the turnaround and had a great series."
So here's James, back on top, this time bringing his forlorn city with him.
This was the original vision when Cleveland made him the No. 1 pick in 2003. It took him just four seasons to lead the Cavaliers to their first-ever NBA Finals, which ended in a sweep by San Antonio. They never made it back over the next three seasons, and he bolted for Miami in 2010, making the infamous "Decision" that prompted fans to burn his jerseys and team owner Dan Gilbert to write a scathingly juvenile letter that he tried to forget about on Sunday.
James' reputation was damaged beyond repair in the eyes of some observers, who said he lacked the mettle to win at home and the will to be a centerpiece. Becoming part of a "big three" with Dwyane Wade and Chris Bosh was equal parts success and failure, a pair of titles bookmarked by defeats in the NBA Finals.
That's when he shocked the world—not to mention Northeast Ohio—by leaving balmy South Florida in 2014 to return to the Rust Belt with the explicit purpose of orchestrating a championship parade. The burned bridges were restored and the scorched earth was revivified, and Cleveland reached the finals his first season back, promptly losing to the Warriors.
The Cavs were on the verge of a repeat outcome last week, which would have made James 2-5 in the finals and given critics more ammunition to assail his place in NBA history. Having to win three consecutive games against the NBA's all-time winningest team—with two of the contests on the road—seemed like an impossible task.
But "impossible" might as well be James' middle name.
"I'm true to the game, and I know what I bring to the table," he said after Game 7. "I came back for a reason. I came back to bring a championship to our city. I knew what I was capable of doing. I knew what I learned in the last couple years that I was gone, and I knew if I had to—when I came back, I knew I had the right ingredients and the right blueprint to help this franchise get back to a place that we've never been. That's what it was all about."
There was no way he could live up to the hype coming out of high school. No way he could repair the breach he created in departing. No way he could stop the mighty Warriors from repeating. No way he could increase the profound appreciation from fans and decrease the irrational animosity from haters.
We wouldn't believe this story unless we saw it.
It's hard to comprehend even after living through it.