Saying, "I am absolutely devastated by the developments" in the child sexual-abuse scandal rocking Penn State, Coach Joe Paterno announced today that he will retire at the end of the football season.
Before that news officially broke, former Penn State All-American linebacker LaVar Arrington, who said earlier this week that he was reduced to tears upon about the sexual-abuse allegations against former Assistant Coach Jerry Sandusky, sat down for an interview on the Versus show SportsTalk. In it he gives his somber views on Paterno, the scandal as a whole and the institution that launched his career.
On the big picture: "It's about making sure that the awareness that these types of crimes happen all the time is put out there … protecting these kids should be our main focus, and it should be the main focus every day."
On whether he was surprised that Paterno may have known about Sandusky's alleged conduct: "It's hard to put it all together. It's hard to make sense of all of it … I don't know that I ever will be able to make sense about it."
On whether the scandal changed his views on Penn State: "It's a great institution. I look at this as a singular situation … I don't think this is an institutional, Penn State thing."
G/O Media may get a commission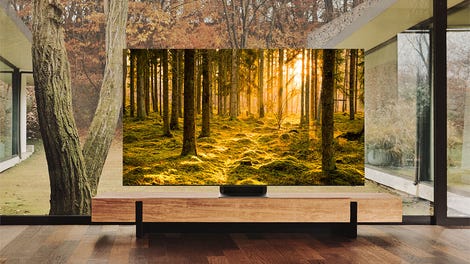 Up to 40% off
Samsung Smart TVs
On Paterno's (at that time, possible) resignation: It seems as though the damage that's been done is done … As big a deal, as tragic as this is, there's no going back from this."
Breaking sports news video. MLB, NFL, NBA, NHL highlights and more.
Breaking sports news video. MLB, NFL, NBA, NHL highlights and more.
Read more at the Washington Post and NBC Sports.
In other news: Heavy D and Ruby Dee: Twitter Death Confusion.