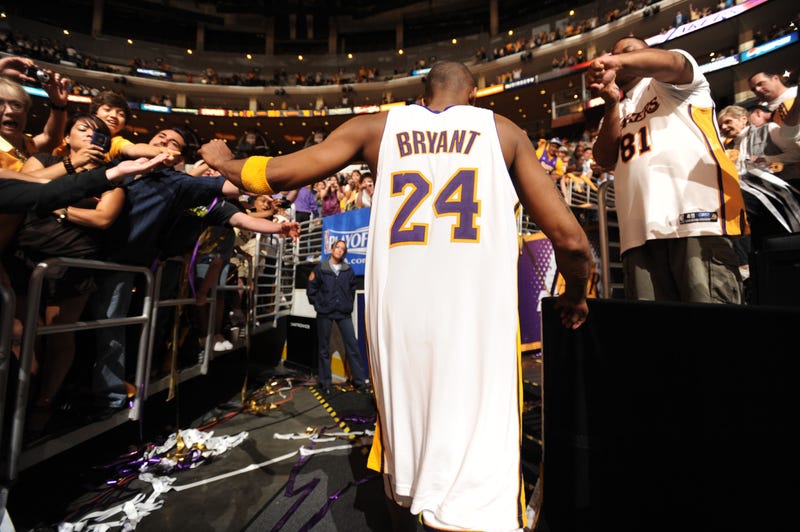 Nike, Glaceau and everyone else betting on NBA finals between the Los Angeles Lakers and the Cleveland Cavaliers—a series between Kobe Bryant and LeBron James—are likely to be disappointed by the Conference finals. James and his Cavaliers are on target to make the finals, but Bryant and his Lakers, who flirted with disaster in the Conference semifinals against Houston, are about to end their season earlier than most people expected.
Oh sure, the Lakers looked impressive on Sunday afternoon, dispatching a gutsy Houston Rockets team, 89-70 in Game 7 of their series; at times during the playoffs, they actually look like a team that won 64 regular-season games but not often. The Rockets were without center Yao Ming and his backup, Dikembe Mutombo, for the final four games of the series, leaving them with only one player in their rotation taller than 6'8", yet Los Angeles only managed a split. The Lakers barely escaped a series that should have been a romp.
This isn't the latest episode of Kobe-bashing either. Bryant struggled at times against Shane Battier, the Rockets' swingman who gives Kobe more trouble than any other defender. Yet Bryant scored 27.4 per game on just under 45.3 percent shooting; Kobe-philes should recognize those numbers; they are just a smidge off his regular-season averages. The problem isn't Kobe; it's his teammates. During the series, center Pau Gasol often so completely vanishes in plain sight that he's probably the envy of some comic book superheroes. Admittedly, he made the difference on Sunday, but the Lakers won't win anything with Gasol being a part-time player. Also, point guard Derek Fisher illustrated the fine line between being a savvy veteran and looking old and slow. Lastly, the final result notwithstanding, Phil Jackson got badly outcoached by his counterpart, Houston's Rick Adelman.
Now, consider the Lakers' next opponent, the Denver Nuggets. Forget the conventional wisdom about the Nuggets being a one-dimensional team. They play defense; the Nuggets have allowed 101.3 points per 100 possessions, third-best in the postseason. And then there's that offense. The Nuggets have been a juggernaut with the ball, scoring 118.5 points per 100 possessions, nearly seven points better than the next best team, Cleveland. For a point of reference, seven points per 100 possessions is what separates second-best Cleveland from sixth-best Orlando. (There's more than coincidence to that citation, but we'll come back to that.) Denver has flown under the radar due to injuries to one key player or another, but they have been healthy since the start of the playoffs, and the results are impressive, eight wins, two losses (each by only two points). The Lakers have gone 8-4 against lesser opposition. All available signs point to four more Lakers' losses in the next six games against Denver.
Amid the great dramatic series of the first two rounds, it's easy to overlook the Cavaliers' accomplishments. The announcers are often reminding us that Cleveland has won its first eight playoff games by double digits, but that undersells the Cavs' accomplishment. Cleveland has an average victory margin of 17.25 points in the postseason so far. Yes, their two victims, the Detroit Pistons and the Atlanta Hawks, were two of the lesser lights of the playoff field, but it would be remarkable if a team went on a regular season, eight-game winning streak beating patsies by more than 17 points a game. A streak like this in the playoffs is astounding. In other words, there's a lot more to the Cavaliers than their famous pitchman of a small forward, and they should beat the Orlando Magic rather handily.
Orlando's offensive game plan—shoot a lot of three-pointers and rebound well, plays right into Cleveland's defensive strengths. The Cavaliers are allowing only 31 percent of three-pointers to fall, and the Cavaliers are out-rebounding their opponents by an average of 10 per contest. Orlando's other strength, suffocating defense, will be put to a severe test against a well-rested and well-prepared Cavalier team. The Cavaliers are the second-most efficient offensive team in the playoffs. It's unlikely that LeBron's teammates will be celebrities outside of northern Ohio, but this is a potent team that does many things very well. Orlando won two of the three regular season games between the two teams, but both Magic wins were in Orlando. The Magic may be in an 0-2 hole before they enjoy home cooking in this matchup. Orlando might extend this series to six games, but it's more likely that Cleveland wins in five.
I wonder if all the advertisers counting on Kobe-LeBron can digitally replace Bryant with Carmelo Anthony. I suspect we're about to find out.
Martin Johnson is a regular contributor to The Root.
Martin Johnson writes about music for the Wall Street Journal, basketball for Slate and beer for Eater, and he blogs at both the Joy of Cheese and Rotations. Follow him on Twitter.