A 16-year-old girl at an Elizabethtown, Ky., juvenile-detention facility was restrained with a martial arts move for refusing to remove her sweatshirt during booking. The otherwise healthy teen was found dead in her cell the next morning.
According to WDRB, Gynnya McMillen was booked at about 2 a.m. on Jan. 10 for a domestic-violence-related offense at her home. After tangling with several guards over the removal of her sweatshirt, an "Aikido restraint" was used on the teen.
"The staff performed an Aikido restraint hold to safely conduct a pat-down search and remove the youth's hoodie," wrote a spokesperson from Lincoln Village Juvenile Detention Center in an email. "The purpose of having multiple staff involved in a controlled restraint is to ensure the safety of the youth and staff."
WDRB reports that video surveillance shows Gynnya's last movements came shortly before midnight on Jan. 10, about 10 hours before she was found unresponsive.
Officials from the prison initially indicated that they believe McMillen died in her sleep Jan. 11, but after a social media campaign into the cause of her death by friends and family, they later acknowledged that a restraint had been used on her the day before. 
G/O Media may get a commission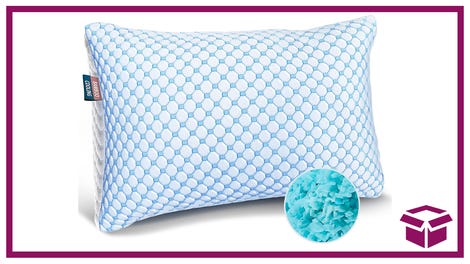 23% off
Nestl Cooling Pillow - Queen Size
A preliminary autopsy gave no cause of death and said that there were no signs of trauma or drug overdose.
Hardin County coroner Dr. William Lee told WDRB, "It's puzzling. You don't see many healthy 16-year-olds die without a good cause."
According to reports, three employees of the facility interacted with Gynnya three times starting at about 6:30 a.m.—offering her breakfast, a phone call and a snack—but when she didn't respond, they left without checking to see if she was breathing.
At about 9:55 a.m., a deputy arrived to take Gynnya to her court appearance. Employees were unable to wake the teen, and medical staff was notified.
CBS News reports that on Thursday, Reginald Windham, a Lincoln Village Juvenile Detention Center employee, was placed on paid administrative leave for failing to check on Gynnya every 15 minutes, a requirement for those in isolation at the detention center.
The station also reports that Gynnya's death is currently under investigation by the Kentucky State Troopers and the Justice Cabinet's Internal Investigation's Branch.