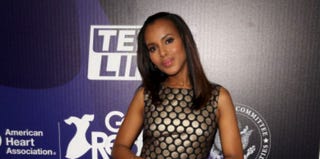 Beloved Scandal actress Kerry Washington is pregnant with her first child, according to an exclusive issue of Us Weekly.
"She's about four months along," Washington's friend told Us, but she has apparently been concealing her baby bump with roomy dresses. 
The Emmy-nominated actress, who is notoriously discreet about her private life, married San Francisco 49ers cornerback Nnamdi Asomugha in June at a "top secret" wedding, according to Us Weekly. Washington has said previously in interviews that being open about her private life "just doesn't work." 
The star will make an appearance on this week's Saturday Night Live, for which she has been shooting promos (see video below).
All the best to you, Kerry!
Read more at Us Weekly.