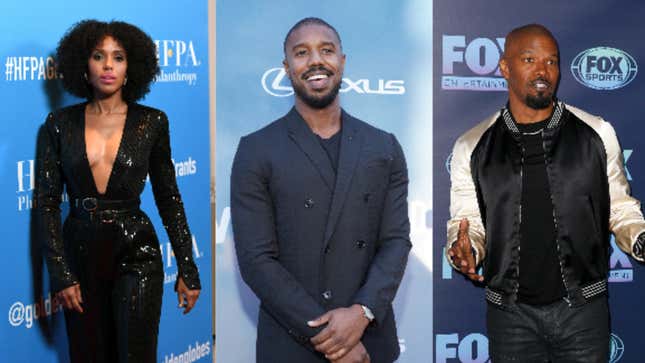 The "we" in "We The North" may consist of three particular people this September—well, at least at the 44th Annual Toronto Film Festival (TIFF), that is.
Small Town Horror Story: The Mississippi Burning of Three Anti-Segregationists
According to the Hollywood Reporter, Michael B. Jordan, Jamie Foxx, and Kerry Washington will be participating in keynote conversations for the 2019 fest.

THR breaks it down:

As TIFF unveiled a festival slate of 244 features from 84 countries, Toronto programmers announced their high profile In Conversation With... series of A-list actors discussing their careers and latest movies screening at the Canadian festival. Jordan and Foxx will do an informal discussion as Just Mercy, their civil rights film based on the best-selling memoir by defense attorney Bryan Stevenson, gets a world premiere in Toronto.

The drama, directed by Destin Daniel Cretton and also starring Brie Larson, has Jordan playing Stevenson as he goes to Alabama to defend the disenfranchised and wrongly condemned, including Walter McMillian (Foxx), a man sentenced to death despite evidence proving his innocence.

Civil rights will also figure when Washington discusses her latest movie, American Son — in which the Scandal star reprises the role she originated on Broadway in Kenny Leon's adaptation of Christopher Demos-Brown's play about an interracial couple whose 19-year-old son may have died at the hands of police — which will also get a first look in Toronto.
TIFF made headlines in 2018 when it launched its media diversity initiative, with a mission to grant 20 percent of its press credentials to "underrepresented journalists," highlighting the importance of their impact on reclaiming underrepresented narratives.

"As we've grown larger, I've wanted to maintain we retain some of that unique, individual personality of programmers. We were a younger, scrappier festival back then. But it doesn't mean that now we can't have those strong voices at the table," TIFF artistic director and co-head Cameron Bailey told THR.
Additionally, filmmaker Mati Diop will be honored with the inaugural Mary Pickford Award as well as debut her Netflix film, Atlantics. Diop won the Grand Prix Award at the 2019 Cannes Film Festival, becoming the first black woman to win an award at the 72-year-old event.

The 44th Annual Toronto International Film Festival will take place in Toronto, Ontario (Canada) from Sept. 5-15, 2019.