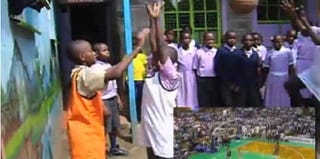 When Larry Bird of the Boston Celtics stole Detroit Piston Isiah Thomas' pass, setting up Dennis Johnson's layup, it made Game 5 of the legendary 1987 NBA Eastern Conference finals one to remember. In an effort to raise money to build a play space of their own, the children at Grace Care Centre, an orphanage in West Nairobi, Kenya, have re-created the famous moment in sports history.
Approximately 150 of the center's 200 orphans participated in the making of the endearing video, in which the roles assumed included those of Bird and Johnson, temperamental fans, security guards and even ticket scalpers. From Yahoo.com:
Currently, the children spend their playtime in a cramped courtyard at the orphanage, and have invented a game they play with rocks that combines hopscotch and rock kicking. There is no space for running around.

Playing sports gives kids confidence, which leads to the breaking down of social barriers OUTSIDE of sports.

This playing field is about more than just allowing 200 orphans to play soccer.

It is about more than getting these kids out of their tiny school, where they stand around kicking rocks all day.
The $56,000 they hope to raise will cover the costs of the field, leveling fees, legal fees, land transfer fees and taxes.
Read more about their fundraising efforts at Yahoo.com and how to donate here.