Keith Clinkscales, who had supervised ESPN's publications and a media incubator that produced such prize-winning movies and specials as "30 for 30," is leaving the network after six years, an ESPN spokesman confirmed Friday.
Crystal Howard, a spokeswoman for Clinkscales, said it was his decision, citing Clinkscales' entrepreneurial temperament. Clinkscales, 47, was president and CEO of Vibe magazine from 1993 to 1999 and launched Vanguarde Media, publishing Honey, Heart & Soul and Savoy magazines until the company folded in 2003. He was chairman and CEO.
Despite Clinkscales' departure, he and ESPN plan to work together in his new role as independent producer.
"In the coming weeks, ESPN will make a more formal announcement regarding our continued relationship with Keith and his new production company," ESPN spokesman Rob Tobias told Journal-isms by email. "Keith has a couple documentary film projects and some interesting web ideas. Not prepared to disclose yet. He has one in particular web idea that we [are] particularly interested in. We've worked with Keith for a long time and appreciated all the good work he did here."
ESPN plans to shut down the Content Development department that Clinkscales had headed since 2007. Another 20 to 25 jobs are to be "repurposed" to other growth areas of the company over the next 90 days.
G/O Media may get a commission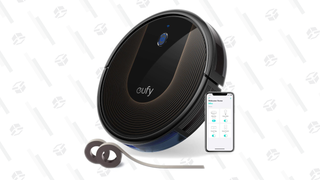 48% Off
Eufy BoostIQ RoboVac
Clinkscales is senior vice president/content, development and enterprise. Among the projects he supervised was the award-winning "30 for 30," a series of 30 documentaries celebrating the 30th anniversary of the Disney-owned sports network. He originally came to the network via its print publications and had supervised them, but in May, ESPN consolidated digital and print media operations under John Kosner, senior vice president of ESPN digital and print media. Clinkscales is among several high-ranking African Americans at ESPN.
According to Clinkscales' bio, "Clinkscales kicked-off 2011 by launching ESPN's year-long exploration of the most famed position in football, the [quarterback], with 'The Year of The [Quarterback]', and airing ESPN Films' highest rated documentary 'The Fab Five'. At the end of 2010, his successful 18-month execution of the critically acclaimed '30 for 30' documentary series came to a close. The series was home to the 2010 Cannes Film Festival official selection 'The Two Escobars' and the 2009 Toronto International Film Festival's Mavericks programme official selections 'Kings Ransom' and 'The Band That Wouldn't Die.'
"In 2008 Clinkscales established ESPN Films and oversaw the development of its Peabody Award-winning documentary 'Black Magic' and Spike Lee's 'Kobe Doin' Work'. He was also responsible for the launch of the award-winning TV magazine show 'E:60', 'Homecoming with Rick Reilly', TV show 'SportsNation' and '[Rise Up]'. Additionally, he continues to oversee the creative production of properties including the 'ESPYS', 'X Games', 'ESPN's New Year's Eve' live countdown show, 'Mayne Street' (Season I & II), and is responsible for content acquisitions, ESPN's Original Digital programs and the Tribeca/ESPN Sports Film Festival.
"Since joining ESPN in 2005, Clinkscales has led upwards of 10 businesses in the company's portfolio, including ESPN Enterprises where he oversaw ESPN Publishing — responsible for all operations of the award-winning ESPN The Magazine, domestically and internationally; ESPN Books; and all new publishing related business initiatives. Successes include the redesign of ESPN The Magazine (special issues include The Body Issue, collaboration with Marvel Comics and its Film Issue), its entry into paid content with ESPN Insider and the development of multiple iPad and Phone apps.
"Book publishing successes include ESPN Books' New York Times Bestsellers 'The Book of Basketball' by Bill Simmons and ['Mike and Mike's] Rules for Life and Sport' by [Mike Greenberg and Mike Golic]. Clinkscales also launched ESPN RISE, a multimedia brand dedicated to engaging the 14- to 18-year-old audience with compelling high school sports content across all of ESPN's platforms — publishing; digital media; programming; news and information; and events. Prior to joining ESPN, he served as a consultant on a variety of projects for ESPN ABC Sports' integrated multimedia sales organization."
"Kendra Marr, a reporter for D.C.-focused Politico, resigned Thursday due to a series of stories she wrote that plagiarized from other outlets," Lucas Shaw reported Thursday for theWrap.com.
"Marr's actions were brought to Politico's attention by [a] New York Times reporter who e-mailed an editor, prompting an internal investigation and resulting in both Marr's resignation and a note published online from editor-in-chief John Harris and executive editor Jim VandeHei Thursday evening.
" 'One of the inviolable principles of journalism, one we live by at Politico, is that the work we publish must be genuinely our own,' Harris and VandeHei wrote. 'Whenever we must rely on reporting or ideas that were first produced by others, our policy is to cite and/or link to these sources by name, and aim to be fully transparent with our audience.' "
Craig Silverman, editor of regrettheerror.com, faulted Politico's handling of the affair.
"Just as Politico scrupulously avoids using the word plagiarism in the . . . editor's note, it also doesn't use it in the clarifications added to the offending stories. On top of that, it placed the clarifications at the end of the stories — which means they don't show up unless you click through to the final page," Silverman wrote.
"Politico should place these clarifications at the top of the pieces and call it like it is: plagiarism."
On his Washington Post blog Thursday, Erik Wemple partly faulted the Politico culture.
Referring to Kim Kingsley, chief operating officer, Wemple said:
"The pressure, the workload, the whole culture — it probably wouldn't be as hard to bear if a young reporter felt she could find a sympathetic ear in the upper reaches of the organization. But there's some on-the-record testimony suggesting the opposite. A memorable New York Times Magazine story by Mark Leibovich from April 2010 carries this quote from Kingsley:
" 'In my experience, the people who whine about working at Politico shouldn't be at Politico. . . . They likely lack the metabolism and professional drive it takes to thrive here. For those of us who love a fast pace and a tough challenge, this place is a calling, not a job.' "
"In yet another legal milestone in a case that has haunted Philadelphia for three decades, the U.S. Supreme Court this morning refused to consider a petition by the Philadelphia District Attorney's Office challenging a federal court ruling granting convicted cop killer Mumia Abu-Jamal a new death penalty hearing," Joseph A. Slobodzian reported Tuesday for the Philadelphia Inquirer.
"The high court ruled without comment, rejecting the case along with more than 100 others.
"The ruling means that, unless the District Attorney's office decides to conduct a new sentencing hearing for Abu-Jamal, 57, the one-time radio reporter will continue serving his life prison term without parole."
The case of Abu-Jamal, president of the Philadelphia Association of Black Journalists at the time of his arrest in 1981, has drawn heated passions over the years, but many who were unwilling to declare him innocent did support granting him a new trial.
Pam Africa of the International Concerned Family and Friends of Mumia Abu-Jamal said after the ruling, "There is no victory, today," according to Glen Ford, writing for Black Agenda Report. ".  . . Life in prison without the possibility of parole is still a death sentence."
"The often violent response to the Occupy Wall Street campaign that is growing in the United States and elsewhere is affecting the freedom to inform. Reporters Without Borders condemns the arrests of reporters in recent weeks, especially in New York where the police assume the right to decide who are journalists," the Paris-based international press freedom group said on Thursday.
"On the eve of major worldwide demonstrations planned for 15 October, Reporters Without Borders urges the authorities not to resort to repressive methods, which constitute acts of censorship.
"Many journalists have found themselves being prevented from covering the movement's activities ever since it began on 17 September. Ordinary citizens, bloggers and netizens who provide information through online social networks have also been affected by this obstruction. More seriously, the New York Police Department treats a person as a journalist only if they have a press card that the NYPD itself issues according to its own criteria.
" 'Since when is a police department equipped to determine who is and who is not a journalist?' Reporters Without Borders said. 'Such restrictions can be used to block news and information of public interest, whether it is reported by the participants themselves or by professional journalists who are there just to do their job. This NYPD filtering violates the most elementary constitutional guarantees.' "
"Take a close and objective look at the angry demonstrators now gathered on Wall Street, and at similar protest encampments burgeoning from San Francisco to Madrid. What you see is not simply a vast expression of rage at the crisis enveloping the world of democracy," Frank Viviano wrote Thursday for New America Media.
". . . It may not be pleasant to hear, but a massive Democratic voter cop-out in last year's elections is what put the reactionary right in the driver's seat, creating the disastrous logjam in Congress, and bringing to a dead halt the [hyperactive] first two years of the Obama Administration," wrote Viviano, identified as a "veteran global correspondent."
"In 2008, more than 65 million Americans cast Democratic votes in Congressional races, a 13 million-vote edge over the Republicans. In 2010, the Democratic vote plummeted to an abysmal 35 million, 6 million less than the G.O.P., which took decisive power in the House and paralyzed the Senate.
"We think we know this story. But the truth is, we haven't begun to absorb its full details and implications yet:
"The number of voters under 24 who bothered to go to the polls in 2010 dropped by a stupefying 60 percent, and those between 24 and 29 by almost 50 percent. Altogether, the participation of young people — who had been overwhelmingly pro-Obama in 2008 — declined by 11 million votes.
"Among over-65-year-olds, the core of the Tea Party Movement, the voting numbers barely changed, from 17.6 million in 2008 to 17.5 million in 2010.
"The African-American vote fell by 40 percent, and the Hispanic vote by almost 30 percent. . . ."
Askia Muhammad, Washington Informer: Good Idea for Wall Street protest: Black Millionaire's Caucus
Pew Research Center for the People & the Press: Wall Street Protests Receive Limited Attention  
Eugene Robinson, Washington Post: The Occupy protests: A timely call for justice  
Stephanie Robinson, BlackAmericaWeb.com: The Message of Protests is Clear 
Janell Ross and Trymaine Lee, HuffPost BlackVoices: Occupy The Hood Aims To Draw People Of Color To Occupy Wall Street  
Albor Ruiz, Daily News, New York: Faith leaders join call of Occupy Wall Street protesters, find link between religion and movement  
Paul Thomasch, Reuters: In Wall Street protests, TV news finds battleground 
Ana Veciana-Suarez, Miami Herald: Anti-Wall Street protesters got it right 
DeWayne Wickham, USA Today: Occupy Wall Street is 2nd American revolution
"Capitalizing on a dispute between Republican candidates and the leading Spanish-language network, Univision, that network's main competitor, Telemundo, has announced that it will host a debate among the Republicans in the presidential race," Bill Carter reported Thursday in the New York Times.
"Telemundo announced the plan Thursday, a week after most of the main competitors in the Republican race declared that they would boycott any debate staged by Univision. Telemundo has no specific date for the debate yet, saying only that it will take place in 'early December.'
"Univision had planned to produce a debate in January leading up to the Florida primary. But six of the [Republican] candidates, including Mitt Romney, Herman Cain and Rick Perry, announced they would not participate.
"The candidates made their announcements in reaction to charges that Univision's news department had tried to force Senator Marco Rubio, a Florida Republican, into granting an interview by using the threat that the network would otherwise run a story about a drug-trafficking arrest involving Mr. Rubio's brother-in-law in the 1980s.
"Univision executives strenuously denied the charges."
Meanwhile, CNN announced that anchor Anderson Cooper will moderate a debate Tuesday presented by CNN and the Western Republican Leadership Conference. It will air live from 8 p.m. to 10 p.m. Eastern time from Las Vegas. Seven candidates are to participate: Rep. Michele Bachmann, R-Minn.; businessman Herman Cain; former House Speaker Newt Gingrich; Rep. Ron Paul, R-Texas; Texas Gov. Rick Perry; former Massachusetts Gov. Mitt Romney; and former Sen. Rick Santorum, R-Pa. 
Frederick Cosby, BlackAmericaWeb.com: Why the Lack of Debate on Race?  
Arnold Garcia Jr., Austin American-Statesman: Challenges lining up for Perry; how will he respond?  
Lili Gil, HuffPost LatinoVoices: The Republican Debate: An Opportunity to Win over the Latino Vote  
Bob Giles, Nieman Watchdog: How about getting some substance in those GOP presidential debates? 
Tony Norman, Pittsburgh Post-Gazette: Sorry, pastor: Mormons are better Americans  
Leonard Pitts Jr., Miami Herald: GOP looking for someone to love  
Bob Ray Sanders, Fort Worth Star-Telegram: Tolerating the wrong kind of language
"Herman Cain doubled down Friday on his statement that the Occupy Wall Street protesters should blame themselves for being poor or out of work, adding that they were also hypocrites for using corporate technology to promote their cause," Jon Terbush wrote for businessinsider.com.
"In an op-ed for the New York Post, the former Godfather's pizza CEO turned Republican presidential candidate wrote that the protesters would, 'rather have a handout than work.' Citing his own family as an example of how hard work can lead to financial success, Cain wrote that the protesters had no one to blame for their 'failures' but themselves." 
Alex Alvarez, mediaite.com: Michael Eric Dyson On Herman Cain: He Will Say Anything To Curry White Favor  
Michael Arceneaux, theGrio.com: Does Herman Cain give the Tea Party a racial pass?
Michael Arceneaux, theGrio.com: Has the Herman Cain backlash already begun?  
Chris Ariens, TVNewser: Now Leading GOP Polls, Expect to See More of Herman Cain  
Anson Asaka, Jack & Jill Politics: The Truth About Uncle Herman Cain and His 999 Plan  
Bruce Bartlett, New York Times: Inside the Cain Tax Plan  
Charles M. Blow, New York Times: Desperately Seeking Someone
CNN: Harry Belafonte: Herman Cain is a 'bad apple'  
Ta-Nehisi Coates blog, the Atlantic: The President Is Black  
George E. Curry, National Newspaper Publishers Association: Herman Cain is Brainwashed and Brain Dead  
Javier E. David, theGrio.com: What's raising Herman Cain? The audacity of authenticity  
Wayne Dawkins, politicsincolor.com: Herman Cain's 'mutiny' unnerves political establishment  
Trip Gabriel and Susan Saulny, New York Times: With Just Three 9s, Cain Refigured Math for Taxes  
Earl Ofari Hutchinson, syndicated: The Unthinkable: A Cain Versus Obama Match-Up  
Roland S. Martin, Creators Syndicate: Herman Cain Denies GOP's Horrible History With Blacks  
Brentin Mock, theLoop21.com: It's Time for Herman Cain to Look in the Mirror 
Joy-Ann Reid, the Grio.com: The 10 most intriguing Herman Cain memoir revelations
"rikyrah", Jack & Jill Politics: Friday Open Thread  
Mary Sanchez, Kansas City Star: What's wrong in America is not our work ethic  
Otis L. Sanford, Memphis Commercial Appeal: Cain finding favor in GOP, for now  
DeWayne Wickham, USA Today: Cain more interested in white than black votes  
Armstrong Williams blog: Can Common Sense Prevail?
Armstrong Williams blog: Is There a Black Mindset?  
Jeffrey Winbush, theRoot.com: Herman Cain's Racial Balancing Act
Journalists Roland Martin and Gwen Ifill are scheduled to host the dedication program for the Martin Luther King Jr. National Memorial on Sunday morning, which will be carried live by CNN, C-SPAN, MSNBC, BET and TV One.
"Roland was chosen because he has been a long time supporter of the Foundation and he's also a member of Alpha Phi Alpha. The Alphas played a big part to help get the Memorial built," Darrell Jackson, a spokesman for the King memorial project foundation, told Journal-isms via email. Ifill was picked for her journalistic credentials and because "we thought she was the best fit for the program."
The dedication activities, postponed from Aug. 28 due to Hurricane Irene, begin with an 8 a.m. hour-long "Morning Joy" program, emceed by Martin. The program, emceed by Ifill of the PBS "NewsHour," begins at 9 a.m. and features civil rights leaders and King family members, musicians and poets. President Obama is to deliver the dedication address.
MSNBC said this would be part of its coverage:
"On Saturday, October 15, from 7:00 – 9:00 a.m. ET, Rep. John Lewis (D-GA) will join 'Up w/ Chris Hayes' to preview his participation at the dedication of the Martin Luther King Jr. National Memorial. Lewis will also expand on the ties between King's civil disobedience and Occupy Wall Street.
"On Sunday, October 16, from 8:00 – 10:00 a.m. ET, MSNBC's 'Up w/ Chris Hayes,' will have live coverage of the dedication ceremony in Washington, including a look at some rarely seen footage from the NBC archives and discussion of how King's legacy plays into today's movements for social change. Joining host Chris Hayes will be Melissa Harris-Perry, professor of political science at Tulane University, Bob Herbert, Demos Distinguished Senior Fellow and John McWhorter, a professor at Columbia University.
"Live coverage of the memorial ceremony will continue Sunday on 'Weekends with Alex Witt,' from 10:00 a.m. – 1:00 p.m. ET, with additional reporting from NBC News correspondents.
"As an additional tribute, leading up to the historical unveiling of the Martin Luther King Jr. Memorial, MSNBC will air personal testimonials on the life of Martin Luther King Jr., the memorial and the Civil Rights movement from MSNBC's team of anchors."
CNN is additionally offering "Freedom's Foot Soldier: A Conversation With T.J. Holmes" on Saturday from 7:30 p.m. to 8 p.m.
"Holmes exclusively interviews Dr. Martin Luther King, Jr.'s friends together in the basement of Ebenezer Baptist Church in Atlanta to reflect on the life of Dr. King and the Civil Rights Movement then and now. 'Living legends' Juanita Abernathy, Xernona Clayton, Rev. Jesse Jackson, U.S. Representative John Lewis (D-GA), Rev. Joseph Lowery and former U.N. Ambassador Dr. Andrew Young speak of Dr. King's desire to quit the movement and concentrate on writing and preaching, and the message the dedication of the new Martin Luther King, Jr. memorial on the Mall in Washington, D.C., monument sends."
Candy Crowley is to interview Rep. Lewis about King's life and legacy and the dedication of the Memorial for her "State of the Union" show on Sunday.
BET's coverage begins at 11 a.m. ET, according to network officials. "Hosted by BET News Anchor Ed Gordon, Correspondent Lola Ogunnaike and the Washington Post's Nia-Malika Henderson, the special will feature an opening performance by the Aretha Franklin and an address by President Barack Obama," R. Thomas Umstead reported for Multichannel News.
"As part of the celebration, BET will offer special programming throughout the day in tribute to the memory of Dr. King, including a new episode of 'Bobby Jones Gospel' and encore airings of BET News Specials 'Michelle Obama On A Mission: Impact Africa' and 'Alpha Man: The Brotherhood of M.L.K.'
"TV One's coverage begins at 9 a.m. and will be anchored by Roland Martin, host of TV One's Sunday news program 'Washington Watch with Roland Martin', and Sirius XM Radio host Joe Madison.
"Along with live coverage of the dedication ceremonies, TV One said it will rebroadcast . . . Dr. King's historic 'I Have a Dream' speech in its entirety. The program will also feature interviews with some of the celebrities and attendees on the significance of Dr. King and the memorial, including Hill Harper, Jasmine Guy, Phylicia Rashad, Lalah Hathaway, Sheryl Lee Ralph, Cathy Hughes and Nancy Wilson.
"In addition, Karen Finney, MSNBC contributor and Democratic strategist; Deborah Simmons, senior correspondent for The Washington Times; and syndicated columnists Cynthia Tucker and George Curry will provide insights on the dedication."
Sunday also marks the 16th anniversary of the Million Man March.
Michael H. Cottman, BlackAmericaWeb.com: Million Man March: 16 Years Later  
Annette John-Hall, Philadelphia Inquirer: The Million Man March pledge broken — and kept  
Glenn Minnis, BlackAmericaWeb.com: MLK Dedication, March Anniversary to Spark Reawakening  
Mary Mitchell, Chicago Sun-Times: Change date of MLK Memorial dedication [Sept, 16]
"For a quarter-century, Vic Miles was a steady rock at WCBS/Channel 2," Jerry Barmash wrote Thursday for FishbowlNY. "His delivery was simple, not flourishing. His looks weren't of a matinee idol; he appeared at times to have a suit too big for his slender build. Miles was a newsman, whether in the field or at the anchor desk.
"Miles' son Vincent Levy confirms to FishbowlNY that his father died last night. Miles, who had been in declining health, was hospitalized Saturday in New York. He was 79.
" 'I think he liked reporting a lot, because he was naturally suited to it," former WCBS anchor Carol Martin recalls.
"Martin had 20-year career with WCBS, so she got to know Miles very well. . . .
" 'I was the rookie… [and] Vic was always just somebody who was generous with his time and advice,' Martin tells FishbowlNY. 'He wasn't somebody that you stood back and said, "I better not bother Mr. Miles." '
"Current Channel 2 anchor Dana Tyler echoed the same sentiment for her longtime cohort.
". . . Miles started at WCBS in 1971 and stayed through various managements until 1995."
"Last month, The Post's Vanessa Williams wrote a story about what Yale University professor Elijah Anderson calls a 'cosmopolitan canopy,' a space where diverse groups of people mingle comfortably," the Washington Post's Style section reported on Oct. 7. "We asked readers where in our region they experience this kind of diversity; following here are a few of their responses."
"I imagine a news show that doesn't treat the occasional story involving downtrodden African Americans, Hispanic Americans or poor people like a dutiful piece of foreign reporting before reverting to its dulcet-toned narrative of all things white and comfortable," Joel Dreyfuss, managing editor of theRoot.com, wrote Wednesday in an open letter to Gary Knell, newly named CEO of NPR. "I imagine an NPR that includes black and brown and female experts on the economy, ecology, energy, foreign affairs and everything else, instead of your standard bland diet of the same old tired voices that already pollute mainstream media."
November Esquire "Men's glossy Esquire named Rihanna the 'Sexiest Woman Alive' for 2011,' " Britni Danielle reported for Clutch Magazine. "The Bajan beauty is no stranger to adulation. . . . In the latest issue of Esquire she chats about her country's initial lukewarm reception, how she prepares for a show, and being proud of Chris Brown." 
David Gonzalez, a metro reporter for the New York Times, has been named co-editor of Lens, the paper's photography blog. "I will be writing, editing and helping guide the blog, which is devoted to visual journalism," he told Journal-isms by email Friday. "In addition, will be doing 'Side Street,' a biweekly photo/essay feature for the City Room. . . . Apart from having gone all-digital, am psyched about being able to help bring to light shooters people may not know about. Today's post on Jules Allen was one example, where I was able to engage him on how he sees the depiction of African Americans. Also, a previous post I did on a book called 'NYC In Color' noted how the book — a great-looking tome, btw — had a dearth of 'photographers OF color.' "
In New York, "we taped a tribute to Gil Noble today that will be run on Sunday," writer Herb Boyd told Journal-isms by email on Thursday. "Danny Glover, Al Sharpton, Bill Cosby, Les Payne," Dr. Leonard Jeffries of City College of New York, activist Betty Dopson, "Lisa Noble, Gil's daughter, and me are among the guests intertwined with the amazing clips from his vast archives, which he owns." Noble, host of the long running "Like It Is" on WABC-TV, is recovering from a stroke. Dave J. Davis, general manager of WABC, told Journal-isms, "the tribute program scheduled for this Sunday at noon should reside on our website, 7online.com for a week." The Daily News' Jared McCallister wrote, "The passing of 'Like It Is' is the end of an era, but it's also the beginning of a significant period where its viewers must carry on — by examining, dissecting and questioning events past and present, just as 'Like It Is' did."
"Lorraine Ali is the new pop music editor for the Los Angeles Times where she began writing for the longtime pop music editor Robert Hilburn. She has since been a critic for Rolling Stone and Newsweek," Kevin Roderick reported Thursday for LAObserved. "She has reported from Havana, Damascus and Calabria, Italy, where she dined with Mafia dons and lived to tell about it. After the 2003 U.S. invasion of Iraq, Lorraine covered the impact of the war on Arab Americans. Her book about reconnecting with the Iraqi half of her family is scheduled for publication next year."
Nekesa Mumbi Moody, who has been the AP's music writer and editor for the past decade, is taking an expanded role in shaping the wire service's global music report," the AP reported on Tuesday. "Moody will retain her title, but will now manage a team of writers and producers as the AP further develops and expands its music coverage across platforms." Moody is also one of USC Annenberg/Getty Arts Journalism Program fellows who will "work collaboratively on six experimental arts journalism projects, called Engine29, that were competitively chosen in response to a call for proposals among the 64 Fellowship alumni." The alumni fellowship is scheduled in Los Angeles Nov. 4-13.
"Edwin V. Avent has resigned as President and Publisher of Heart & Soul Magazine, following a successful six-year run at the helm of the publication," a public-relations company announced on Tuesday. "While unable to expound upon his upcoming business endeavors, Avent did say he is working on finalizing plans for an exciting, new project that is sure to capture the attention of African-American audiences. 'Trust me, it's gonna be big,' said Avent, 'and I look forward to being able to share it with the public very shortly.' . . . Prior to acquiring Heart & Soul Avent served as Executive Vice President and COO of Twenty First Century Group (TFCG), an advertising and public relations firm based in Baltimore."
ABC News broadcaster Juju Chang, CNN's Candy Crowley and CBS News anchor Scott Pelley were among the guests at Thursday's White House state dinner for South Korean President Lee Myung-bak, the Washington Post reported Friday.
"The fall of repressive regimes in north Africa and the Middle East, in the so-called Arab spring, has failed to usher in greater press freedom, according to a global media organisation," Roy Greenslade reported Thursday for Britain's Guardian newspaper. "A report by the World Association of Newspapers and News Publishers (WAN-IFRA) says 'little progress' has been made in legislating to protect the freedom of the press in Tunisia, Egypt and Libya."
"More than one-quarter of local TV news stories focus on crime, according to a section in Old Dominion University's State of the Region report, released last week," Philip Walzer reported Monday for the Virginian-Pilot in Norfolk. "The study examined four weeks of local evening newscasts from January. Of the total number of stories, 25.7 percent dealt with crime, the ODU report said. That was up from 24.3 percent when Old Dominion last examined TV newscasts, in 2007." 
Chikodi Chima, a recent graduate of the Columbia Graduate School of Journalism, has agreed to join VentureBeat, a website whose mission is "to define innovation for forward-thinking executives," talkingbiznews.com reported Wednesday.
"MSNBC's Tamron Hall tells Atlantic Wire what makes her show — during MSNBC's mid-afternoons — different than what MSNBC primetime is all about: 'What I present on air and what we present on our show is information. I don't want to be a pundit. I don't want to be a partisan. I have no desire,' " she said, referring to MSNBC's nighttime schedule, Chris Ariens wrote Tuesday for TVNewser.
Editor-in-chief Lucia Tran, 18, debuted Zooey Magazine in 2008 as an online read, connecting with editorial contributors and future staff through the web. Zooey's site now boasts 20,000 unique visitors a month, Folio: magazine reported Monday. Tran is one of Folio's "13 Under 30," "a few of the emerging leaders in our industry."
" 'Frontline' correspondent and The Futuro Media Group's President, Maria Hinojosa takes a penetrating look at President Obama's vastly expanded immigration net, explores the controversial Secure Communities enforcement program and goes inside the hidden world of immigration detention in 'Lost in Detention,' airing Tuesday, Oct. 18, 2011, at 9 p.m. ET on PBS (check local listings)," according to a note from the Futuro Media Group, which Hinojosa founded last year. "In a co-production with the Investigative Reporting Workshop, correspondent Hinojosa tracks the enforcement sweep from the neighborhoods of Illinois to the expansive Willacy Detention Center in south Texas. During a yearlong investigation, Frontline and Hinojosa uncovered a troubling picture of abuse inside immigration detention facilities, as well as alleged cases of beatings, racism and management cover-ups."
In Tampa-St. Petersburg, Fla., "WFTS anchor Linda Hurtado, who announced on Tuesday that she has breast cancer, is now recovering from a successful double mastectomy operation," Andrew Gauthier reported Thursday for TVSpy.
"On AC360 last night, with John King sitting in, Michael Jackson friend and former attorney Mark Geragos commended the network for not showing the autopsy photo of Jackson, which was introduced at trial Tuesday," Chris Ariens wrote Wednesday for TVNewser. ". . . But during the 3 p.m. ET hour today on CNN, Brooke Baldwin introduced a segment on the case by showing the photo. To Baldwin's credit, she gave ample warning." 
Djibril Diallo, senior adviser to the executive director of UNAIDS at the United Nations, was given the Diopian Institute for Scholarly Advancement Award for Pedagogical and Cultural Excellence [PDF] on Oct. 7 in Philadelphia. The occasion was the the 23rd Annual Cheikh Anta Diop International Conference. "I am leading a group of up to 50 African-American, African, and Caribbean journalists and publishers on a press trip in December to Ghana, Nigeria and then to Senegal to cover the World Summit of Mayors, with assistance from President [Abdoulaye] Wade, in cooperation with Cloves Campbell, Chairman of the National Newspaper Publishers Association, and John Yearwood, Co-chair with me of the World Affairs Task Force of the National Association of Black Journalists," Diallo told Journal-isms by e-mail.
"Police in Nigeria raided a newspaper office Wednesday after detectives arrested four journalists over the publication of a purported letter from the nation's former president instructing its current leader to fire government officials," the Associated Press reported from Lagos. "Police descended on the Abuja office of The Nation newspaper as reporters working there fled onto nearby streets, said the journalists who spoke on condition of anonymity out of fear of being arrested. Officers apparently were searching for material to identify the source who gave the newspaper the alleged letter from former President Olusegun Obasanjo to President Goodluck Jonathan."
Follow Richard Prince on Twitter.
Facebook users: "Like" "Richard Prince's Journal-isms" on Facebook.
Journal-isms is published on the site of the Maynard Institute for Journalism Education (www.mije.org). Reprinted on The Root by permission.