Let the relationship between Chris Brown and Karrueche Tran be an object lesson in what not to do when you break up with someone, because let's be honest: Brown terrorized this girl all over social media, and it wasn't cute or funny in the least. A judge has granted Tran a five-year restraining order against Brown to keep her safe.
Tran took the stand Thursday and testified in court that Brown threatened violence against her after they broke up, and demanded that she give back money and gifts he had given her during their relationship. According to TMZ, when she refused, he threatened her with violence.
Tran told the court that Brown sent her text messages saying, "I'm not being nice to you no more. If I see you out in public again and I'm there, I will make you hate me even more. Don't be anywhere I'm out in public; I'm going to ban you from all events."
Tran testified that Brown had beaten her before and that he wrote "Imma kill blood" under a photo of her and actor Michael B. Jordan.
Brown was not in court for Thursday's hearing, and the judge refused to let him join the hearing via phone.
G/O Media may get a commission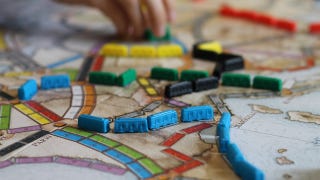 Tabletop & Board Games to Play This Fall
I once caught the wrath of a million hot Chris Brown Twitter stans when I said that the way he was acting toward her was dangerous, but I accurately called that she would eventually need a restraining order to protect herself from him.
A woman is not your property; nor is she yours to terrorize once the relationship is over.
Take your L and move on, Chris.