K. Michelle is known for her feisty personality on reality TV, clawing her way to a respectable R&B career, clapping back at haters on social media, feuding with a celebrity or two, and last, but certainly not least, cosmetically enhancing her derriere.
And let me tell you, her behind is practically an entity unto itself. There's K. Michelle, and then there's her infamous ass, which you can see in all its full glory, from a variety of angles, on her Instagram page.
But during an interview with B. Scott, K. Michelle admitted that she regrets getting her behind inflated because of all the attention it gets during those times when she wants people to focus on other things. 
"I have, like, movies and different things [I'm working on], and I was having a real conversation with Tyrese—we're really, like, great friends. I was telling him about my butt, how I hate being typecasted because my bottom is so heavy," K. Michelle explained.
And get this: K. Michelle admits that she wants her old shape back. She's looking beyond coveting likes on Instagram and wants to get into acting. But she said that having such a large behind might affect her ability to play certain roles and negotiate salaries with Hollywood executives who can't keep their eyeballs off her donk. 
"For me, I want my normal shape back. For me, and my career right now, and me doing business—like, really being on the front line in business—I don't need to have a man looking down at my ass when I'm trying to talk numbers. I don't need to not be able to get the role. Like, I wanna be in Jurassic Park! Let me be in Jurassic Park! I don't need to not be able to run through Jurassic Park because my ass is too heavy. Before the dinosaurs come to eat me, I need to be able to go!" 
G/O Media may get a commission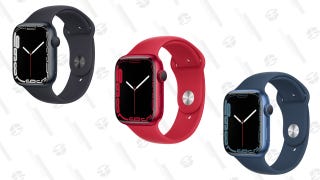 Up To $45 Off
Apple Watch Series 7
She said she can't wear certain designer dresses and that she has to "hop into" her jeans just to get them on. She also dished out useful advice to other women who are thinking about inflating their butts: Make sure you have the money to undo the enhancement if, at any point, you decide you no longer want an inflated booty.
"I would say if you have the coins to put it in, have the coins to take it out. That's really what I would [say]. No, really—because it might be a phase!" K. Michelle warned about the trend. "I would tell [other girls], don't go and do what you see people doing. But if that's what you want to do—if that's the body you want—go get the body you want! Nothing is wrong with it. But if you won't want it anymore—you just don't want it anymore!"
She's my #WCW for keeping it completely 100 about how she wants her old shape back. A lot of women are too ashamed to admit that they regret their cosmetic surgery or, even worse, that they got it because it was in vogue.
Plus, K. Michelle's advice about making sure you have enough money to reverse the surgery is not said enough, so it's great that she's shedding light on that aspect of the trend that women need to think about. 
For more of black Twitter, check out The Chatterati on The Root and follow The Chatterati on Twitter.
Diana Ozemebhoya Eromosele is a staff writer at The Root and the founder and executive producer of Lectures to Beats, a Web series that features video interviews with scarily insightful people. Follow Lectures to Beats on Facebook and Twitter.
Like The Root on Facebook. Follow us on Twitter.