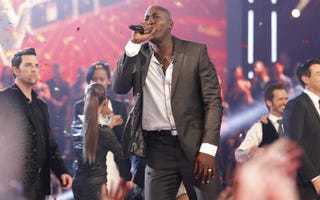 Jermaine Paul, the former backup singer for Alicia Keys and Mary J. Blige, was the big winner on the Season 2 finale of The Voice Tuesday night.
From the Los Angeles Times:
"Winning would mean just, uh … it would mean the world to me," Paul had said, choking up, moments before Carson Daly revealed the results of the audience vote that would determine the winner.
It had taken Paul years of hard work, touring and toiling, to get there, clustered with fellow contestants Chris Mann, Juliet Simms and Tony Lucca, on the "Voice" stage, waiting to hear whether he'd captured this season's crown, as well as the recording contract and $100,000 that come with it. (Each of the four finalists had already won a new car, we learned during the finale, and Paul had seemed particularly tickled about his new wheels.)
Read more at the Los Angeles Times.