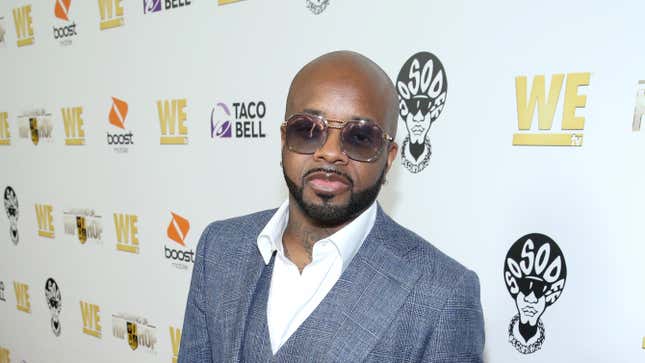 It looks like everyone has possibly gotten wrapped up in a case of "he said, she said" and Jermaine Dupri is here to tell us to "Get Your Shit Right."
Tackling A Black Maternal Health Crisis & Embracing Reproductive Justice | The Root Institute
The rapper, songwriter, producer and executive decided to speak his piece with radio host Big Tigger on Atlanta's V103, and let's just say his story is a tad different from what Bryan Michael Cox and Funkmaster Flex have claimed.

Everyone, including us, wanted to hear it straight from Dupri, however. Basically, Dupri believes his simple assertion that he talked with Jay-Z about his own deal was blown way out of proportion.
"He and I never had a conversation where he told me, 'don't do what you're doing.' What our conversation was...'you know what side I'm on, I understand what you're doing.' That's what the conversation was," Dupri confirmed.

As Complex noted, the Dupri/NFL deal in question involved "a series of free shows held in Atlanta's Centennial Olympic Park in the days before Super Bowl LIII."

Aside from Dupri, a lot of people have had quite an opinion on Jay-Z's partnership with the professional football league, following his highly publicized announcement with commissioner Roger Goodell.

For one, there's Roc-A-Fella Records co-founder Dame Dash.

"I mean, everybody knows Jay ain't shit," he told host Adam22 on No Jumper on Tuesday. "Everyone knows that...Listen, if you ask anyone in the industry, it's a common knowledge that Jay ain't shit."
When asked to elaborate on his "ain't shit" designation, Dame broke it down.

"He's about the bag," Dame continued. "We all know that. He's self-preserving. Period. It's just that the people he does it to don't have Beyoncé next to 'em. They don't have that kind of power, but this dude here, everyone's looking."

Another record label entrepreneur had something to say as well, and that is Murder Inc. co-founder, Irv Gotti. Gotti told Page Six he believes the NFL was using Jay.

As Page Six reports:

While he said that he hopes that the hip-hop idol is planning to improve the league from the inside, Gotti told Page Six, "To sit there and watch Jay talk [at their recent, widely publicized meeting] while Roger Goodell is sitting there quiet, it almost looks like the NFL manufactured and manipulated Jay to be the front and face of the bulls–t, knowing Jay is so powerful that he can make people forget about [Kaepernick and others] kneeling."
Yeah, it looks like this whole thing is definitely a conversation-starter and everyone has something to say—and play, as well, since Jay's deal is apparently about "chess, not checkers." Sure!
You can catch the full interview with Dupri on V103 Atlanta below.