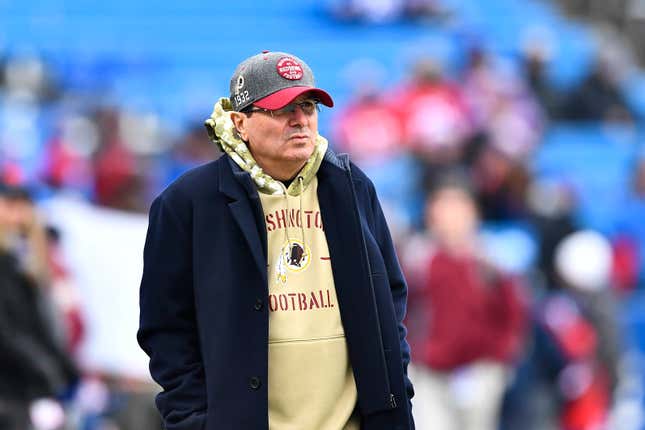 A thing about writers: often our outward humility is fake, an affected nod to the profession's ethos that the story should never be about us. Usually it's a lie; mastheads and bylines exist because us writers love to get credit for our reporting, connections and ideas is like oxygen. We especially love when we write something that holds true years later.

On that last note, consider this my victory lap at the expense of Daniel Snyder, the embattled owner of the NFL's Washington racial slurs Football Team Commanders, who USA Today columnist Nancy Armour last week ranked as the worst owner in all of sports, "and it's not even close".

Almost two years ago, I wrote that the other 31 NFL owners should vote Snyder out of their club by way of forcing him to sell the team. Back then, the league was under fire over the team's formerly racist nickname from sponsors, specifically FedEx and Nike, which spend hundreds of millions of dollars in shared cash with the NFL. Three minority partners who owned all of the team's shares not controlled by Snyder and his family had grown tired of his act and wanted to sell their stakes.

Less than a year later, Snyder was hit with a $10 million fine and agreed to give up day-to-day control of the team to his wife following an independent investigation into allegations of rampant misogyny and sexual harassment inside the organization. Among the incidents: harassment of cheerleaders, other team employees and at least one Black, female reporter, the Athletic's Rhiannon Walker—whom I consider a friend—whiles she was on the job.

I figured none of that would be enough for the NFL to ditch Snyder and until now, it wasn't. I was glad I wrote what I had, not because I'd take pleasure in seeing someone lose an asset they paid close to a billion dollars for but because it was clear that the toxic workplace investigation wouldn't be the end. Even by NFL standards—where an accused serial sexual assaulter just landed the richest contract in NFL history and where the league is being sued by current and former coaches for racial discrimination—Snyder's name still rings out like Marlo's on a West Baltimore corner.

But now the tables might be turning. Another USA Today reporter, Jarrett Bell, wrote this weekend that while NFL owners—sans Snyder—are at their meetings in Atlanta, some are "counting votes" and discussing whether it's time for Snyder to go. On top of everything else, the Commanders are being investigated by the House Oversight Committee, the Federal Trade Commission and the Virginia attorney general for potentially cooking the team's financials to hide revenue that might have needed to be shared with the NFL's other owners.

As I wrote back in 2020, NFL owners split nearly all revenues between them. They may tolerate racism, sexism and incessant losing, but like Prop Joe's co-op in the Wire, one thing they won't stomach for long is a single member costing them all money.

Me? I'm just sitting here with a slight smirk at just how right I might turn out to be after all.