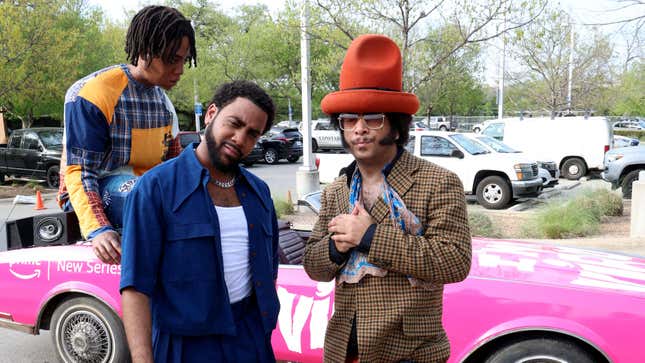 I'm a Virgo, a new series from Boots Riley and Emmy-winning actor Jharrel Jerome is headed to a small screen near us this summer. But before it does, the first four episodes of the Prime Video series premiered at SXSW recently and according to early reviews, it's already looking to be one helluva ride.
In this "radical" and "absurdist" coming of age story, Jerome stars as Cootie, a 13-foot-tall young Black man who lives in Oakland, Calif. After spending most of his life inside the four walls of his home, he decides to venture out into the world to see and experience all it has to offer.

In a recent interview with The Hollywood Reporter, both Riley and Jerome talked about bringing the series to life, with the latter explaining how he was approached with the idea and what made him say yes to the bizarre series.
"He emailed me and the title of the email was '13-foot tall Black man in Oakland.' And I just read it and responded immediately like, 'I don't know what this is, bro, but let's talk,'" the Moonlight and When They See Us star said. "He came with the briefcase and inside the briefcase, there was the two figurines you brought. He brought figurines of Cootie and of the car and how big he would look so they could show me how they were gonna shoot it. So that was the big pitch too: this was not gonna be CGI, it's not gonna be special effects. It won't be this fake design thing. We want to shoot practical, force perspective, put you on miniature sets, build a tall doll of you and shoot this Lord of the Rings-style. That's what really excited me because I knew it would be a challenge for all of us."
Of the show's premise, Riley added: "A 13-foot, Black giant coming down the street is about everything else than what that person thinks of themself. And so, to me, that was a way in to show that there are other qualities that people think about themselves having, that might not seem important to everyone else because the image and the identity that's put on you is what's more important to them. It's about your own identity versus what other folks have set out for you." 
As previously mentioned, early reviews of the show are overwhelmingly positive, with some viewers saying it could top Riley's critically acclaimed 2018 film Sorry to Bother You.
I'm A Virgo hasn't set an official release date yet but once we know, you'll know too.