First things first, I have a lot of hair.

It's a lot even though I cut if off by several inches nearly a year ago after I decided to stop getting blowouts to give my hair a break. It's just dense, thick hair that does what it wants when it wants and has more than one curl pattern in it, driving me bonkers.
So I decided to give myself a break from constant washing, styling and air-drying to create some semblance of an Afro (it's not much of one, more like a choppy, funky, layered look), and to get goddess locs. Like actress Meagan Good.
It was a journey.
I consulted a friend who has locs, my deputy managing editor Yesha Callahan, who recommended the salon Nappstar, which has shops in Maryland and New York. She'd been to the Maryland shop, and it is a locs specialty salon with celebrity clientele.
NappStarr is a friendly salon filled with creative folks, but I had a few snafus out the gate. Namely around what hair I was supposed to get.
As someone who has always had a lot of hair naturally, I don't buy hair very often. Meaning, I know almost next to nothing about fake hair—whether it's real or synthetic. I know nothing about the brands, the styles, the textures. Nada. So I asked the gentleman who booked my appointment what I needed to buy. He said "FreeTress" was the brand and that I needed "Marley braid" hair.
G/O Media may get a commission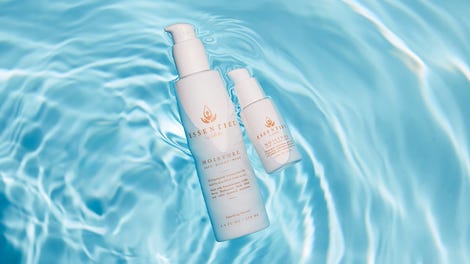 20% off
Essentiel by Adele
So I bought a bunch of black "FreeTress Equal Jamaican Twist Braid," aka "Marley braid" hair, and ... just in case, bought five packs of some other brand of Afro kinky hair, but a different color, in case I changed my mind about what style I wanted.
But when I got to the shop, what I learned I actually "needed" was FreeTress, but it was a pack of shiny, spiral hair (Bohemian braid, I think) that was needed for the finishing look of the goddess locs, plus several bags of the Marley braid. He also said that I only needed four packs of hair, even though I'd mentioned in the form I filled out that my hair was pretty dense. I showed up at the salon with five packs of FreeTress Marley braid and five packs of the off-brand, light-brown Afro kinky, and they used nine bags of hair.
At first the stylists tried to talk me into just getting regular faux locs, not goddess locs, since I didn't have the right hair. But I was pretty dead set on the fact that if I was going to spend hundreds of dollars on this style (NappStar is not cheap, y'all), I wanted to leave the salon with goddess locs.
Thankfully, my stylist, Anny, left to get the right hair from a store around the corner, keeping me from channeling my inner "I was told by AppleCare" lady and bursting into tears over not getting exactly what I wanted.
The stylist achieved the look of the faux locs in a pretty cool way. First she braided my real hair with the loose curly hair, then she wrapped the kinky "Marley" hair around the braid, creating the loc. It was a simple technique that rendered very cool, realistic, natural-looking locs—not too shiny or too synthetic-looking.
For my style, I settled on having my faux locs match my actual hair colors—dark, dark, almost-black brown with light-brown highlights up top, which, in retrospect, probably wasn't the best idea, considering that the hair was two different brands. The result—which took about 10 hours and 45 minutes—looked a little crazy and was not helped by the fact that the locs on top of my head were tighter, thicker, stiffer, larger and heavier, making me fear for my natural hair's safety. Would it all break off in the faux loc?

Needless to say, I was pretty freaked out. And in pain at the top of my head. I went home feeling disappointed and unhappy about the hair and could barely sleep, my scalp was so tender.
The next day, I emailed the salon owners—Melissa and Annette Roche—about my experience and texted the salon directly about the stiffness and tightness of the hair at the top of my head. Kemar with NappStarr responded quickly and set me up with an afternoon appointment that day to fix the hair for free.
That led me on another journey of visiting at least four hair-supply stores in search of the right FreeTress hair. One store was out of business (thanks, Google Maps!), the other was closing and wouldn't let me shop, the third didn't have the right hair, but the fourth and final supply store I visited did. This time, I got all black hair and ditched the color.
I got to the salon around 5 or 6 p.m., and everyone there was apologetic and understanding. They surmised that perhaps, since I didn't normally get braids or locs, the hair on the back of my head was stronger than my hair up top, but ... regardless ... agreed to fix it until I was happy with the result.
After a brief consult, stylists Scarlet and Rosine got to work, uninstalling the locs up top and redoing them so they'd be less tight, stiff and heavy. The end result, after sitting in the chair for about four hours, was a vast improvement, both aesthetically and physically. The hair was demonstrably lighter and more flexible. My head, by the following day, was no longer in any pain.
Melissa Roche reached out to me the following day to follow up, which I greatly appreciated, and she apologized for my earlier, slightly frustrating experience.
After this, I visited a Korean day spa in Koreatown in New York City (a story for another day), got a manicure, then went to Miami for the Leading Women Defined summit, hosted by BET Her. The hair was a hit at the summit, where I was drowned in compliments and praise over the look.
There was one downside, though. The locs on the bottom half of my hair started to untwist in some places. I had a feeling (and Scarlet and Rosine probably had this same feeling) that this was a possible issue, considering that a few of the locs Anny had originally done weren't installed properly. In my rush to just be done with my hair, I thought these less-polished locs would be fine. But, boy, was I wrong. They slowly started falling apart in Miami, loosening and becoming unmanageable. In the end, after I got back from my trip, I ended up having to trim and retwist about four or five locs that had come apart.
Considering the hours, money and pain that went into getting my ideal, finished look, would I do this again? Most definitely. I love the look and plan to keep it for a bit. They're gorgeous, over-the-top and a lot of fun. In fact, the only real downside is that now I have ideal Miami, sun 'n' fun hair, in cold, "When will spring ever get here?" New York City.
But I'll probably get over it.