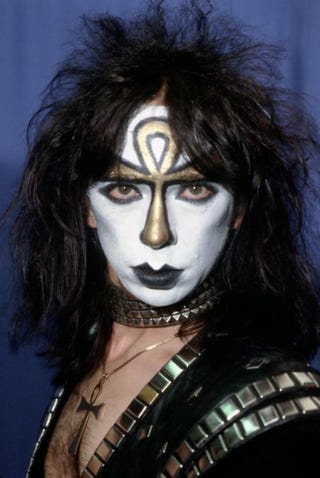 You hear that? Not a shot or outcry heard 'round the world. Drew Kolar of All Media NY is reporting that ex-Kiss guitarist Vinnie Vincent will not face animal-cruelty charges, even though he had four dead dogs stored in containers in his home. Police made the discovery when the musician was arrested in Rutherford County, Tenn., on Saturday night after his wife, Diane Cusano, showed up at the sheriff's office bloody and smelling of booze. Cusano, 44, claimed that her husband, whose government name is Vincent John Cusano, smacked her in the face, threw her to the ground and dragged her through broken glass. This allegedly continued four more times before she escaped her 58-year-old attacker.
When police arrived at the home to investigate the assault, they also found four sealed containers holding dead dogs. Vincent's wife claimed that "one of their [other] aggressive dogs" had killed the pets, though there was no explanation as to why they were keeping the bodies. The couple reportedly has nine dogs.
Apparently, storing dead dogs in storage bins is not illegal, but what about allowing "violent" dogs to kill the dogs? Just how exactly did the killing happen? Dogfight, maybe?
We won't speculate, but we will say that we are dumbfounded (not really) by the lack of publicity being given to Vincent's abuse of his wife and abuse of these dogs. The publicity given to DMX and his animal-cruelty charges — not to mention Michael Vick, whom conservative Tucker Carlson said should have been executed for his abuse of animals — have not been reflected in the coverage of Vincent, who is a former member of one of the most iconic, world-famous rock bands in music history.
One dog dying from a dog attack is an accident, but four storage bins of dead dogs? We're calling foul on the play. For some strange reason (tongue planted firmly in cheek), we believe that if this had been Bootsy Collins, PETA would be all over him, and so would the rest of the media.
Read more at All Media New York.
In other news: Abdias Nascimento: Brazilian Civil Rights Activist Dies.