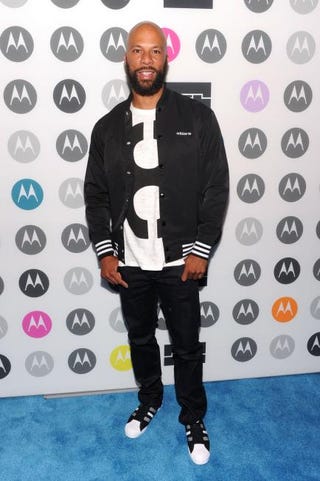 Rappers Common and Kanye West are giving back to their native city Chicago in a big way.
The two, along with rapper Che "Rhymefest" Smith, are teaming up with the Chicago Urban League to create 1,000 year-round jobs for city youths, the Chicago Sun-Times reports. The partnership, the Chicago Youth Jobs Collaborative, comes on the heels of a recent study that shows extremely low employment rates for young black men in Chicago. According to the Sun-Times, the report shows that 92 percent of young black males in the city are jobless.  
Teaming up for the effort are West's charity Donda's House Inc., run by Rhymefest and his wife, and Common's Common Ground Foundation. The two organizations and the Urban League are also being joined by five other Chicago-based nonprofits. Together, they will work with both the public and private sectors to create year-round jobs for Chicago youths ages 16 to 24. The program, which will begin with 1,000 jobs this September, has the goal of eventually reaching 15,000 young people.
An annual musical festival launching in September, the AAHH! Fest, will help raise funds for the jobs program.
Speaking to the Sun-Times, Common said, "Any time I hear of innocent people getting shot and killed and young people with guns, it hurts. I felt I have to do more than just write songs about Chicago."
Read more at the Chicago Sun-Times.
Like The Root on Facebook. Follow us on Twitter.