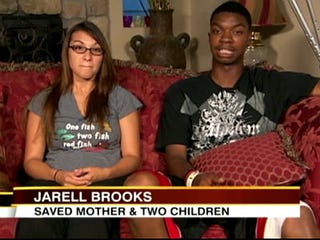 During the chaos of the Aurora, Colo., movie-theater shooting early Friday morning, a man named Jarell Brooks saw a young mother clutching her two children between rows and decided to help her. Leading the woman, Patricia Legarreta, and her two small children, including an infant, to an exit door, Brooks suffered a bullet wound in his leg and is now on crutches, according to ABC News.
Jarell Brooks, 19, has been released from Denver General Hospital and is now recovering at home after he suffered a gunshot wound to the leg after James Holmes, once a Ph.D. candidate at the University of Colorado, allegedly set off smoke bombs and opened fire on the unsuspecting audience, killing 12 people and injuring at least 50 in the attack. He was quickly apprehended by authorities.

Brooks said that when Holmes started shooting everyone scrambled for the exits. While trying to get out of the theater, he saw a woman, later identified as Patricia Legarreta, struggling to get herself and her two children out. He said he crawled on top of Legarreta in an attempt to push her and the kids out the door but then couldn't get out himself …

"At the end of the aisle, I ran into a woman. She yelled, 'My kids!' and I saw she had two young kids with her," he told ABC News. "I made sure they got in the aisle and pushed behind her to make sure she got out of there."
Read more at ABC News.