Three siblings, "the most exciting two minutes in sports," and one major philanthropic event. Now entering its third year, the Trifecta Gala has been named the "Best Derby Party" by Kentucky's Louisville Voice-Tribune—and by all appearances, also by the celebs and well-heeled guests who flock to the annual festivities.
"I always tell people that it really is unlike anything else you can experience," gala co-host Eden Bridgeman tells The Glow Up.
Bridgeman would know better than most; growing up in Louisville, she's attended more than her share of Derby events and takes pride in helping to put her own mark on local tradition.

"From an early age, you start to hear and know that the first Saturday in May—although it may not be a holiday on everyone's calendar—if you're in Louisville, Kentucky, it is always on everyone's calendar as Derby Day," she laughs.
G/O Media may get a commission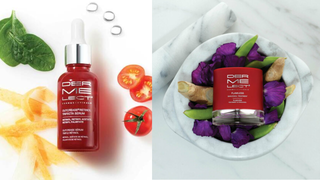 Save $19
Retinol Renewal Kit
The daughter of former NBA player-turned-business mogul Ulysses "Junior" Bridgeman, Eden and her two older brothers (the three comprising the aforementioned "Trifecta") were raised not only in the Kentucky-beloved tradition of the Derby but of paying it forward. In 2017, the trio took over the reins of their father's annual philanthropic event, and the Trifecta Gala was born, quickly becoming one of the hottest tickets of the famed weekend.

And no wonder; the gala's guest list includes luminaries like Angela Bassett, Anthony Anderson, Tina Knowles Lawson and husband Richard Lawson. Last year's headliner was none other than Stevie Wonder, with Arsenio Hall playing master of ceremonies. Past talent has included Jennifer Hudson and Miguel.
The honor of being named 2018's Best Derby Party compelled the Bridgemans to up the ante for 2019, according to Eden.
"What would it really look like if your whole sole purpose was to put together the best Derby party?" she asks. "So that's been our inspiration and motivation this year."
This May, the festivities will take guests on an evening-long culinary and experiential journey at the aptly named KFC Yum! Center—that's right, the sports arena that seats over 20,000 (though we're pretty sure the Bridgemans won't be using the nosebleed section). The headliner? Grammy-winning R&B star Usher.
If the event sounds like a study in black excellence, it is—despite attracting an extremely diverse crowd. And for Eden, it's quietly a teachable moment.
"From the guests that we bring in—having Star Jones, Angela Bassett, Michael Jordan … being able to invite various African Americans who are of influence in the various industries—not just sports and entertainment, but in business and politics ... the diversity that we're able to pull from industries and trying to bring attention to even just other African Americans [in] the Kentucky Derby, I think so many people don't even know," she says.
It's worth noting that on Sunday, African-American University of Louisville senior Brittany "BeeBee" Patillo was crowned the 2019 Kentucky Derby Festival Queen, as reported by the Courier Journal. But if blackness isn't immediately what comes to mind when one thinks about horse racing, it likely should be, as we're part of that history, too.
Last year, the gala featured "The Forgotten Jockey" portrait series, painted to showcase the African American men who were some of the original jockeys running and winning the Kentucky Derby, as chronicled in a 2017 article in Smithsonian Magazine. For the Bridgemans, it's a much-needed historical context for an event and sport that isn't readily identified with black people.
"From a cultural standpoint, although it may be in recent times, there hasn't been a connection between African Americans and the Kentucky Derby [but] in a historical landscape, we have very much had a presence," Eden says. "So we kind of take it upon ourselves to make sure we use this platform to get that message out."
But at the heart of the Trifecta Gala is philanthropy. The charities supported—this year, the V Foundation for Cancer Research, The West End School of Louisville, Ky., and the University of Louisville Autism Center—all address issues personal to the Bridgeman family. And to ensure that they get the support they deserve, visitors to the Trifecta Gala site have the opportunity to purchase tickets and/or donate directly to the recipient organizations.
Of course, there's no Derby celebration without hats, and Eden tells us her planning begins almost a year in advance, with the help of Chicago-based couture milliner Loreta Corsetti. The inspiration for both the gala and her annual show-stopping looks pull from all different mediums, including sports, Fashion Week, popular films, and more. In 2018, the astounding Afro-futuristic designs of Black Panther were the jumping-off point. This year, Eden tells us the stunning floral-infused designs of Dolce & Gabbana's July 2018 Alta Moda show at Italy's Lake Como were her visual inspiration.
And when guests again gather at the Trifecta Gala on May 3, 2019, there will be no doubt that black excellence is both in the building and behind the biggest event of the weekend. But Eden tells us that the event's impact is so much broader.

"People from all corners of the world come in for the Kentucky Derby, so besides the fun you have during the day, at night, you have all those individuals," she says. "Though it's put on by my family and we want to very much have the African-American culture and experience shown and the excellence that comes around that, we have people of every color, every creed represented, and that's what we're about, and that's what you can look forward to experiencing at the Trifecta."
The Glow Up tip: The Trifecta Gala will take place on Friday, May 3, at 7pm. You can purchase tickets on their website.