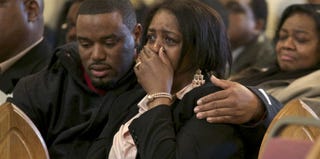 Gun violence robs Chicago mom of fourth child: Shirley Chambers first lost a child to gunfire in the mid 1990s. In 2000 a daughter and a son were shot to death just months apart. On Monday, Chambers buried her last child. Read her full story at NPR.
Will Alabama exonerate the Scottsboro Boys? A resolution introduced on Tuesday calls them "the victims of a series of gross injustices." But what will the state do about it?
Twenty-five albums every black woman should own: That's according to Essence (and who better to make the list?). Check out the picks here.
Bobbi Kristina slams Cissy's book: Sigh. It would be nice if these two could get along and support each other in the wake of Whitney's death, but it doesn't look as if that will happen anytime soon.