A Georgia father was killed during his heroic effort to save his five children from a house fire.
According to WSB-TV, although Brandon Gamble managed to save his children, he was unable to escape the flames himself. Firefighters got called to the couple's home in Clayton County at around 2 a.m. Thursday.
Neighbors told the news station that Gamble's wife, Tyesha, was outside bleeding, while Gamble himself could be seen dropping his children from the burning home out of a window.
Gamble's mother-in-law, Karen Wingo, told the news station that despite the threat to his own life, he was determined to get to his children. He even refused to listen to his wife when she expressed her concern that the fire was too intense where their children were located.
G/O Media may get a commission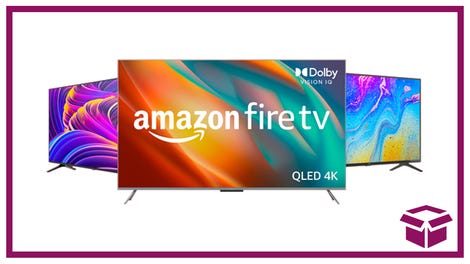 Ooh. stunning.
New Amazon Fire TVs
"I couldn't be more proud of him," Wingo told the news station. "They just woke up; the house was engulfed in flames. ... He was determined to go get them regardless. He told her, 'No, I'm going,' and he went to try to go get the kids."
"He was handing them out the window, and I think he just went back to check to see if they had all gotten out," John Sumlin, a neighbor, told the news station. Sumlin believed that Gamble had eventually managed to get out on his own, only to realize that that wasn't the case.
"[One of the kids] said, 'John, my daddy is over there. Go get him. He's going to die,'" Sumlin recalled.
It was already too late.
"For some reason, I believe the smoke or something must've trapped him in because the whole hall had engulfed," Wingo said.
Tyesha Gamble was taken to the hospital for smoke inhalation and other injuries. The kids, ages 6 to 13 years old, sustained minor cuts and bruises.
A GoFundMe has been set up to help the family, who are currently dealing with so much loss.