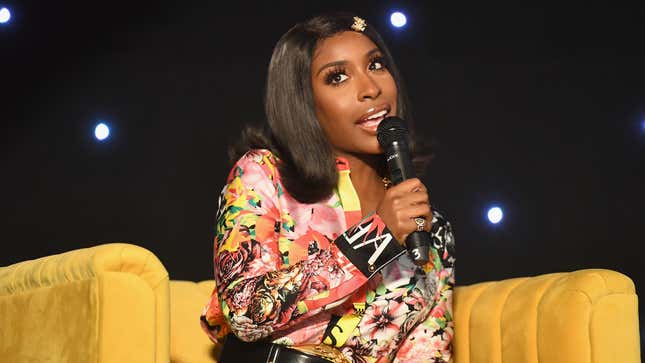 It's our turn. That's the message Glamour magazine is giving black women, with the release of its "Women of the Year All Year" list honoring the biggest influencers in beauty. Of the 12 women the magazine profiled for 2019, eight are black, indicating that our influence is finally moving beyond being fodder for appropriation to garnering its own long-overdue acclaim and impact on our own terms.
Small Town Horror Story: Juneteenth & The Aftermath of Slavery
Take YouTube star Jackie Aina, who has pushed inclusion in the beauty industry through calling out brands and fellow influencers who don't make space for brown-skinned beauty and celebrating and collaborating with those who do—all while teaching us how to pull off a flawless beat and supporting fellow black women in the beauty space (reminding us that success and sisterhood aren't mutually exclusive). Like one of her idols, Rihanna, Aina's impact is repercussive; she is the influencer to impress as brands attempt to make their lines more inclusive for all.
"[W]henever I talk about brands, I want them to actually implement that feedback and use it to their benefit," Aina tells Glamour, reflecting on the change she hopes to bring to both the industry at large and her over three million-strong following. "It's always the 'thank you for teaching me that dark skin isn't punishment and isn't ugly' moments that tell me I'm doing something worthy."
Then, there are the gifted hands of celebrity stylist Lacy Redway, the mastermind behind the ever-evolving tresses of Tessa Thompson, Jourdan Dunn, Angela Bassett, Lupita Nyong'o, Zazie Beetz, Yara Shahidi, KiKi Layne, Laura Harrier and many, many more (including non-black stars Anne Hathaway and Priyanka Chopra). Labeled "the stylist everyone wants" by Glamour, the Jamaican-born Redway isn't only championing the beauty of textured hair in the celebrity realm, but helping to break the glass ceiling for women of color in yet another notoriously white male-dominated industry.
"It's still hard for women to be given those opportunities, and that's something I take very seriously in my kind of activism—if you will—within this industry," she says "I think it's time for us to get uncomfortable and have a real conversation about what's happening and why women are not getting the same opportunities that men are getting in this industry. I know personally that I can do anything to anybody's hair."
Haitian-born "visibility crusader" Mama Cax is another force to be celebrated in the beauty space; the model lost her right leg to cancer when she was only 14, and post-amputation, struggled for years with her self-image. Revealing that her love for fashion began "because I realized I looked pretty when I covered everything up," Cax ultimately found a very visible place in the industry, signing with New York City's Jag Models in 2017. Since then, she has appeared in campaigns for Tommy Hilfiger and swimsuit brand Chromat, among others.
"I realize it's often the first time they're having someone with a disability be represented, and the message I get afterwards from the community is overwhelmingly positive," she tells Glamour, noting that those of us within marginalized communities still need to check our privilege, too.
"Even when I look at all-black spaces, they lack that diversity as well," she says. "They do try to include different kinds of people within the black community, but disability is often a missing piece. I'm embraced there because of my blackness—I want to also be embraced there because of my disability."
As one of the country's most successful black beauty entrepreneurs, Beauty Bakerie creator and CEO Cashmere Nicole makes life look sweet, but her success story was far from a sure thing. After transcending the challenge of being a teenage single mother, Nicole was diagnosed with breast cancer three years into launching Beauty Bakerie, ultimately undergoing a double mastectomy. Her battle caught the attention of none other than Beyoncé, who featured the young mother on her site for Breast Cancer Awareness month.
Beyoncé wasn't Beauty Bakerie's breakthrough, but the nod did give Nicole the confidence to push through—and the decade since has been a beautiful ride. the survivor's latest feat? Helping push the conversation around inclusive foundation ranges even further by labeling her shades darkest to lightest, putting darker-skinned clients somewhere they'd previously never been in the beauty industry: First.
"I thought, I'm going to create a situation where women of color don't have to feel that way anymore," she tells Glamour. "It would have a major positive outcome for African Americans, and it wouldn't have a negative outcome on white Americans. No one light- or fair-skinned was going to feel slighted...We did this to create change, and the change is taking place. That makes me smile."
Anne Marie Nelson-Bogle has a seat at the table in one of the biggest beauty brands in the world; as Deputy General Manager for L'Oreal Paris, she has been behind some of the brand's most inclusive offerings, like its True Match foundation shade range, which Nelson-Bogle helped expand to 45 shades. Also impressive? Her influence on L'Oreal's age-inclusive campaigns, which remind the over-40 set that we're worth it, too. As Nelson-Bogle tells Glamour, it's all part of making sure women see themselves in aspirational places.
"As a female executive who is also a woman of color, I don't look around and see a lot of women like me, so I know we still have work to do in paving the way for others...I've learned that lifting each other up is the best part of the job."
Thanks to the CROWN Act (Creating a Respectful and Open World for Natural Hair) the battle against hair discrimination is finally being won, in large part due to the efforts of State Senator (D-Calif.) Holly Mitchell and EVP and COO of Beauty and Personal Care at Unilever Esi Eggleston Bracey, otherwise known as leaders of the Crown Coalition. While it's ridiculous that in 2019 we need laws to force acceptance of how our hair naturally grows from our heads, the CROWN Act has put the country on notice with the passing of anti-bias legislation in California, New York and more states on the horizon.
"As a black woman who's worn my hair natural since 1995, I've understood how important hair and hair texture is for women, especially the issues we've had surrounding our hair," Eggleston Bracey told Glamour, recounting an event in which she implored legislators to do more. Sen. Mitchell was in the room that day and felt compelled to act. "It's personal for me from many perspectives," she revealed."I graduated from high school in 1982 in Riverside [California], which wasn't a bastion of progressive politics. At no point was my wearing braids to school every day an issue. I thought, How did we go backward?"
Similarly, United States Army CPT. Whennah Andrews was the catalyst behind the U.S. Army's relaxing (no pun intended) its discriminatory hair rules in March 2017, encouraging the military branch to accept dreadlocks in its hair guidelines. She has since become an advisor to other servicewomen and assisted the Navy in making the same change.
"I've always believed that being in the U.S. Army, we represent a diverse nation, and I wanted our military to converge to that reality, said Andrews, whose anti-discrimination efforts led to her induction into the Army Women's Foundation Hall of Fame. "But there we were, limiting folks from joining. You can look like me and still do your job, and I think that's an amazing recruiting tool."
The Glow Up tip: You can read more about The Women Changing the Beauty Industry in 2019 in Glamour's Women of the Year All Year feature now.