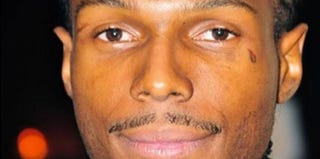 (The Root) — Family and friends gathered to remember Malcolm Shabazz at a memorial service at First Corinthian Baptist Church in Harlem on Thursday morning. Shabazz, the grandson of Malcolm X, died in Mexico on May 9 at the age of 28. Unconfirmed reports say that he was killed during a bar fight-cum-robbery.
"We are really proud of our nephew and what he overcame in his young life," Ilyasah Shabazz, dressed in a black African-styled dress with gold embroidery, told the crowd. "I remember when our sister Qubilah brought him home, he had the biggest smile that would light up a room."
Ilyasah and Malaak Shabazz, daughters of Malcolm X and Betty Shabazz, were in attendance, but Malcolm's mother, Qubilah Shabazz, was not. According to Ilyasah, Qubilah was organizing her son's funeral in Oakland, Calif., where "Malcolm was bigger than Tupac."
Several people delivered remarks, including author and activist Sister Souljah, Mount Vernon, N.Y., Mayor Ernest D. Davis, Vice-Chancellor Emeritus of the New York State of Regents Adelaide L. Sanford. The Rev. Conrad Tillard and Dominique Sharpton, daughter of the Rev. Al Sharpton, also spoke, and Jaheim, one of Malcolm Shabazz's favorite R&B singers, sang.
Mary Redd, an old friend of Betty Shabazz, brightened the mood with stories of a cherished grandson and called him "the apple of Betty's eyes."
In a poem written for the departed, Abiodun Oyewole of the Last Poets described Shabazz as a young man "trying to adjust to the shine Malcolm X left behind." Many of the mourners' reflections echoed that sentiment, thanking the young man for his work with youths around fatherhood and anti-incarceration programs and expressing how difficult it was to see his life cut short.
"Malcolm loved his family, especially his grandmother, and we all knew that he idolized his grandfather," Ilyasah Shabazz said. "The two were spiritually connected."
Hillary Crosley is the New York bureau chief at The Root. Follow her on Twitter.
Like The Root on Facebook. Follow us on Twitter.