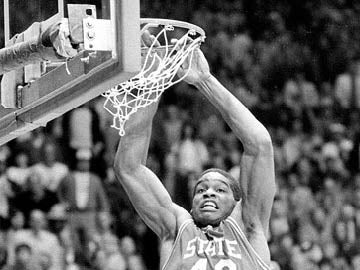 Fox Sports is reporting that former NCAA basketball hero Lorenzo Charles has died in a bus crash. Charles, 47, is remembered for helping the North Carolina State Wolfpack beat Houston in the 1983 NCAA basketball championship with a dunk at the buzzer. Charles grabbed Dereck Whittenburg's 30-foot shot and dunked it at the buzzer to give N.C. State a 54-52 win and its second national title, sending coach Jim Valvano spilling onto the court, scrambling for someone to hug in what has become one of the lasting images of the NCAA tournament.
Charles finished his college career two years later with 1,535 total points — 15th on the school's scoring list — and his .575 shooting percentage in 1985 remains a school record for seniors. He played one season in the NBA, averaging 3.4 points in 36 games with the Atlanta Hawks in 1985-86, and played internationally and in the Continental Basketball Association until 1999.
Rest in peace to an O.G.: original game changer. 
Read more at Fox Sports. 
In other news: Post-Katrina Bridge Murder Trial Begins in New Orleans.