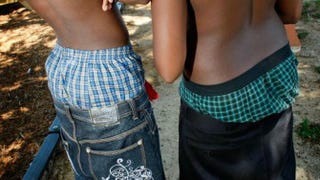 Ladies in Opa-locka, Fla., are going to have to pull their pants up after lawmakers voted recently to extend a six-year-old sagging pants ban to women, the Miami Herald reports.
City commissioners, the Herald reports, tentatively approved the ordinance authorizing police to issue citations to women for wearing pants that expose any underwear or undergarments.
The first measure was passed in 2007 and prohibits sagging pants in city parks and buildings. Although men were not singled out, the law focused on youth who were trying to imitate the hip-hop culture. The law was amended three years ago to include public spaces.
Now, Commissioner Dorothy Johnson is expanding it to women because of encounters with women who need to improve their image, she told the Herald. She plans to offer potential amendments next month.
"I heard a little boy say, 'Mommy, pull your pants up, that man is looking at you,' " Johnson told the Herald. "Your son is telling you this, and she didn't see anything wrong with it."
Read more at the Miami Herald.