Anyone who thinks the most imaginative looks on the runway happen during Fashion Week has clearly never been to Fleurotica, the incredible merging of floral and fashion design that took place at Chicago's Garfield Park Conservatory on Friday night. Garnering my first invitation to the 11-year-old event this year, I wasn't quite sure what to expect when I entered the conservatory's glorious, palm-filled atrium. But I quickly came to find that the inspiration wasn't only on the catwalk, but in the mission of the annual fundraiser.
While the fantastical fashion was the draw, the focus was clearly on community; specifically, the often underserved youth of Chicago's West Side. The teenaged talents of the Joffrey Ballet's Community Engagement Exelon Strobel Dancers set a celebratory mood for the crowd, and with good reason: Fleurotica 2019 raised over $200,000 for the conservatory, its programs and the access it provides. Particularly impressive is the Urban Roots Teen Docent program, which gives students at nearby Al Raby High School a crash course in horticulture, providing them with skills, a better understanding of the environment, and the opportunity to earn via summer internships.
Floral designer Brittney Kee, who participated in her third Fleurotica this year, knows well the impact early nature education can have; she began floral arranging at age 15 while a student at the Chicago High School for Agricultural Sciences.
Now an independent floral designer specializing in weddings and events, Kee describes her aesthetic as "classic, timeless, textural, lush and unique." Via email, she shared with The Glow Up how her early education—and inspiration from Fleurotica—fueled her professional career.
G/O Media may get a commission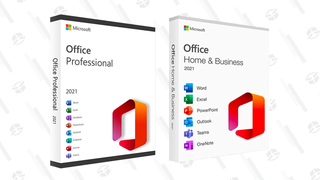 89% off
Microsoft Office Professional 2021 Lifetime License
"I [used] to dream about being in the show when I graduated [from Michigan State University, where she majored in horticulture]," Kee recalled, noting that she'd finally gotten the opportunity to participate as a solo artist in 2017. "I love the creativity! I love the idea of individuals creating garments completely out of flowers to rip the runway for a good cause. The show brings me life, a break from the madness of my world, and it inspires me to keep creating!"
This year, Kee sent a regal vision down the runway with a creation titled "Sinner and Saint." But she admitted that the inspiration behind the vibrant gown—which drew gasps when it opened the show—was initially elusive.
"Honestly, this year I wasn't sure what to do," she said. "I'm usually inspired by a wedding or a moment. But this year I really had to let the flowers speak to me and tell me where to go and what to do! I know that sounds strange...but as a spiritual person I let feelings, colors, textures, and even my heart mold my designs."
But Kee also admits that being a black woman in the floral industry is sometimes a challenging concept for people to grasp.
"For years, it was difficult for people to believe that I was a florist. I didn't look like a florist—but honestly, what does a 'florist' look like?!" she asked. "The color of my skin has presented challenges for me. I was laughed at, people didn't understand why I chose that profession, and overall it was just weird at times to say what I did and why. I felt insecure in a room filled with professionals that didn't look like me.
"But I realized that I had talent; all I needed was one person to take a chance on me," she continued, crediting two mentors in the field with helping to foster her career.
"I didn't care what people thought was strange, I had no desire to conform to what the world believed I should become based on my intelligence or my appearance. Why fit in when I could stand out?" she asked.

Kee is now paying it forward, educating and supporting horticulture students the way she once was.
"I want my students to see a powerful woman of color that doesn't conform to societal norms," she added. "I want to inspire people to take risks and dream big despite their gender, race, or status. I'm a black woman that is a florist and I love it! I couldn't see myself doing anything else for the rest of my life."
The Glow Up tip: Kee's is just one of many stories to grow out of Fleurotica and the Garfield Park Conservatory, which is free to the public 365 days a year. To learn more about their programs and events, visit their website.