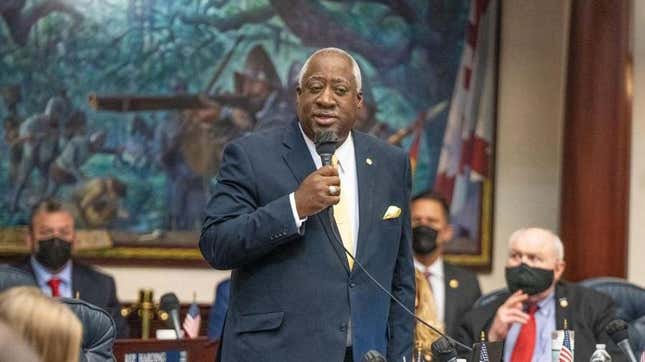 State Rep. Webster Barnaby, a Republican state legislator from Florida, apologized Monday after he referred to transgender people as "demons" and "mutants" during a legislative hearing.

Chukwudi Iwuji Talks Guardians Vol. 3 & Playing Marvel Villain The High Evolutionary
The remarks came earlier that day at a Commerce Committee hearing on the "Safety in Private Spaces Act", a bill that would make it a second-degree misdemeanor for someone to use a bathroom that does not match the sex they were assigned at birth.
The "Safety in Private Spaces Act" will tentatively be implemented in various public spaces. Barnaby said: "I'm looking at society today and it's like I'm watching an X-Men movie...We have people that live among us today on planet Earth that are happy to display themselves as if they were mutants from another planet. This is the planet Earth with God-created men, male, and women, female," he said.
Barnaby, who identifies as a conservative Christian and has been a part of the Florida House of Representatives since 2020, said he was "not on the fence" about what the bill would do. "The Lord, rebuke you Satan, and all of your demons and all of your imps that come and parade before us. That's right, I called you demons and imps, who come and parade before and pretend that you are part of this world."
The lawmaker later issued an apology shortly afterwards. "I referred to trans people as demons," Barnaby said. "I would like to apologize to the trans community for referring to you as demons." Just last month, Florida joined more than a half-dozen other states in restricting transition-related medical care for minors.
The House wound up advancing the proposal, meaning Florida is on the way to joining states like Idaho, Iowa, Arkansas and North Carolina in passing bills that bar transgender people from using bathrooms that match their gender identities.