FCC Vote Praised as Saving Jobs, Ownership Diversity
By 3-2, Panel Takes Action Against Media Consolidation
Though the final vote was the result of compromise, advocates of minority broadcast ownership and jobs for journalists of color each took comfort Monday in a 3-2 vote by the Federal Communications Commission "to bar companies from controlling two or more TV stations in the same local market by using a single advertising sales staff," in the words of Gautham Nagesh, writing for the Wall Street Journal.
"The proposal, which is part of the FCC's regular review of its media ownership rules, passed by a party-line vote after the addition of language designed to encourage waivers for joint sales agreements that encourage diversity in media ownership," Nagesh wrote. "Three of the four full-power TV stations in the U.S. owned by African-Americans are party to such agreements, and would be likely to secure waivers. . . ."
Commissioner Mignon Clyburn, who was considered the swing vote and had pressed diversity concerns, said of the vote, "To me, perhaps one of the most ironic and unexpected by-products has been that the issue of diversity, all of a sudden, has risen in the debate. When this was initiated, I had no idea that it would spawn such a heated dialogue on the value and importance of minority broadcast ownership. It is my hope that this concern and expression of goodwill lives well beyond this item. . . ."
Armstrong Williams, the conservative commentator who owns two stations as the result of a shared services agreement with Sinclair Broadcasting Co., said by telephone, "The fact that they will give waivers for minorities — that has to include me. I was encouraged."
A JSA, or joint sales agreement, is between two stations in the same market in which one station is authorized to sell advertising time on the other. A shared services agreement, or SSA, "allows same market stations to share resources, such as employees, administrative services, or hard assets, such as a news helicopter," as the FCC defines it.
G/O Media may get a commission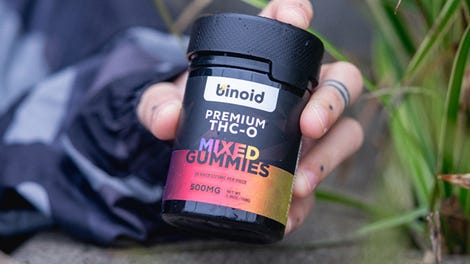 25% Off + Free Shipping
Binoid THC-O Gummies
"FCC Chairman Tom Wheeler argued broadcasters use joint sales agreements to get around the FCC's limit on owning more than one full-power TV station in the same local market," Nagesh wrote. "The agreements 'have been used, skirting the existing rules, to create market power that stacks the deck against small companies seeking to enter the broadcast business,' Mr. Wheeler said," Nagesh's story continued.
Approving of the FCC action in a Facebook message, Bob Butler, president of the National Association of Black Journalists, wrote, "Since these SSA's have become widely used, some companies have decided to shut down their newsrooms and contract with a competitor to provide newscasts.
"This results in the layoffs of journalists and reduces the diversity of viewpoints that the FCC supports."
Butler also wrote, "The FCC will not completely eliminate the practice of Shared Services Agreements. I think that is appropriate because there may be limited cases where these agreements make sense. But, given the number of journalists who have been displaced by them, I'm glad to see the FCC take a closer look at how the SSA's are being used. . ."
NABJ and the National Association of Hispanic Journalists joined others in a letter to Wheeler last week that said, "These arrangements have harmed communities of color by leading to the elimination of local newscasts and employment opportunities for journalists of color. Furthermore, they have reduced the opportunities for people of color to own broadcast stations. . . ."
The FCC action might actually boost minority ownership, the Minority Media & Telecommunications Council said in a separate statement. "Regulatory uncertainty has been a major cause of lack of access to capital for new entrants; thus, MMTC hopes the Commission will provide clear guidance on what it is looking for in waiver requests."
Free Press, an advocacy group on media matters, said Monday's vote was the first time in three decades that the FCC had moved to roll back media consolidation.
"It's time for conglomerates to start playing by the rules. Divesting some of their stations could open the door for truly independent and diverse owners to enter a marketplace conglomerates have controlled for years," Craig Aaron, Free Press president and CEO, said in a statement.
There are about 128 "joint sales agreements" around the United States, according to Patrick Communications, a broker and adviser to broadcast companies, Sarah E. Needleman and Rhonda Colvin noted last week in the Wall Street Journal.
WLOO, a TV station in Jackson, Miss., owned by Tougaloo College, a historically black private school with nearly 1,000 students, has had such an agreement with the area's local Fox affiliate WDBD since November 2012, when the school purchased the station.
Williams feared losing all of his stations after Sinclair Broadcasting, his business partner and benefactor, announced on March 21 that it would put on the open market stations it had planned to sell to Williams.
Colby May, Williams' lawyer, told Journal-isms after Monday's vote that he plans to seek waivers so Williams can keep all of his stations. "Yes, Armstrong's Flint, MI and Myrtle Beach, SC stations are impacted by the FCC's partisan, 3-2 vote to no longer allow JSAs and SSAs, and mandating that such agreements be unwound within 2 years," May said by email.
"While we have not yet seen the exact language of the FCC's ruling, during the meeting Ch. Wheeler (and under his questioning, Media Bureau Chief Bill Lake) did note that parties may seek waivers of this ban, which Armstrong will do. Waivers will have to establish that the larger public interest is being served by continuing the sharing arrangements, and in Armstrong's case, to highlight just a few points, he can certainly show he has: 1) increased the public affairs and local programming at his stations, 2) increased the coverage of local events, people, and leaders, 3) plowed revenue back into station operations and programming, 4) increased the diversity of voices, 5) increased ownership diversity, 6) maintained needed staff and employment opportunities, and 7) enhanced First Amendment values by insuring the widest possible number of content choices is available free-to-the-public.
"The FCC ruling will also impact his potential for obtaining additional stations as part of Sinclair's larger Allbritton acquisition. He is seeking stations in Charleston, SC, Harrisburg, PA, and Birmingham, AL. If necessary, Armstrong also stands ready to seek waivers for these stations, and standing upon his proven record in Myrtle Beach and Flint."
John Eggerton, Broadcasting & Cable: FCC Votes to Make Some TV JSAs Attributable
Federal Communications Commission: FCC Adopts JSA Rule and Begins 2014 Media Ownership Quadrennial Review
Diverse Startup Adds German Conglomerate as Backer
Carlos Watson, whose resume includes a stint as an MSNBC anchor, added the German media conglomerate Axel Springer to an impressive list of Silicon Valley backers for his startup website Ozy Media, which boasts a diverse slate of executives, journalists and technical people.
"We have a commitment to excellence, and if you have that commitment, you very naturally end up with a very diverse group," Watson told Journal-isms by telephone. "That, at least, has always been our philosophy. We've traveled the four continents and interviewed close to 300 people. Sometimes all of us can get into a groove and don't really stretch ourselves.
"If the people they bring you don't seem to have much in common with the world," something is wrong, Watson said.
Sydney Ember reported Monday in the New York Times, "Like many news start-ups, Ozy Media is trying to be heard. And investors, at least, are listening."
"Though it has yet to attract the readership of more prominent next-generation news sites like BuzzFeed or Business Insider, Ozy has an impressive roster of Silicon Valley backers. On Monday, the German media conglomerate Axel Springer is expected to announce one of its first media ventures in the United States, an investment in Ozy.
"Rather than compete with other news sites on breaking news, Ozy describes its mission as providing high-quality articles for what it calls the 'change generation,' an educated, global group unbounded by age.
" 'Ozy will make you smarter, sooner,' said Carlos Watson, co-founder of Ozy, which went live last September.
"Mr. Watson, 44, a former MSNBC anchor who has also worked at McKinsey & Company and Goldman Sachs, said he started Ozy to cover 'the new and the next.'
"The sleek-looking site's bread and butter, Mr. Watson said, is producing trend-spotting journalism that is ahead of the curve. He offered as an example a piece Ozy published in January about Judaism's agunot, or 'chained wives.' Articles on the same subject appeared in national publications months later. The site also addresses current events with a 'Presidential Daily Brief,' a list of the day's important stories.
Ember also wrote, "For its part, Ozy, based in Mountain View, Calif., has received financing from Laurene Powell Jobs, widow of Steve Jobs and a leading advocate for immigration and education reform; the angel investor Ron Conway; and David C. Drummond, Google's chief legal officer. Now, with a small investment from Axel Springer — the exact amount is not being disclosed — it gains the backing of a global media giant.
" 'When you meet Carlos, you just want to work together with him,' said Anton Waitz, an Axel Springer executive who recently opened the company's office in Palo Alto, Calif. 'He's very convincing in what he's doing.' . . ."
Watson said Ozy is still hiring and is looking for people in China and India, in addition to a sports reporter and a business and economics writer. Applicants should email <inquiries (at) ozy.com>.
News release: Axel Springer acquires an interest in OZY, an online magazine from Silicon Valley — News and culture site targets the 'Change Generation'

New Magazine Funded by Black Conservatives, Not Paper
Money for the new black conservative digital magazine that debuted last week in the Washington Times was raised completely by its founders, Armstrong Williams, its executive editor, told Journal-isms on Monday.
Williams; publisher Ben Carson, the wealthy and conservative neurosurgeon; and their friends, many of whom are also black Republicans, are executing a vision of a media enterprise, Williams said.
"The Washington Times has not contributed one penny to us," the commentator said, although it is providing the platform. "We're not into handouts. We do the handing out," Williams said. The group raised "well over $250,000," including members' own funds. "People like it when you have money in the game," he said.
The Washington Times announced last week that it was launching "American CurrentSee, a free weekly digital magazine for conservative black Americans. The magazine, available at www.americancurrentsee.com, aims to empower its readers to embrace an agenda of economic opportunity, moral leadership and freedom from government dependency."
The magazine expands on a previous regional magazine he founded called Ethique, Williams said. "We're literally building a media organization. It's more than just TV," he said in a reference to the television stations he has bought from Sinclair Broadcasting Co. under controversial "shared services agreements." "Eventually, I want to get into radio stations."
Moneyed black Republicans have their own network, Williams said. He quoted Carson, for whom he is business manager, saying last month at the Conservative Political Action Conference, "I have more money than I know what to do with."
Writers for the magazine are paid. "We don't want people to write for free," Williams said. The writing is better then, and in addition, "I believe in empowering people."
Chavez Film Gains Following Where Leader Was Active
"Playing at 664 locations, Cesar Chavez opened to $2.9 million this weekend," Ray Subers reported Sunday for boxofficemojo.com, referring to "Cesar Chavez."
"While that's a fine number, it does seem like this movie should have done a bit better: Chavez is a major figure in the Hispanic community, who make up 32 percent of frequent moviegoers in the U.S. The movie could receive a boost on Monday(Cesar Chavez Day), though it's still going to be a modest earner. . . ."
Brian Brooks added for Deadline Hollywood, "Lionsgate/Pantelion's Cesar Chavez bowed in a fairly large number of theaters with disparate results. The film about the farm workers champion lured a strong following in areas he was active, grossing $3 million overall for a $4,518 average [per screen]. The film also boasted an A Cinemascore, though the film starring Michael Peña as the civil rights activist/labor organizer as well as America Ferrera and Rosario Dawson fared comparatively slow in New York."
In three states — California, Colorado and Texas — Cesar Chavez Day was an official state holiday, NBC News reported.
However, Steve Angeles of "Balitang America," a 30-minute nightly news program that airs on the Filipino Channel, reported March 21 (video) that "Filipino activists took to the streets of Hollywood, this time to protest the premiere of 'Cesar Chavez,' a biographical film about the Mexican leader's revolutionary work in the farm labor movement of the 1960s.
"But protesters say, back then, Chavez could not have managed to fight for better working conditions for workers without the earlier contributions of Filipino labor leaders like Larry Itliong and Philip Vera Cruz. They want the film to reflect that. . . ."
Mandelit Del Barco, NPR "Code Switch": In 'Cesar Chavez,' A Reluctant Hero Fights For 'La Causa'

Equal Voice: Chavez Day Heroes: 50 People Making Grassroots Progress

Karen Finney, University of California, Davis: Majority of Farm Accidents Go Unreported

Lori Flores, Colorlines: The Neglected Heroines of 'César Chávez'

Elizabeth Llorente, Fox News Latino: Cesar Chavez's Legacy: Iconic Civil Rights Leader's Controversial Take On Illegal Immigration Rarely Explored

Joann Lo, Huffington Post: Food Chain Workers Take Action on Cesar Chavez Day

Diana Marcum, Los Angeles Times: In the fields of UFW's birth, farmworkers see Cesar Chavez film

Raul A. Reyes, NBC News: Rediscovering Cesar Chavez: Movies, Book Focus On Labor Icon

Cindy Y. Rodriguez, CNN: Why the 'Cesar Chavez' biopic matters now

Julio Ricardo Varela, Latino Rebels: Diego Luna Plays It Safe in Disjointed "César Chávez" Movie

White House: Presidential Proclamation — Cesar Chavez Day, 2014
CNN Tweets, Mistakenly, That Soccer Star Pele Has Died
"CNN's New Day morning show apologized for a breaking news tweet sent to its 55,000 followers on Friday that incorrectly stated that Brazilian soccer legend Pele had died at age 74," Erik Hayden reported Friday for the Hollywood Reporter.
"The tweet was deleted (not before Circa editor-in-chief Anthony De Rosa flagged the item. . . ) and the account subsequently sent two tweets noting that Pele's rep had stated that he was 'alive and very well.'
"A CNN spokesperson tells THR that the breaking news tweet was not the result of a hack. . . ."
Neither CNN spokeswomen Neel Khairzada nor Bridget Leininger responded Mondaywhen Journal-isms asked whether CNN had determined how the error was made.
Lonnie White, USC Player and L.A. Sportswriter, Was 49
"Lonnie White, a former USC football player who worked for two decades as a Los Angeles Times sportswriter, has died," Gary Klein reported for the Times on Sunday. "He was 49.
"White, who had a number of health problems over the last several years, died Saturday at Glendale Memorial Hospital, his sister Terri said.
"White worked for The Times from 1987 to 2008. He covered the Los Angeles Clippers, Los Angeles Kings, the NFL, UCLA football, USC basketball, high school sports and was a general-assignment reporter.
"His work was recognized several times in the Associated Press Sports Editors annual writing contest and he wrote the book 'UCLA vs. USC: 75 years of the Greatest Rivalry in Sports.'
" 'Lonnie was one of the truly good guys in our business, respected and liked by almost everyone who knew him professionally and personally,' said Times sports editor Mike James, who worked with White throughout his career at the newspaper and edited his book. 'This is a very sad day.' . . ."
"One Hell of a Column" on Race and Sports
"Richard Deitsch of Sports Illustrated has put together one hell of a column regarding the role of race in sports media," Chris O'Shea wrote Monday for FishbowlNY.
"It's an email roundtable discussion, featuring the following journalists: Cari Champion, host of ESPN2's First Take; Jemele Hill, co-host of ESPN2's Numbers Never Lie; Gregory Lee Jr., executive sports editor, [South] Florida Sun-Sentinel; Tim Kawakami, sports columnist for the San Jose Mercury News; Angel Rodriguez, the Cincinnati Enquirer's sports editor; and Darren Sands, sports business reporter and multimedia journalist for BlackEnterprise.com.
"Below are some highlights from the piece. You can (and should) read the entire piece here.
"On the 'n word' and its use in the sports and non-sports worlds . . . On how the small number of people of color in sports media management has impacted the discussion of race and sports . . . On the frequency of racist remarks they experience via social media . . . On the lack of women of color as sports commentators or sports columnists. . . . "
Dade Column for The Root Pledges Social Media Engagement
Corey Dade, contributing editor at The Root, is starting a new politics blog on the site that is to debuton Thursday, Journal-isms was told Monday by Lyne Pitts, who disclosed that she has been promoted from interim managing editor to managing editor of The Root.
"Corey will report, primarily, on the important political news stories of the day, and then break issues down with his 'Take' on what's really behind the story and why it should matter," Pitts said by email, adding that the blog is to appear Mondays and Thursdays. "If he's got opinions on other topics, from race to culture to sports, he'll weigh in on those as well.
"Folks can also follow him @TheTakeBlog or @theRoot."
Dade, who was formerly at NPR and the Wall Street Journal, added by email, "The Take will replace Blogging the Beltway and will be written solely by me. Its format will be a bit different than most blogs.
"We're trying to strike a balance between sharp analysis, variety and brevity for a digital audience that wants insight that cuts through the spin but lacks the time or the inclination to read longer, in-depth pieces on a single topic.
"So each blog post will present 3 to 5 different news items. Each item will have two parts: the first will lay out the news itself, in a balanced and 'straight' report consistent with any traditional news article; the second provide 'The Take,' analysis and opinion of that news.
"Most news-related sources provide one or the other (news or analysis/opinion). The Take will aim to deliver a one-two combination that gives people a bit more sustenance. Many readers appreciate receiving the news and analysis in one sitting. Hopefully it will provide a more efficient, still fulfilling experience for them.
"In addition, The Take will have robust social media engagement. We'll use the platforms to engage people between blog posts and drive discussions that will find their way into future blog posts. One feature will be 'What'd I miss?' offering readers the chance to correct us when needed, provide additional perspective or just take us on. Readers appreciate seeing their questions and viewpoints answered responsibly. We'll endeavor to do that because it will be critical to the success of The Take to open a two-way conversation with readers and stakeholders."
Pitts, a television news veteran who joined The Root in September, said she had been named managing editor in February.
"Military police detained a Blade reporter and a photographer Friday outside the Joint Systems Manufacturing Center and confiscated the photographer's cameras," Nolan Rosenkrans reported Friday for the Blade in Toledo, Ohio. "Blade reporter Tyrel Linkhorn and photographer Jetta Fraser said they went to the driveway entrance of the tank plant operated by General Dynamics' Land Systems on Friday afternoon. They stayed outside the plant's gate and did not pass an unmanned guard shack. The pair were leaving when they were stopped by military police. After protest by The Blade, U.S. Sen. Rob Portman's office made a call to General Dynamics. Keith Deters, manager of the plant, said Friday evening he was able to persuade the military police to release the cameras after they reviewed the photographs. . . ."  Fraser is the daughter of retired New York Times journalist C. Gerald Fraser.

Rick Hancock, who last year left the Hartford (Conn.) Courant, where he was digital platform manager, to join the Atlanta Journal-Constitution's digital staff, is "jumping full time into running a startup that I co-founded in 2012 in Connecticut," Hancock told Atlanta readers on Friday. "This isn't my first startup, but I think this one has the most promise. I'll also be doing some digital media consulting and training for a few Atlanta companies." Hancock told Journal-isms by email, "While I'll always love journalism my true passion and dream has always been to run my own company. . . ." The website, mymobilelyfe.com, "is looking for great storytellers. Our focus is on connecting companies with people on the go. If you can craft a compelling story for our clients that will reach people on their mobile phones, tablets, wearable technology or even in their smart cars we want to hear from you," the site says.

In New York, "While the ratings remain subpar at WPIX, Tuned In has learned that consultant Vickie Burns has left the building," Jerry Barmash reported Saturday for his Tuned In site. News Director Mark Effron told Journal-isms by telephone Monday that Burns, who has been a news manager in Chicago, New York and Los Angeles, "was very helpful. She did a great job. Vickie was doing some informal consulting for the company."
In Wilmington, N.C., the premiere of the National Newspaper Publishers Association – CashWorks HD Productions documentary, "Pardons of Innocence: The Wilmington Ten" is scheduled for Saturday at UNC Wilmington's Kenan Auditorium. The two-hour screening, scheduled for 9:30 a.m., is free. Doors open at 9 a.m. "The documentary recounts the history surrounding the troubled desegregation of New Hanover County Public schools during the late 1960s through 1971, which evolved into the false prosecution of eight black male students, a white female community organizer, and a fiery civil rights activist, Rev. Benjamin Chavis, for protesting racial injustice," an announcement says. "We will be traveling the state and nation, showing this film on college campuses, at theaters, churches, and anywhere we're invited, to educate our community about the power of the Black Press," reporter Cash Michaels messaged Journal-isms.

"A.J. Daulerio, a former editor of Gawker and Defamer, plans to launch a network of sites under the brand name Ratter, with city-specific sites for Los Angeles, San Francisco and New York," Johana Bhuiyan reported Friday for capitalnewyork.com. "Daulerio, who was editorial director of entertainment and music at Spin Media until October, said the sites will train a local tabloid sensibility on stories with national and global viral potential. . . . "

"HLN is the latest cable channel looking to break into the increasingly crowded late night talk/variety show game," Alex Weprin reported Monday for capitalnewyork.com. "The channel, which is in the middle of a rebranding, has shot a pilot for a talk show called 'Weekly Mashup,' hosted by KIIS D.J. Chuey Martinez, according to a source familiar with the project. . . ." KIIS-FM is based in Los Angeles.

"ABC News 'Good Morning America' Weekend anchor Ron Claiborne is going back to school today," Chris Ariens reported Monday for TVNewser. Claiborne "along with WPVI anchor/reporter Tamala Edwards will spend the better part of their day at Glen Mills Schools outside Philadelphia. Glen Mills is the oldest residential school in the U.S. for court referred students. Claiborne and Edwards, along with producers, photographers and editors from WPVI, will guide six teams of students who will shoot one of three assigned stories. They will then critique and dissect the students' work and give feedback on how to report a TV news story, then write and edit it. . . ."

"Three al-Jazeera journalists who have been jailed in Egypt were again denied bail on Monday, despite the prosecution's failure to bring crucial video evidence to the trial for the third session in a row," Patrick Kingsley reported for Britain's Guardian newspaper. "Hopes were high for a conditional release after Peter Greste, Mohamed Fahmy and Baher Mohamed were allowed for the first time to leave their defendants' cage and make impassioned face-to-face pleas before the judge. But to the surprise of the courtroom, the judge again refused their requests and adjourned the trial until 10 April. . . ."

March 21 was the U.N. International Day for Elimination of Racism, and to commemorate the day, Philip Probity and Ahmed Mohh M. posted a conversation with Dr. Kusum Gopal, an anthropologist who has served as a U.N. expert and technical adviser. The dialogue began with the question, "Why is there so much racism directed specifically against Africans in India?" In discussing how racism is manifested around the world, Gopal attributed much to European colonialism and its legacy. "We must address collectively as a people our instinctive self-loathing and how it has consequences on questions of ethics, on aesthetics which disinherits and disenfranchises us," she said.

The Leadership Institute of the Center for American Progress, a Washington think tank, is accepting applications for the upcoming class of 2015 Leadership Institute Fellows. The Institute, led by Sam Fulwood III, formerly of the Plain Dealer in Cleveland and the Los Angeles Times, "seeks to shape the development and implementation of progressive public policies by increasing the ranks of policy experts drawn from communities of color. Our goal is to increase the participation of racial and ethnic minorities — who are vital to the nation's future growth and prosperity — among the thinkers, shapers, and planners at every level of government, nonprofit organizations, media, and other groups that influence public policy. The application deadline is July 18.
Statement of Commissioner Mignon L. Clyburn
On Broadcast Media Ownership, Diversity and Joint Sales Agreements
True Southerners have a unique ability to turn lemons into lemonade, and that knack best reflects what I hope we have achieved in the matter before us today.
JSAs and SSAs have been around for some time — with the patent blessing of the FCC — and are the backbone of growth and profits for many broadcasters. Many of these arrangements have resulted in enhanced economic returns through the selling of advertising by a more experienced sales force, additional programming, and most notably, the production of local news. Many also have provided access to state of the art facilities for those stand-alone stations that could never afford them on their own.
JSAs and SSAs, however, have not been without controversy. Some arrangements, quite frankly, were thought to be "workarounds" of our local ownership rules, and the Commission's staff rightfully began to scrutinize these arrangements more closely.
In so doing, we uncovered some glaring abuses. In some markets, JSAs masked a threadbare ownership structure, where the brokered station owned little else beyond the FCC license. We found arrangements that masked full-scale control of the brokered station, right down to the same programming, the same talent, the same management, and the same studio. More egregiously, we have seen arrangements where the second station was little more than an orphan of the first, including veiled single ownership schemes.
At stake are billions of dollars in revenue, investment capital, and plain old profits for independent television stations in second and third tier markets. On this issue, the economics are truly local.
I am keenly aware of the impact of our actions on broadcasters; the effect on local communities; the reaction of capital markets and institutional investors; the present and future opportunities for minorities and small business entities; the concerns of public interest groups; and last, but not least, the appropriate role of this agency as the regulator of last resort, representing the public interest.
This item has also required me to respond to questions from allies and opponents, alike, about the timing, intent, and fundamental fairness of today's action. I am not sure whether all issues have been addressed satisfactorily, but in the course of our inquiry we have uncovered several new concerns raised by industry, public interest and minority groups, as well as policymakers, which we seek to address today.
To me, perhaps one of the most ironic and unexpected by-products has been that the issue of diversity, all of a sudden, has risen in the debate. When this was initiated, I had no idea that it would spawn such a heated dialogue on the value and importance of minority broadcast ownership. It is my hope that this concern and expression of goodwill lives well beyond this item.
For the past several weeks, I have been very clear that my support of any policy shift would only come with a responsible balance of competing interests. First, this item gives a licensee the opportunity to seek a waiver of our local television ownership rule, if it can demonstrate that a JSA is in the public interest. For example, an applicant could demonstrate that a JSA would enable a school, community college, institution of higher education or other community support organization, to own a station, and to demonstrate that the benefits of such common ownership would advance the public interest.
Second, it establishes a shot-clock of 90 days for the Bureau's review of waiver requests. I believe that if we are going to have a viable waiver process, we need to have a definite set of rules concerning how those waivers are to be considered. This provides a level of predictability and certainty for licensees, so that their transactions do not become mired in FCC purgatory. In itself, this is a significant step forward.
Third, this item establishes guidelines for waivers, noting that if a waiver request for a JSA is limited in scope and duration, and has a time-frame for full operational control, it is more likely to succeed than one that is open ended. This should give smaller stations the amount of runway they need to [take off] toward full independence. What we have here today is an item that is admittedly not perfect, nor will it be fully embraced by every stakeholder or interest group. But, I am convinced of our earnestness and good faith to address the key issues involved in the media ownership debate. Responsible regulation requires the balancing of interests. On the one hand, we must uphold those well-defined rules in order to realize our goals of promoting predictability and stability for markets, business owners and investors. On the other hand, there is great value in the decision to uphold our statutory goals of localism, diversity and competition.
There is much more in this item, but in sum, I wish for it to be known that my objective from the beginning has been to provide licensees who want to advance local content in their area television markets, the incentive and framework to do so. And I am convinced that we can both enforce our rules and realize those objectives that the statute directs, if we simply pierce the veneer, abandon the platitudes, and embark on a legally sustainable pathway, to facilitate localism, diversity and competition.
I want to acknowledge the fine work on this item by the Media Bureau, the Office of General Counsel, Maria Kirby of the Chairman's office, and Adonis Hoffman, in my office.
Follow Richard Prince on Twitter.
Facebook users: Like "Richard Prince's Journal-isms" on Facebook.
Journal-isms is published on the site of the Maynard Institute for Journalism Education (www.mije.org). Reprinted on The Root by permission.