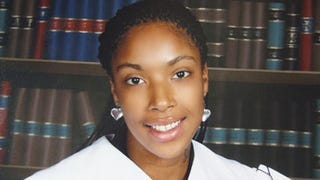 David Lohr of AOL News is reporting that the FBI has joined the search for missing New Jersey teen Nadirah Ruffin, who police say was kidnapped during an armed home invasion and robbery in Atlantic City. Atlantic City Deputy Chief Ernest Jubilee said at a press conference that the bureau is offering a reward of up to $20,000 for information that leads to the recovery of 19-year-old Ruffin, and the arrest and successful prosecution of the individual or individuals responsible.
Ruffin, who has a 4-year-old son, was at a cousin's house Saturday night on North Maryland Avenue when four masked intruders broke into the home. The intruders ransacked the house and forced Ruffin outside at gunpoint and into a waiting vehicle. Four other women who were inside the house at the time were bound with duct tape, police said. Apparently the 4-year-old was not in the house.

Authorities say they have no motive in the alleged abduction and are investigating all leads and rumors. Jubilee called in the FBI because he says that the Atlantic City Police Department has expended all resources to find her.
How sad for Ruffin and her family, especially her son. We hope that this story gets elevated to a national platform to aid in finding out what happened to this young woman.
Read more at AOL News.
In other news: March Jobs Report: More Jobs, Fewer Unemployed.
Like The Root on Facebook. Follow us on Twitter.