Illmatic, my all-time favorite debut album and one of my top-five favorite hip-hop albums of all time, celebrated its 25th anniversary April 19. Whether or not Nas ever released another classic album has been the subject of an interminable debate among hip-hop nerds; what isn't up for debate is that Nas had a largely respectable career in which few people will question his status as a living hip-hop legend.
The anniversary has me thinking about Jay Electronica, an artist who had the opportunity to become an heir apparent of sorts to Nas, and who also has a noteworthy anniversary this year—"Exhibit C" turns 10 in December—but seemed content to squander it all for reasons unknown.
I was already a fan of Jay Electronica because he managed to transform Jon Brion's score of one of my all-time favorite films—Eternal Sunshine of the Spotless Mind—into several interesting hip-hop tracks. And Just Blaze, aka Justin Smith, was rapidly ascending the ranks of my top 10 G.O.A.T. producers thanks to his role in Jay-Z's early-aughts renaissance and his drum-and-gospel-sample sound that contributed to the apex of both State Property and Dipset.
I'd already heard them together on "Exhibit A (Transformations)," but hearing "Exhibit C" for the first time left me in awe. I banged it loudly at least three times in a row— something I almost never do with a song out of the fear of wearing it out—certainly disturbing the neighbors above my garden apartment. That adroit Billy Stewart sample flip was Justin at the height of his powers. Jay's final verse—in which he effortlessly weaves the Arabic language and a reference to Jewish religious headwear within two bars—is par excellence and ranks among the best hip-hop verses of the century's first decade.
The track joins the Gangstarr's "You Know My Steez" and Tribe's "Electric Relaxation" in the exclusive company of cuts I'll never forget where I was the first time I heard them. It was the culmination of everything Jay or Justin had done before. It got me, and everyone, excited for what was to come.

G/O Media may get a commission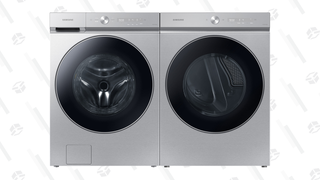 Get $500 back in credit
Last Chance: Samsung Bespoke AI Washer and Dryer Preorder
And then…cue the Price is Right lose noise.

For nearly a full-ass decade, I've watched Timothy Elpadaro Thedford slowly and methodically butcher his own career, his goodwill with his fans, and all the credibility he has as an artist, by not accomplishing something a 12-year-old with a SoundCloud account and an iPhone can do: release a proper fucking album. For many hip-hop fans, Jay Electronica's failure to release an album ranks somewhere between the deaths of Biggie and 'Pac and Bow-Wow's retirement as one of the most tragic tales of hip-hop history.

Jay's only "official" project is Act I: The Eternal Sunshine (The Pledge), which is only the aforementioned Eternal Sunshine tracks, along with Just Blaze and Jay's baby-mom's Erykah Badu talking about something over instrumentation. Following the buzz of "Exhibit C," which included every rapper in the northern hemisphere spitting over the instrumental, Jay wound up in an alleged bidding war between Jay-Z and Diddy in 2010, a time when that still held a bit of cachet. When he signed to Roc Nation in 2010, it seemed like all systems go for his first official album, Act II: Patents of Nobility (The Turn).

Since then, anticipation for the album has slowly devolved to the point of farce. It's been the subject of countless news stories, timelines and think pieces over the last decade. Meanwhile, Jay has danced around the issue like a marionette emcee with excuses and prevarications, making empty promises about upcoming projects and somehow managing to invoke the nigga who helped kill Malcolm X as a potential reason for holdup. Dude even had the unmitigated gall to release a whole motherfucking track list in 2012. Jay is hip-hop's version of your gaslighting ex-boyfriend whom you needed a year of therapy and multiple fifths of Henny to finally get over.

He's dropped a number of loosies over the years, as well as solid verses for artists ranging from Talib Kweli to Big Sean to Chance the Rapper for the best song on his Coloring Book "mixtape." Most of his tracks, however, are unmastered and not available on any major streaming service. Several of them are little more than him rhyming over an existing, untouched composition, which strikes me as a tad indolent.

A by-product of the album holdup is this aura of mystery and mystique surrounding Jay, which some would argue is a fantastic marketing campaign at work. I might've been in that camp in the first couple years, but now I'm calling basura: I'm a fan of music; if I wanted fantasy from a nigga, I'd read some Octavia E. Butler novels.

Yet, the die-hard hopefuls keep sopping up Jay's foolishness like a three-day-old biscuit and your white stepmother's gravy. He made headlines in March when he hinted that there might be a joint album with Jay-Z in the works. Everyone who loves "We Made It" salivated at the prospect, but since Jay has teased so much shit that has never come to pass, his "maybe possibly" didn't deserve the press it received. Holler at me when it comes from the mouth of Hov, otherwise known as the Jay who actually puts out goddamn albums.

The closest thing resembling a full Jay project is 2008's non-official What the Fuck is a Jay Electronica mixtape. As I mentioned above, most of the tracks are unmastered and several are over other folks' unaltered beats. But he's rapping his ass off, and the original beats prove that he has a solid ear for production. The true tragedy is in the potential he demonstrates on a mixtape that still rides more than a decade later.

Nothing involving Jay Electronica not making an album matters to me in 2019. I don't care that he was exposed to Erykah's alchemist poon and somehow managed not to convert to a wardrobe consisting of sweaters and triple-knit kufis in AKA colors. I don't care that people think he's tangentially connected to the Illuminati because he kicked it with a Rothschild at some point. I'm over the bullshit—I don't care about any headline that doesn't include his name with the words "mastered" and "drops Friday."

I also don't want to hear about him dissing Kendrick Lamar or any other working rapper. Look…Jay could've been Kendrick. There'll never be a consensus on a universal metric to determine a G.O.A.T. rapper, but not one in contention is without an album, and Kendrick already arguably has several classics. To paraphrase Lawrence Taylor in Any Given Sunday: You gotta earn the right to talk shit about another rap nigga.

I'd never deign to rush the process of another creative—lord knows I have many incomplete drafts of projects on my hard drives—but the it's-ready-when-it's-ready mindset has intrinsic limitations for a (signed) music artist. If a rapper creates an album that never leaves his studio, does that album exist? Also, Jay has time and evolving tastes working against him: He's 42 years old, and even us children of the Rawkus Records era aren't as keen on Jay's "astronomical high-powered prolifical lyrical miracle molecules through ya stereo" bars as we might've been a decade ago. If Act II really has existed for all these years, it would very likely sound dated as a 2019 drop.

Whole careers are built off a buzzy track like "Exhibit C." For every Migos and Cardi B who turned a hot single into a hot career, there's a whole gaggle of J. Kwons, Young MCs and Chingys who are just happy to get that small-town fair gig on the strength of their one hit. But at least those rappers tried to keep it going—Jay took that extraordinary buzz of his and shot a deuce on it in a way that should make every aspiring rapper look at him with the Arthur fist meme.

We may never know how Jay got here, but it's a crying damn shame that he is. The Fat Boys didn't break up for this.