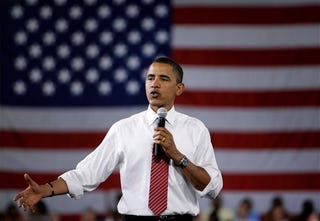 Excerpts from the President's address to Congress:
I am not the first President to take up this cause, but I am determined to be the last. It has now been nearly a century since Theodore Roosevelt first called for health care reform. And ever since, nearly every President and Congress, whether Democrat or Republican, has attempted to meet this challenge in some way. A bill for comprehensive health reform was first introduced by John Dingell Sr. in 1943. Sixty-five years later, his son continues to introduce that same bill at the beginning of each session.
Our collective failure to meet this challenge – year after year, decade after decade – has led us to a breaking point. Everyone understands the extraordinary hardships that are placed on the uninsured, who live every day just one accident or illness away from bankruptcy. These are not primarily people on welfare. These are middle-class Americans. Some can't get insurance on the job. Others are self-employed, and can't afford it, since buying insurance on your own costs you three times as much as the coverage you get from your employer. Many other Americans who are willing and able to pay are still denied insurance due to previous illnesses or conditions that insurance companies decide are too risky or expensive to cover.
We have seen many in this chamber work tirelessly for the better part of this year to offer thoughtful ideas about how to achieve reform. Of the five committees asked to develop bills, four have completed their work, and the Senate Finance Committee announced today that it will move forward next week. That has never happened before. Our overall efforts have been supported by an unprecedented coalition of doctors and nurses; hospitals, seniors' groups and even drug companies – many of whom opposed reform in the past. And there is agreement in this chamber on about eighty percent of what needs to be done, putting us closer to the goal of reform than we have ever been.
But what we have also seen in these last months is the same partisan spectacle that only hardens the disdain many Americans have toward their own government. Instead of honest debate, we have seen scare tactics. Some have dug into unyielding ideological camps that offer no hope of compromise. Too many have used this as an opportunity to score short-term political points, even if it robs the country of our opportunity to solve a long-term challenge. And out of this blizzard of charges and counter-charges, confusion has reigned.
Well the time for bickering is over. The time for games has passed. Now is the season for action. Now is when we must bring the best ideas of both parties together, and show the American people that we can still do what we were sent here to do. Now is the time to deliver on health care.