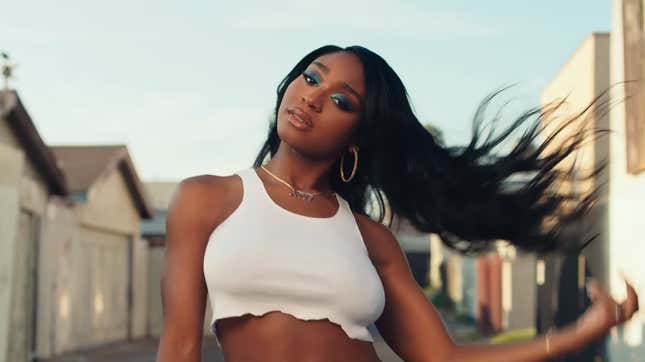 Beloveds, Normani has landed.
On Thursday, the former Fifth Harmony singer dropped the video to her first non-collab song (she previously dueted with Sam Smith on "Dancing With a Stranger"), and every Hot Girl and City Boy under the sound of her voice felt their lungs expand, their skin glisten, their brows get fuller, their teeth get whiter, and the backs of their ears miraculously started smelling like tropical fruit and good credit.
American Ninja Warrior: Season 15 Is Our TV Pick of The Week
"Motivation" is that girl, and Normani has firmly established she's someone to check for.
Co-written with Ariana Grande, with whom Normani toured recently, the song itself a sweet, poppy bop—the kind of song that goes great with Coco Helado, grills, and long, lazy summer afternoons. Would have loved to have had this song to buoy our spirits during the most wretched, Mercury Retrograde parts of the summer, but you know what? You gotta take your blessings when they're handed to you!
But the video elevates what was a very good song into the stratosphere. It manages to dip into millennial nostalgia—the video's opening harkens back to the days of watching 106th & Park after school—while orienting itself toward the future: Normani as a bonafide pop and R&B star.
Here's a brief catalog of the things she serves us: Horns! In the rain! A walk! Normani poppin' that booty on a chain-link fence! Normani poppin' a basketball off that booty! Choreo! Body! Belly button piercings! Hair! A white two-piece airbrushed ensemble that has probably already hit Fashion Nova! Choreo! Body! Exquisite head tosses! That cerulean eye shadow! More choreo! Did I mention body??
Normani told Rolling Stone that she shot the video about a month ago.
"It's going to be worth the wait," she said. "It's an upbeat [song]. It's a feel-good record. I think that everybody will really love it. It was the first opportunity that I had to have fun."