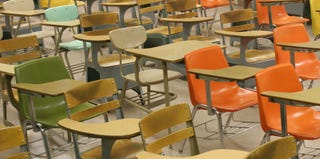 Critical supports in childhood help mold young black boys into successful men, Marian Wright Edelman, president of the Children's Defense Fund, argues at the Huffington Post. She says families, schools, churches, communities and government agencies need to do more to help them achieve greater academic success.
"You don't have to be a Black male educator to teach Black students. You just have to love Black male children and believe that they have unlimited potential and opportunity, and they're just as smart and capable as anyone else and caring. And it's hard. Sometimes you have to go the extra mile," said Michael Tubbs, an extraordinary young leader and teacher who is part of the Children's Defense Fund youth leadership development movement. "It takes school, church, neighborhood, government, partnerships. It takes relevant curriculum. It takes love. It takes trial and error. It takes being creative. It takes messing up. It takes getting back up. It just takes everything we're not doing now."

Michael Tubbs earned his bachelor's and master's degrees last year from Stanford University, where he became a Truman Scholar, interned at Google and the White House, and was awarded the Dinkelspiel Award, the highest award given to a Stanford undergraduate student. A few months later he became at age 22 the youngest city councilmember in the history of his hometown of Stockton, California, earning more than 60 percent of the vote. Today, in addition to serving on the City Council he is an adjunct professor at Stockton's Langston Hughes Academy. He shared lessons from his first year of teaching and many years of mentoring young Black men at a June symposium on "Black Male Teens: Moving to Success in the High School Years" convened by the Educational Testing Service (ETS) and CDF at the National Press Club. This was the third in a series of ETS-CDF symposia on Black males. The first addressed their needs from 0-9; the second the middle school years. A final symposium on the college years is scheduled for June 2014.
Read Marian Wright Edelman's entire piece at the Huffington Post.
The Root aims to foster and advance conversations about issues relevant to the black Diaspora by presenting a variety of opinions from all perspectives, whether or not those opinions are shared by our editorial staff.