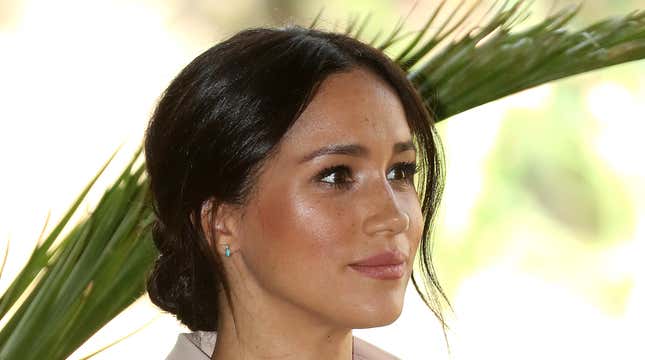 We already have the official statement regarding Prince Harry and Meghan Markle's frustrating (and legal) tussle with the press, but now, the latter is opening up in a purely human way.
Tackling A Black Maternal Health Crisis & Embracing Reproductive Justice | The Root Institute
In a heartbreaking clip shared by ITV, Markle discusses what it has been like to experience the extreme scrutiny of the press. The clip, which is our first on-camera look at how she feels about the experience, was released Friday morning to promote the much-anticipated documentary, Harry and Meghan: An African Journey, which provides an intimate look into the lives of Harry and Meghan, the Duke and Duchess of Sussex.
According to Women's Health, the interview was filmed during the couple's South Africa tour near the time when the royal couple announced they were taking legal action against the Daily Mail. The Duke expressed his clear frustration in the statement, accusing the tabloid of posting "lie after lie," stating that they "vilified [his wife] almost daily for the past nine months."
While Meghan should be enjoying and basking in the joy and beauty that is having her first baby, she has had to deal with the unnecessary and downright racist scrutiny of the press. "Especially as a woman it's really—it's a lot,' Markle told ITV's Tom Bradby. "So, you add this on top of just trying to be a new mom and trying to be a newlywed."

In the clip, it is apparent Markle is holding back tears as she discusses what it has been like to be a target of such vitriol, simply for existing as not only a royal figure, but a black one.

"And also thank you for asking, because not many people will have asked if I'm OK," Markle continued. "But it's a very real thing to be going through behind the scenes."

Bradby then asked for a confirmation that the ordeal has "really been a struggle" and that she was indeed, "not really OK." Markle paused before letting out a quietly emotional, "yes."

Sure, Markle upholds the image and responsibility of being the Duchess of Sussex, but before all of that, she is human. She is a mother. She is a wife. She is a daughter.

"Look, any woman, especially when they're pregnant, you're really vulnerable," Markle noted; she gave birth to the couple's first child, Archie, in May. "And so, that was made really challenging, and then, when you have a newborn, you know?"

Harry and Meghan: An African Journey premieres Sunday, Oct. 20 at 9 p.m. on ITV.

Update: 10/18/19, 3:45 p.m. ET:
Fellow Americans! According to Good Morning America, We'll also be able to view the doc, Harry and Meghan: An African Journey, as it will premiere on ABC Wednesday, Oct. 23 at 10:00 p.m. ET.