In a pair of campaigns that have gone from improbable to formidable, bellicose business tycoon Donald Trump and Vermont Sen. Bernie Sanders both won their first state primary—New Hampshire—in their pursuit to become their respective party's nominee.
Both were expected to win with big leads over their opponents. 
"The government of our great country belongs to all of the people, and not just a handful of wealthy campaign contributors and their super PACs," said Sanders in his victory speech. "Tonight we serve notice to the political and economic establishment of this country that the American people will not continue to accept a corrupt campaign finance system that is undermining American democracy, and we will not accept a rigged economy in which ordinary Americans work longer hours for lower wages while almost all new income and wealth goes to the top 1 percent."
While the second-place finisher on the Democratic side was former Secretary of State Hillary Clinton, on the Republican side it was Ohio Gov. John Kasich, who came in second, beating out Texas Sen. Ted Cruz and former Florida Gov. Jeb Bush, who came in third and fourth respectively. 
Trump won with 35 percent of the vote over Kasich's 16 percent, while Sanders led with 60 percent over Clinton's 39 percent.
G/O Media may get a commission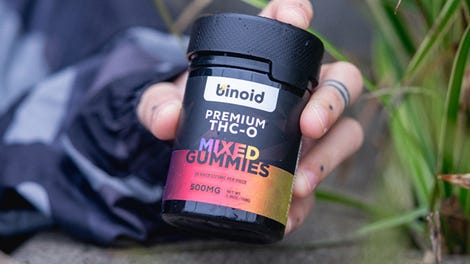 25% Off + Free Shipping
Binoid THC-O Gummies
Trump's and Sanders' wins are notable because of their outsider status. Sanders, a 74-year-old self-described democratic socialist, is running on a platform of income inequality and running to the left of the Democratic establishment. On the other side is Trump, a loud, bold figure who recently called one of his opponents a "p—sy." A divisive demagogue, Trump is widely disliked by those outside of the Republican Party's base. In spite of, or perhaps because of, his brashness, though, Trump remains incredibly popular with Republican voters.
Cheers of "Trump! Trump! Trump!" regularly interrupted Trump's wide-ranging victory speech, in which he hit on the many familiar themes of his campaign. He discussed rebuilding the military, repealing and replacing the Affordable Care Act, taking care of veterans, preserving the Second Amendment and building strong borders.
"We're going to build a wall. It's going to be built. It's not even, believe it or not, it's not even a difficult thing to do," Trump said.
He closed his speech touching on the theme of America not "winning," saying that once he becomes president, "We are going to start winning again. And we're going to win so much, you're going to be so happy. We are going to make America so great again, maybe even greater than ever before."