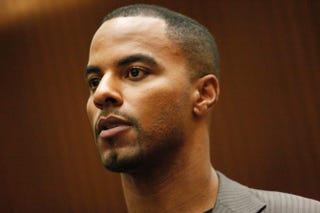 Darren Sharper could find out on Thursday if an Arizona judge will grant him bail, just a day after authorities gave testimony saying they found semen matching the former NFL star's DNA, USA Today reports.
According to the report, the sample was found on the leggings of one of his alleged Arizona victims, with testing also uncovering a partial DNA match to Sharper on the genitals of the same victim who, before the alleged rape last November, did not have a relationship with Sharper.
Sharper has been in jail since February for allegedly drugging and raping two women after partying with them. He has been in bail hearings as the judge tries to determine whether he should be allowed his freedom as he awaits trial. Sharper faces felony rape charges in California and Arizona, USA Today notes.
The former NFL analyst, who was fired after the allegations, has been kept in a Los Angeles jail, where he has been charged with raping two other women, with Super Court Judge Renee Korn denying him bail referencing his no-bail status in Arizona, USA Today reports. He had previously been granted a $1 million bail before that decision.
Sharper's attorneys are fighting to get their client out on bail, with the prosecution arguing that there is evidence stacked against Sharper to keep him in jail.
Read more at USA Today.