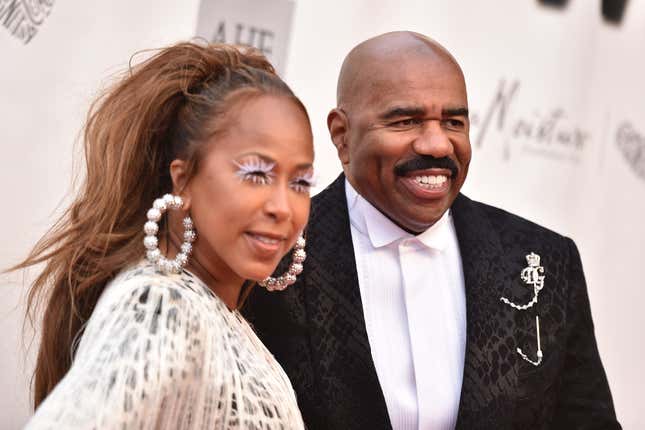 Another day, another bogus celebrity rumor. This week's targets? Steve and Marjorie Harvey, who, according to the internet, allegedly faced infidelity in their marriage.
Small Town Horror Story: The Mississippi Burning of Three Anti-Segregationists
However, as we all have learned by now: just because something is posted on the internet, it doesn't make it 100% true. Such was this case with this unsubstantiated rumor, which alleged that Marjorie cheated on the Family Feud host with his bodyguard and personal chef. Despite there being no proof, the talk took off on X (the site formerly known as Twitter), but it wasn't too long before the couple got wind of it and decided to speak out about it.
In a video posted to TikTok, Steve addressed the crowd and the rumor at Invest Fest 2023 in Atlanta over the weekend:
"Before I get started, just let me say I'm fine. We're fine. I don't know what y'all doing but find something else to do because we're fine. Lord have mercy. Man, I ain't got no time for rumors and gossip. God's been good to me, I'm still shining."
And if that wasn't enough to clear the air, Marjorie herself hopped on Instagram to respond in a more direct manner, citing a Bible scripture and an article titled "How to Handle Being Lied About."
This is the website. My husband and I don't usually stop to address all the foolishness and lies that have been spread about us," she began. "However to whom much is given much is required. I understand that with my platform comes some sort of responsibility to those that may not be as strong as we are. Read and share this with your love ones that may not know how to properly cope. God Bless all of you."
Wow, a blessing instead of cursing out whoever started the rumor? A calm quote instead of a clapback? That's how you know the Harvey's are really above all the online foolery. Let that be a lesson to us to exercise our choice to disengage when we see something stupid going down and choose peace and responsibility over all.