Devon Franklin and wife Meagan Good spent their Valentine's Day at One Church in Los Angeles to promote their book The Wait, and to discuss how they coped with celibacy while dating. 
But what Franklin wasn't going to deal with during the question-and-answer portion of the service was anyone criticizing his wife because of her choice of clothing. 
"This is not offensive, but I was at the grocery store and I looked at a newsstand and I saw you, and you had your breast showing," one woman in the audience said. "So, so, I wasn't gonna come here, I wasn't, but the Lord brought me here to see you. You're beautiful. You are a beautiful young woman, and your testimony is awesome. It's awesome. Amen. Amen! And the Lord let me come and push past the judgment … because you have to make sure what you say and what you do match up, you understand? So we gonna cover up, right?"
You know, the minute someone starts a statement with anything similiar to "no offense," that there's bound to be offense. 
Of course Franklin wasn't going to let some random woman get away with telling his wife how to dress.
G/O Media may get a commission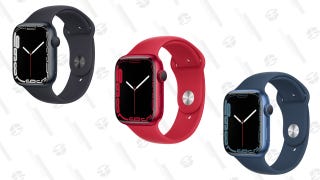 Up To $45 Off
Apple Watch Series 7
"Wait a minute. No … ! That is not what we're here for. She's not gonna cover up; she's going to wear what she wants to wear in the name of Jesus. Amen. Amen? Amen. … Yes, she will! God bless you, we love you, I love you dearly, but she has been as Christian as she … is right now when she wore whatever she wanted to wear, so … no, we ain't doing that!"
And also, don't forget where he's from.
"Y'all about to see another Devon that y'all ain't seen! Remember, I am from Oakland, now!" Franklin stated.
Take a look at the clip below at the 1:09 mark:
It's always a great day when you go to church, only to get judged by someone.