From the clubs to stages, Della Reese captured audiences with her melodic voice and ballads that crossed many genres, including jazz, blues and gospel. The songstress, who also displayed her talents as a character actress on TV and the big screen, died Sunday evening at age 86, People reports.

Born July 6, 1931, Delloreese Patricia Early grew up in Detroit with her steelworker father and her mother, a cook. Her mother had several older children, but they didn't live with the family. Early was 6 years old when she began singing in church, and by the time she was 13, Mahalia Jackson had hired her to sing with her gospel group.
A strong student, Early graduated from high school at age 15 in 1947 and went on to study psychology at Wayne State University. She also formed her own female gospel group, the Meditation Singers, and sang occasionally with famed gospel groups like the Clara Ward Singers and the Roberta Martin Singers.
After her mother died and her father fell seriously ill, Early left Wayne State and worked to help her family financially, from doing clerical work to driving trucks and taxicabs. Early was not convinced at this point that a singing career—especially one in gospel—was viable.
G/O Media may get a commission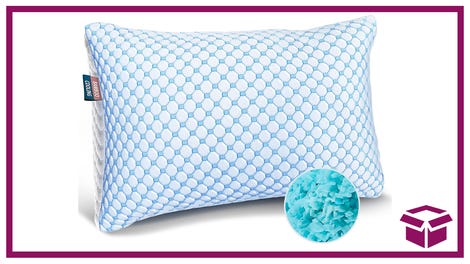 23% off
Nestl Cooling Pillow - Queen Size
It was during this time that she got a big break: performing at Detroit's popular Flame Show Bar for eight weeks. She was exposed to jazz greats such as Ella Fitzgerald, Sarah Vaughan and Billie Holiday. Delloreese Early shortened her name to "Della Reese" for the club scene.
In 1953 she moved to New York and landed a recording contract with Jubilee Records, with whom she made six albums. Among the songs she recorded with the label were "In the Still of the Night," "I've Got My Love to Keep Me Warm" and "Time After Time." That same year she joined the Erskine Hawkins Orchestra. In 1957 Billboard, Cashbox and Variety magazines voted her Most Promising Singer.
Reese moved on to RCA Records in 1959 and released the single "Don't You Know?" which was based on music from Puccini's opera La Bohème. The song reached No. 2 on the pop charts. The following year she released the album Della, which received a Grammy nomination. She continued to record during the 1960s, including The Classic Della (1962) and Waltz With Me, Della (1963).
In 1969 Reese became the first black woman to have her own television variety show, although the series was short-lived. The following year she became the first black woman to guest-host The Tonight Show Starring Johnny Carson. Over the next two decades, she pursued acting and appeared in a number of TV series and movies, including Roots: The Next Generations; Chico and the Man; The Love Boat; Sanford and Son, with her friend Redd Foxx; and 227, with close friend Marla Gibbs. In 1989 she starred with Foxx, Richard Pryor and Eddie Murphy in Harlem Nights—and stole the show in a hilarious fight scene with Murphy.
Reese had a number of health challenges over the years. In 1979 she suffered a brain aneurysm, from which she made a full recovery. She announced in 2002 that she had Type 2 diabetes and subsequently became a spokeswoman for the American Diabetes Association. Reese, who was married several times, adopted several children, including a daughter who died in 2002 from a pituitary disease.
Reese had a strong faith in God and maintained that without it, her success would not have been possible. She routinely included black spirituals in her nightclub performances. She also founded the Understanding Principles for Better Living Church in 1983 and became an ordained minister in 1987.
From 1991 to 2002, the actress starred as Tess on the inspirational television drama Touched by an Angel. As the supervisor among angels, she would send them out to help people redeem their lives and show God's love. Reese combined the series' uplifting message with a down-to-earth persona.
The show garnered her numerous awards, including seven NAACP Image Awards for outstanding lead actress. She was also nominated for several Emmy Awards and a Golden Globe. In 1994 Reese received a star on the Hollywood Walk of Fame. She was also one of 25 black female honorees at Oprah Winfrey's Legends Ball in 2005.
Reese published her autobiography, Angels Along the Way: My Life With Help From Above, in 1997. In it, she joyfully recalled the human angels who provided support and guidance—and miracles—in her own life.
Monée Fields-White is a freelance writer and editor based in Los Angeles.