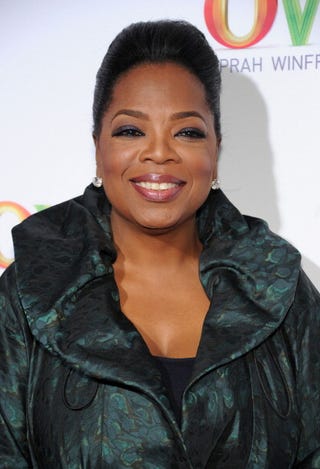 The end of an era has arrived. Talk-show host turned media mogul Oprah Winfrey is ending her run with The Oprah Winfrey Show, a talk show that literally changed the face of daytime television. The end of the talk show has brought up many memories, some of which she shared in an interview with David Zurawik, with whom she discussed the precariousness of her beginnings in Baltimore.
Although Lady O has shaken off the haters, it is clear that her experience left an indelible imprint on her professional career. While the world is focused on today, we're taking a look at yesterday. As Winfrey and her fans celebrate with an onslaught of celebrities, check out some of the tough challenges of the past that helped make Winfrey the titan that she is today.
Now everyone knows her name. But when the 22-year-old native of Kosciusko, Miss., arrived in Baltimore, her viewers were actually asked "What is an Oprah?" And they were stumped. When Winfrey recalls her Baltimore history, she talks about being "humiliated," "embarrassed" and "sexually harassed."

"Not all my memories of Baltimore are fond ones," she says. "But I do have fond memories of Baltimore, because it grew me into a real woman. I came in naive, unskilled, not really knowing anything about the business — or about life. And Baltimore grew me up."

There are easier ways to grow up than getting publicly fired, after a big buildup, within months of starting a new job in a new town. But that's what happened to Winfrey, who began near the top of the local TV news food chain as co-anchor of WJZ's 6 p.m. weekday newscast with the legendary Jerry Turner. Winfrey's seven and a half months in that co-anchor chair amounted to the first and worst failure of her TV career.

She doesn't dwell on it, and the overall story she tells about Baltimore ultimately fits the larger grand narrative of her career and life: Obstacles and pain encountered. Pain endured and obstacles overcome. A better, stronger Oprah emerging and going on to greater triumphs. But she doesn't pull any punches either about the outrage she still feels 34 years later at the sexism she encountered in Baltimore — and the way Turner and station management treated her.

Winfrey's best friend, talk show host and "O Magazine" editor Gayle King, insists that a sense of balance is crucial in judging the Baltimore years. It is true that they were tough emotionally and professionally in some ways for Winfrey, but good things happened here as well — like the community she discovered at Bethel A.M.E church, the lifelong friends she made at WJZ and the TV talk-show voice she ultimately found in front of the camera alongside a more supportive co-host in Richard Sher.

Winfrey met King in Baltimore while both were in their early 20s and worked at WJZ, and their friendship has been one of the mainstays of her popular talk show.
Read more at the Baltimore Sun.
In other news: Cornel West: The Fallout Continues Over Obama Comments.
Like The Root on Facebook. Follow us on Twitter.