"It was a very happy day for me [to be hired as a costume designer] because I've been a big Star Wars fan. … When I saw it, I was 6 years old and it blew my little mind."
These are the recollections of Glyn Dillon, half of the costume-design team on Solo: A Star Wars Story. Frankly, I know the feeling; I was almost that age when I was first introduced to the Star Wars franchise, and I've been a faithful follower ever since. My favorite? The Empire Strikes Back, which introduced us to a dashing new character, former-smuggler-turned-politician Lando Calrissian, played then by an even more dashing Billy Dee Williams.
In re-creating Calrissian's swagger for a new generation—and incarnation, now played by Donald Glover—Dillon, in partnership with David Crossman, looked to some iconic influences to dress the character. For instance: the pattern on Lando's black-and-white neck scarf? It was inspired by the lights of the Death Star corridor in the original 1977 Star Wars installment (now retitled A New Hope), a famously recognizable set for any fan of the franchise.
But that wasn't the only '70s influence Dillon and Crossman drew upon to dress the dandyish Calrissian, as Crossman told the Star Wars news site:
It wasn't quite just capes, capes, capes. ... We were looking at a lot of our favorite rock stars [like] Hendrix, Marvin Gaye. Glyn [Dillon] had a picture of Marvin Gaye with this leather collar with the detail, which we looked at for Lando. And I think the cape thing just kind of grew a bit because even in the original film, Lando, fair enough, he's always wearing a cape, but … we're doing this kind of young, aspirant Lando that's kind of using all his money to buy clothes and project himself.
Dillon also cited Prince and James Brown (obviously) as major inspirations for Calrissian's rock-star style, saying, "He's dressing for the job he wants, not the job he has."
G/O Media may get a commission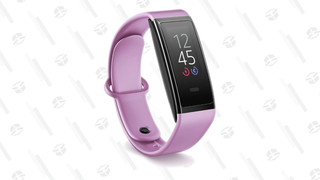 44% Off
Amazon Halo View Fitness Tracker
Other retro influences and homages made it into Calrissian's wardrobe, too, as the team gave a well-deserved nod to the Star Wars franchise's original conceptual designer and illustrator Ralph McQuarrie while creating the print for the golden Hawaiian-inspired shirt that Calrissian wears when he and Han Solo first meet over a card game in Solo: A Star Wars Story. As Dillon explained to Vogue:
The scene was set on a warm-weather jungle planet, so we thought it would be quite funny if it were a Hawaiian shirt—something Donald could get away with, but others couldn't. ... [McQuarrie] was really the originator of Star Wars art, so finding a picture that had never been used and taking its [print] with the suns and water underneath felt appropriate.
Of course, even this warm-weather style statement is paired with one of Calrissian's classic capes—this time, in a post-Memorial Day-appropriate white. Because while it wasn't "just capes, capes, capes," Dillon and Crossman made sure the accessory remained a staple in Calrissian's wardrobe, even filling the character's fictional closet with an array of options, as Dillon told Vogue:
The main capes were the sort of black short cape, and then the fur for the cold weather, then the white warm-weather cape at the end. They were all very fun to do and fit with the character. ... We wanted as much variation in color and texture as possible, a few prints, shoes and accessories just to try and make it the ultimate wardrobe.
The ultimate wardrobe for the ultimate fly guy. While, in our estimation, there will only ever be one Billy Dee Williams (no shade to Donald), if Solo's prequel-version Lando Calrissian is dressing for the job he wants, he's well on his way.
It's gotta be the capes.