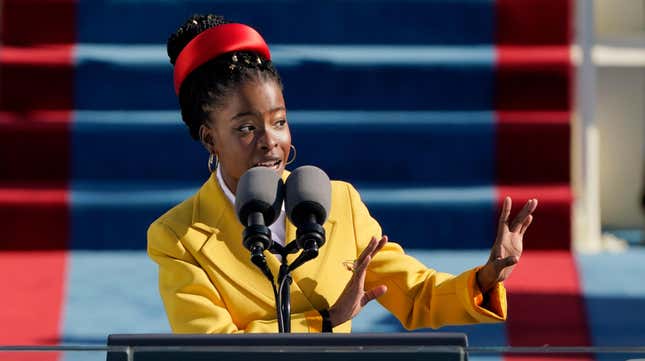 Daily Salinas, a mother in the Miami-area whose complaint about "The Hill We Climb" by Amanda Gorman got it successfully restricted in an elementary school, confessed she did not read the piece she objected to in its entirety. According to Salinas, the poem "is not educational and have indirectly [sic] hate messages." Gorman's work, which was performed at President Biden's Inauguration in 2021, wasn't the only thing Salinas complained about.
Republican-Led Political Expulsions Like In Tennessee Will Be The New Norm
According to the Florida Freedom to Read Project, Salinas—whose two children attend The Bob Graham Education Center in Miami Lakes—also came for "The ABCs of Black History," "Cuban Kids," "Countries in the News: Cuba," and "Love to Langston" for including "references of critical race theory," "indirect hate messages" and "gender ideology and indoctrination."
In an interview, Salinas tried to justify her ignorance of the material. "I'm not an expert," she said. "I'm not a reader. I'm not a book person. I'm a mom involved in my children's education." In addition to being admittedly dense, Salinas has also promoted antisemitism on social media and attended rallies featuring members of the Proud Boys.
Even though she has Cuban heritage, the Florida parent used thinly veiled bigotry as an excuse to further oppress other marginalized groups. Sadly, the fact that she stripped her claims of any validity by not reading the material didn't phase her in the least. The same can be said of Emily Conklin, another Florida parent who complained about the Disney film "Ruby Bridges" being shown in her child's classroom because she believed it teaches that white people hate Black people.
The film was temporarily banned at North Shore Elementary in St. Petersburg, though Conklin admitted that she never finished the film (she only watched the first 50 minutes of the movie). Ron DeSantis' Florida governorship has emboldened white supremacist ideology for conservatives who don't even consume material they claim to be dangerous to their children. His newly announced presidential run will only work to deepen this dystopia.
The right vehemently has attacked anything they deem "woke," though they have repeatedly failed to define what it even means. As the GOP sharpen their claws and gear up try to take over White House next year, instances like these remind us that they will never rely on reason, intelligence or principle when it comes to policy and legislation. It will always thrive on hate, discrimination and racism—pillars that have upheld the party since its inception.