Allan Guei, a star player on the Compton High School basketball team in California, won $40,000 toward college expenses in a foul-shooting contest for top students in March. Now, after learning that he's been awarded a full basketball scholarship to Cal State Northridge, he's announced that he'll give his contest winnings to the seven runners-up, who he says need the money more than he does.
"They were all smart and wanted to pursue their dreams but were having financial difficulties," the 18-year-old told the Los Angeles Times. "I felt it was the right move to help the others, especially when everything else was taking off for me."
The event was organized by Court Crandall, a partner at a Southern California advertising firm and a Hollywood screenwriter, who hoped that it could bring positive attention to a community with a troubled reputation and create a sense of community spirit. "I thought the free throw is a good metaphor in a world where there's a bunch of lines that are kind of dividing us," Crandall said. "The focus became, how do we show the world another side of Compton, that's more positive, beyond the stereotypical guns and crime stuff."
To participate in the contest, students were required to have a GPA of 3.0 or above. Eight contestants were chosen at random from a group of 100 applicants. Thanks to Guei, each of the seven runners-up, some of them the first in their families to attend college, will now receive roughly $5,500 toward their expenses.
"I've already been blessed so much, and I know we're living with a bad economy, so I know this money can really help my classmates," he said in a release from the school. "It was the right decision."
G/O Media may get a commission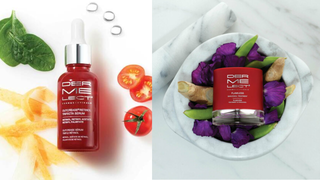 Save $19
Retinol Renewal Kit
"My hope was that what started as a competition would become a collaboration with the kids supporting each other," Crandall told the Times. "They did, but in the end they did that to a much greater extent than I ever could have anticipated."
The students participating in the competition were filmed as part of a documentary that is scheduled to be released this fall. In a story about a contest designed to teach kids about community spirit, it's clear that one of the young stars was already an expert.
Read more at the Los Angeles Times and Rivals High.
In other news: DSK Maid Calls Tabloid Out on Hooker Charge.