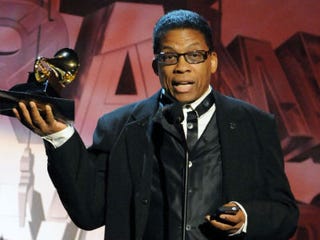 The Recording Academy's decision to drop 31 categories from the Grammy Awards, including many ethnic music categories, has led an entertainment-industry coalition to call for a boycott of CBS and hire a lawyer to explore legal action, the Associated Press reports.
"We will ask people to stop watching CBS, boycott their sponsors and then write them," said Bobby Sanabria, a Grammy-nominated Latin-jazz musician and the leader of the coalition, in an interview Wednesday night. "We're at a critical juncture."
Herbie Hancock, Paul Simon and Bill Cosby are among those who have criticized the changes. They have also gotten attention from organizations like the National Institute of Latino Policy, which issued a statement Thursday in support of Sanabria's coalition.
Sanabria has called the academy's decision racist, and he's hired an attorney. The academy said that it would not comment on a hypothetical lawsuit and said there "is no basis for any kind of legitimate legal claim." While we have to agree that it's hard to imagine any cause of action based on the elimination of award-show categories, hopefully the nonlegal pressure will be effective in making sure talented artists of all varieties have a chance to he honored. 
Read more at BlackAmericaWeb.
In other news: Freedom for Man Who Shot Cop in Racially Charged Mistake.