CNN on Wednesday canceled the political talk show "In the Arena" with Eliot Spitzer, filling his 8 p.m. time slot with Anderson Cooper's "AC360" and unveiling a fall lineup that includes a new general news program with Erin Burnett, formerly of CNBC.
The lineup includes no journalists of color. 
When the former New York governor was named a year ago, the National Association of Black Journalists said:
"The company missed another opportunity to place a person of color in prime time. It just seems that cable news can never find diverse candidates who are good enough to meet their standards. We want to know your standards.
"Are you telling us that CNN could find no one better than an ex-politician who quit being New York governor after consorting with prostitutes to grace America's living rooms each night?"
In a June 21 "open letter," NABJ President Kathy Y. Times repeated, "The Big 3 networks and cable news channels have undergone a series of rare changes behind the desk. While the replacements are all seasoned journalists, what is glaringly missing in the flurry of changes is the failure to elevate African Americans to any of these positions."
G/O Media may get a commission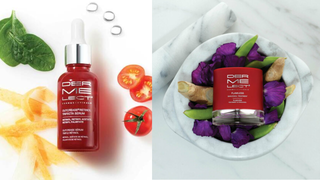 Save $19
Retinol Renewal Kit
Last year, former anchor Rick Sanchez left CNN after his complaints about the lack of anchors of color on the cable shows were quickly overshadowed by his remarks about Jews in the same interview.
However, it appears that CNN was not ready to award a prime-time slot to a journalist of color or to prepare one for the next available slot.
In Wednesday's announcement of its new evening lineup, CNN said, "Beginning Aug. 8, CNN will broadcast its flagship nightly news program 'AC360,' anchored by Anderson Cooper, live at 8pm and re-air it in its current timeslot of 10pm.
"In the fall, CNN will premiere a new general news program with Erin Burnett, which will air at 7pm ET and re-air at 11pm ET. 'Piers Morgan Tonight' will continue to air at 9pm and 12am ET."
" 'John King USA' will kick off the evening at 6pm. 'The Situation Room' with Wolf Blitzer will continue as a two-hour daily program, airing in a new timeslot of 4-6pm. 'CNN Newsroom' will now air from 9am-4pm. . . ."
"With the new scheduling moves made by CNN, the channel is effectively ceding 10pmET to FNC and MSNBC by running a repeat of 'AC360' in the hour," Alex Weprin wrote for TVNewser. "When news breaks, it is a safe bet that Cooper will be covering it live at 10, but on more typical days, it looks as though CNN will be the only cable news channel on tape at 10 PM. Even CNN sister network HLN has original programming in the hour with Joy Behar."
Ken Jautz, executive vice president, CNN/U.S., said in a news release, "The new line-up showcases anchors who are experienced reporters in covering stories that span the globe.
"We created a nightly schedule that brings together the best of CNN's journalism on a wide range of topics from politics and the economy to global and world events, as well the best newsmaker and celebrity interviews. This line-up ensures viewers access to the best of what CNN has to offer whenever they tune in at night."
The release made no mention of Spitzer, but according to Chris Ariens of TVNewser, Spitzer gave this response via his publicist: "We engaged serious people in conversations about national and global issues in a way that was informative and challenging. I believe that we provided diverse and valuable perspectives during the show's tenure. I thoroughly enjoyed my time at CNN."
In February, CNN announced it was dropping Washington Post columnist Kathleen Parker as Spitzer's co-host and renaming the show "In the Arena." However, the move failed to sufficiently boost ratings.
Parker had been the latest in a series of white women in the slot, following Campbell Brown and Paula Zahn.
Last year's appointment of Spitzer prompted a story by Rachel Sklar in the online magazine the Daily Beast, "The Unbearable Whiteness of Cable."
"CNN just announced two new hosts for the 8 p.m. prime time hour recently vacated by Campbell Brown: Eliot Spitzer and Kathleen Parker," Sklar began.
"Last week, MSNBC announced that the new host for its 10 p.m. prime time show would be network staple Lawrence O'Donnell. What do these three people have in common (and thankfully for O'Donnell and Parker, it's not being caught with your socks down with a prostitute)? Pretty obvious: They're white.
"They're white like Chris Matthews is white, like Bill O'Reilly is white and Keith Olbermann is white, like Wolf Blitzer is white and Megyn Kelly is white and John King is white and Ed Schultz, Greta Van Susteren, Jake Tapper, Joe Scarborough, Bob Schieffer, David Gregory, Chris Wallace, Rachel Maddow, and Dylan Ratigan are white, not unlike the lion's share of their guests."
Despite the absence of weekday anchors of color in prime time, CNN has been commended for its diversity in other areas. In January, Mark Whitaker, a black journalist formerly an executive at NBC and at Newsweek, was named to the newly created position of executive vice president and managing editor, reporting directly to Jim Walton, president of CNN Worldwide.
* David Folkenflik, NPR: New CNN News Chief Takes Stock
Johnson Publishing Co., publishers of Ebony and Jet magazines, announced Wednesday that JPMorgan Chase's Special Investments Group will become an investor and part owner of the company, which also produces Fashion Fair Cosmetics.
It is the first time in the company's 69-year history that it will not be fully family-owned. CEO Desiree Rogers told Journal-isms that JPMorgan Chase would have only a "minority stake," with a presence on the Johnson Publishing board.
It was "very important that the company remain minority-owned," she said. She declined to describe the stake as "substantial," as the Chicago Tribune did.
Rogers would not disclose the amount from JPMorgan Chase but said it "gives us the capital to move forward with the plans we've been working on — the continuing "rebranding" of Ebony, which includes remaking the magazine's digital platform; rebranding the pocket-sized Jet magazine, as it did with Ebony; and marketing the Fashion Fair cosmetics line more effectively.
"We don't think we could have found a better partner," Rogers told Journal-isms in a telephone interview from New York. She said the First National Bank of Chicago, a predecessor to JPMorgan Chase, provided one of Johnson Publishing Co.'s first bank accounts.
Rogers also disclosed that the company is looking for a new director of corporate communications and for marketing department employees. Rodrigo A. Sierra, the senior vice president and chief marketing officer who was Rogers' first appointment as CEO last August, left in mid-June to form his own company, she said.
She said the company was "busily finalizing" arrangements for new offices in Chicago. The company announced in November it was selling its historic headquarters on South Michigan Avenue but would remain in the space for 18 months.
In addition, Ebony and Jet, which have weathered declining circulation, have achieved their "rate base," the circulation guaranteed advertisers, Rogers said. However, in Jet's case, the guarantee was lowered from 900,000 to 800,000. Ebony's circulation stands at 1,250,000, she said.
Circulation has been outsourced to the New York firm Shain & Oringer, which describes itself as a "full service marketing solution company." "They have really whipped our department into shape," Rogers said.
In the fall, the New York Times wrote about the ability of Rogers, a former White House social secretary under President Obama, to navigate the New York social and fashion scenes. Asked what new advertisers she had attracted, Rogers named Revlon for Ebony, Sprite for Ebony and Jet, Oscar de la Renta for Ebony, and a fashion company based in Amsterdam.
In Wednesday's news release, Greg O'Hara, head of the Special Investments Group, said, "We are delighted to partner with our client Johnson Publishing Company, with which we have worked for more than 40 years. This investment demonstrates our commitment to Johnson Publishing's iconic brands, which have stood the test of time."
Linda Johnson Rice, chairman of Johnson Publishing Co., said, JPMorgan Chase's "investment in our firm is a logical outgrowth of our longstanding relationship. It positions Johnson Publishing for continued growth as a family-owned publisher of the Black community's most-trusted media brands by providing financial resources to take our iconic EBONY and JET magazines to the next level and accelerate our growth strategy for Fashion Fair Cosmetics."
According to Crain's Chicago Business, "Johnson Publishing is one of the biggest minority-owned firms in the Chicago area, with revenue of $200 million in 2009, according to a Crain's list published in November." The company has about 125 employees, down from 250 at the end of 2009."
Tuesday's surprise verdict from Orlando that Casey Anthony was not guilty of murdering her 2-year-old daughter, Caylee Anthony, was followed by predictable but valid questions about the role of race and class in what became a national cable television soap opera.
Not just people of color were raising the questions. Howard Kurtz wrote in the Daily Beast:
"Sadly, many children are killed by parents in the United States each year, and most barely merit a short story in the local paper. If they're African-American, they are barely on the radar. Casey Anthony is white, middle-class and attractive — the trifecta for producers and bookers."
Kiri Blakeley of Forbes magazine didn't wait for the verdict, writing on June 28:
"In September of last year, four-year-old Marchella Brett-Pierce was found beaten and starved to death in her Brooklyn home. She'd been tied to her bed and weighed only 18 pounds. Her mother and her mother's boyfriend, her grandmother, and even two child welfare workers who had falsified visitation documents were all arrested. Katie Couric did a small piece on it for CBS News, but there was no national outcry along the lines of what Caylee Anthony is getting."
The 4-year-old was African American, and Blakeley went on to list similar crimes with African American victims.
Others saw similarities with the unpopular verdict in the 1995 O.J. Simpson criminal trial. "The parallels are that there's a trial that gripped the nation, compelling personalities involved, a good-looking person whose behavior certainly looked guilty and attractive & sympathetic victims," wrote Cheryl Contee, who uses the pen name Jill Tubman, on jackandjillpolitics.com.
". . . The reaction to the Casey Anthony case, however, is universal. Mothers of all races had trouble understanding Casey's behavior and most Americans seem to link Casey's lies with someone guilty of…something."
The website mun2.tv, part of NBCUniversal-owned Telemundo Cable, presented a slide show, "the Casey Anthony murder trial: a tale of two Latinos."
One of the two was Zenaida Fernandez-Gonzalez, a nanny whom Casey Anthony originally accused of kidnapping Caylee. The other was lawyer Jose Baez, Casey Anthony's key defense lawyer. Carolyn Salazar profiled Baez for Fox News Latino.
For added African American interest, Rhetta Peoples of the Florida Sun wrote about Chief Judge Belvin Perry Jr. of the Ninth Judicial Circuit Court in May.
On theGrio.com, under the headline "If Casey Anthony were black would the verdict be different?" Imani Perry urged readers to look at the case more broadly:
"We don't serve the interests of children or racial equality by being angry that Anthony wasn't convicted of murder. We better serve the interest of children to use this case to think about how we reorganize child welfare and public education to better protect and nurture kids and their families," Perry wrote.
". . . These are all forms of violence against children in a country as wealthy as ours. With our casual acceptance of gross inequality and poverty, the United States creates perpetrators and victims every single day."
* Chris Ariens, TVNewser: Millions Turn to News Websites for Casey Anthony Verdict
* Emma Bazilian, adweek.com: Casey Anthony Trial Blows Up Social Media: Twitter and Facebook erupted over Tuesday's verdict
* David Bauder, Associated Press: Anthony lawyers blast cable news after acquittal
* Yvette Caslin, rollingout.com: Baby Fund Calls Casey Anthony Not Guilty Verdict a War Against Children
* Eric Deggans, St. Petersburg (Fla.) Times: Did continuous negative media coverage of Casey Anthony actually help her get acquitted?
* Eric Deggans, St. Petersburg (Fla.) Times: As Casey Anthony jury deliberates, some lessons for news media (July 5)
* Joe Flint, Los Angeles Times: HLN to face withdrawal symptoms from Casey Anthony verdict
* Michael Malone, Broadcasting & Cable: The Day After: Casey Anthony Still Commanding Orlando Airwaves
* Kimberly Nordyke, Hollywood Reporter: Casey Anthony Trial: Televised Video of Defense Team Celebrating at Restaurant Criticized (Video)
* Aarti Shahani, ProPublica: Casey Anthony Trial Shows the Limits of Forensic Science in Proving How a Child Died
* Lucas Shaw, the Wrap: The Casey Anthony Trial: How Nancy Grace Launched a Media Frenzy
* Armstrong Williams blog: No Justice, No Peace of Mind
* David Zurawik, Baltimore Sun: Are Nancy-Grace-led media as vile as Casey Anthony lawyer claims?
"Obama administration officials believe that Pakistan's powerful spy agency ordered the killing of a Pakistani journalist who had written scathing reports about the infiltration of militants in the country's military, according to American officials," Jane Perlez and Eric Schmitt reported Monday for the New York Times.
"New classified intelligence obtained before the May 29 disappearance of the journalist, Saleem Shahzad, 40, from the capital, Islamabad, and after the discovery of his mortally wounded body, showed that senior officials of the spy agency, the Directorate for Inter-Services Intelligence, directed the attack on him in an effort to silence criticism, two senior administration officials said."
Imran Gardezi, spokesman for the Pakistani embassy in Washington, said on Tuesday, "The report is highly speculative as it is based on suggestions by unnamed sources — it appears to be part of an ongoing campaign [targeting] the Pakistani intelligence agency ISI," the Associated Press of Pakistan reported.
"A report on the CBS EVENING NEWS WITH SCOTT PELLEY (6:30 p.m., ET) which was broadcast on Tuesday, June 28, has prompted the White House to change a policy regarding military families," CBS News announced on Tuesday.
President Obama cited an 18-month review in ordering the change, the New York Times reported. The Times gave CBS credit only for first reporting that the policy would be changed.
CBS said that correspondent Elaine Quijano, who is of Filipino background, "reported that under a decades-old policy, some military families whose loved ones died while serving their country did not receive condolence letters signed by the President.
"Previously, military families who lost relatives in war zones, either in combat or in accidents, received a signed letter from the President. But families of those who committed suicide or were killed in stateside training accidents were not sent a letter.
"Quijano spoke to Gregg Keesling, a military father who did not receive a letter from President Obama after his son's suicide in Iraq in 2009. Since then, Keesling has been fighting to get the government policy changed.
"Today, CBS News has learned the President will now send letters to all military families who have lost loved ones in the war theater, including the families of suicide victims."
According to the Times, the policy "will apply only to troops who commit suicide in officially designated combat zones, mainly Afghanistan and Iraq. The letters will differ from those sent to troops killed in combat, though the White House declined to say precisely how."
Thirty-six female journalists and researchers who have lived and worked in Haiti have signed an open letter protesting an article in Good magazine about sex and their native country.
"GOOD magazine recently ran a piece written by Mother Jones reporter Mac McClelland in which she details her disturbing experience in Haiti, subsequent PTSD, and her healing process," the letter reads. "The crux of her story — that engaging in violent sex helped aid her recovery — is deeply personal, complicated, and unsettling. But so is PTSD, and recovery is never simple," it continues, referring to post-traumatic stress disorder.
"For all of its raw honesty, however, there's a real issue with the article: a lack of context. In absence of any real details about McClelland herself, it is all too easy to conclude that it was Haiti itself that pushed her over the edge. The dark and violent imagery she uses only serves to further that conclusion."
The letter ran on the jezebel,com website.
On the atlanticwire.com site on Saturday, Elspeth Reeve defended McClelland in a piece headlined, "Reenacting Rape Is Fine, Just Don't Call Haiti a Hellhole."
Marjorie Valbrun, one of the 36 who signed the open letter, wrote a response first on slate.com, then Sunday on the Root website that portrayed the story in racial terms: "I'm betting that this self-promotion-as-therapy angle will get her a book deal in no time because, after all, there aren't enough books out there written by white journalists 'undone by black people's tragedies,' as one friend put it."
Writers to the comments section of each website joined in the debate.
* "More than 422,000 people took part in the 2011 Essence Music Festival held over the Fourth of July weekend in New Orleans," the Associated Press reported on Tuesday. "The festival featured performances by Mary J. Blige, Kanye West, Usher, Jennifer Hudson, Fantasia, Jill Scott, El Debarge, Chaka Khan and others." Jaquetta White added in the Times-Picayune, "Since the festival started in New Orleans in 1995 to celebrate the 25th anniversary of Essence magazine, it has become the bright spot in what usually is a slow time for the hospitality industry. The festival produces a $170 million economic impact, according to the city."
* "In marked contrast to the silence that surrounded former Current TV editor Euna Lee's detainment in North Korea in 2009, the author, mom of Hanna, and wife of actor Michael Saldate has been keeping her Facebook followers extremely well informed about the family's current cross-country trek," Richard Horgan wrote Tuesday for FishbowlLA. "The gang packed up their LA belongings at the outset of the holiday weekend and hit the road for New York City, where Lee is enrolled in the master's program in journalism at Columbia University."
* "Some days, when I read lists like Crain's New York Business '50 Most Powerful Women in New York' I feel that I must clearly live in a parallel universe," Mariela Dabbah wrote Tuesday for Fox News Latino. "Contrary to what you may conclude from reading the latest Crain's compilation, there are plenty of influential Latinas in New York City and they are not influencing only Hispanics," she wrote, then named too many to list in this space.
* Journalists who are busy building their "brand" could take a cue from filmmaker Spike Lee, who reflected on how he built his own Thursday as he received a lifetime achievement award from the PromaxBDA entertainment and marketing organization. Still, "for all his brand-building efforts, Lee says he still has difficulty getting movies made. Though he's been busy directing ad spots, he hasn't done a feature film in three years, he says, because he can't get the funding," D.M. Levine wrote Tuesday for adweek.com.
* Tribal Chairman Leonard Masten of the Hoopa Valley Tribal council in Humboldt County, Calif., last week informed Allie Hostler, interim manager of the Two Rivers Tribune, that her newspaper was to be shut down immediately. "The memo cited financial issues and disagreement over controversial articles," Kaci Poor reported for the Times-Standard in Eureka. But at a Friday meeting, "a first for some members of the council who were sworn in Friday — tribal members stepped forward to voice their support for the weekly newspaper." Rhonda LeValdo, president of the Native American Journalists Association, wrote, "The tribal council is illegally violating their rights by shutting down the paper. All journalists have a right to hold their own opinion without interference from the government."
* "Last fall, Arthur Chi'en thought his career as a TV reporter was over," Richard Huff wrote Tuesday for the New York Daily News. "In the hours after being yanked from a Halloween Parade float by a guy in a clown suit, Chi'en figured there was no way his battered face would be right for TV again. Turns out he was wrong, and thanks to help from friends, family and a talented surgeon, this week he returns to WPIX/Ch. 11 for the first time since that horrific accident."
* Baltimore students seeking travel expenses to Xiamen City, China, exceeded their goal of $5,000 by $66, Dean Lynes, who trains young people in broadcast production for the Baltimore City Public Schools, announced Wednesday. Six students from Baltimore's inner city who attend Carver Vocational Technical High School leave Thursday and plan to document their trip. More information at www.baltimoretochina.com.
* In Colombia, journalist Luis Eduardo Gómez, 70, who worked for two newspapers, was gunned down last week in front of his wife by two men on a motorcycle who had followed him to his home in the Arboletes neighbourhood of El Deportivo, Reporters Without Borders reported. "According to the Press Freedom Foundation (FLIP), the Reporters Without Borders partner organization in Colombia, Gómez had been investigating his son's 2009 murder and local government finances but had not received any threats."
Follow Richard Prince on Twitter .

Facebook users: "Like" "Richard Prince's Journal-isms" on Facebook.