Atlanta Black Gay Pride is a huge event every year, and one club promoter is accusing Chris Brown of bailing on a club appearance because of the number of gay men in attendance.
According to the Georgia Voice, Brown was scheduled to make an appearance at the Georgia Freight Depot nightclub during an event sponsored by Traxx Girls, a lesbian-owned-and-operated entertainment company. Traxx Girls owner Melissa Scott alleges that Brown never showed, even though he was paid a retainer. Scott says the reason Brown didn't show up was that among the 4,000 women in attendance, there were also gay men present.
"I think it's unfortunate for mainstream artists to take people's money with the complete prior knowledge of knowing what the event is and being very clear about what the event is about. I'm completely baffled. You know it's gay pride. You knew you agreed when you sent the contract in and took the money," Scott said.
Scott added that she knew something was going on, or not going on, when, after several text messages were exchanged with Brown's "people," it was already 2 a.m.
"I was being told to take his [Brown's] image down because he looks a little feminine in that image, an image that he took. As a promoter, I should be focused on my crowd. I had to send text messages of pictures of my crowd to say, 'There's nothing but girls in here, man,'" Scott continued.
G/O Media may get a commission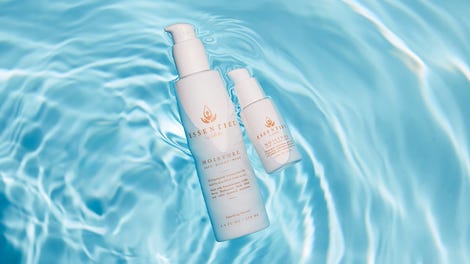 20% off
Essentiel by Adele
Brown, who was already in Atlanta performing on tour at Aaron's Amphitheatre at Lakewood, was not scheduled to perform at Traxx but was supposed to introduce singer Teyana Taylor, Scott said. Instead, due to what she says was Brown's last-minute change in plans, Scott secured Fetty Wap as the backup host.
"We called Fetty Wap, who is the hottest artist in the country right now, and he was five minutes away [from the venue], and asked him if he could come," said Scott. "He said, 'Hell yeah!' I said, 'It's a gay party. It's tons of people here.' He said he didn't care and was on his way."
Brown took to social media Monday to give his version of events, and responded that he wasn't officially booked for the show.
https://twitter.com/chrisbrown/status/640969216846204928https://twitter.com/chrisbrown/status/640969441333784576https://twitter.com/chrisbrown/status/640969714039001088
Well, it looks as though someone needs to show receipts confirming that Brown was paid a retainer, since he's saying he was never booked. And if homophobia was the actual reason Brown didn't show up, it definitely doesn't look good for someone who is always alleging that he's changing his image.