Charlotte-Mecklenburg, N.C., police insist that 43-year-old Keith Lamont Scott was carrying a gun and not complying with officers' orders when he was shot Tuesday afternoon, but why did police initiate contact with him in the first place?

According to the police statement, officers were at the Village at College Downs apartment complex to serve an outstanding warrant when they saw Scott. He was not the person they were looking for, but they saw that Scott was carrying a weapon when he exited his vehicle. After reportedly ignoring orders to drop his weapon, Scott was shot by Officer Brentley Vinson, a two-year member of the Charlotte-Mecklenburg Police Department.
In North Carolina, the open carry of a handgun is legal, and concealed carry is legal with a permit. In addition, the U.S. Court of Appeals for the 4th Circuit ruled in 2013 that police do not have sufficient cause to stop and search someone—or a person with that person—just because he or she is carrying a handgun.
In an interview with the Charlotte Observer, Gregory Wallace, a law professor at Campbell University in Raleigh, N.C., said that the 2013 case involved Charlotte police, too.
Six years go, officers stopped a group of men who were hanging out at a gas station. One of the men informed officers that he was legally carrying a firearm, and suspecting that the other men might be, too, police searched them. One of the men, Nathaniel Black, was charged with illegally carrying a handgun as a felon. His conviction was later overturned.
G/O Media may get a commission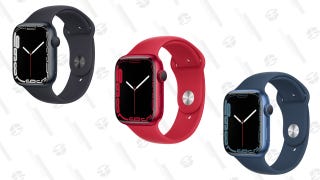 Up To $45 Off
Apple Watch Series 7
"The mere possession of a handgun does not give the police probable cause or reasonable suspicion to briefly detain you for stop and frisk," Wallace said.
Although there is body-cam footage of the shooting, the officer who fired the deadly shot was not wearing one. In a press conference Wednesday, Charlotte-Mecklenburg Police Chief Kerr Putney said that the department is still viewing video from the scene.
Putney said that it remains unclear whether Scott was pointing a gun at officers when he was shot, and added that no book was found at the scene of the shooting, contradicting reports on social media that Scott was carrying a book when he was shot.
"I can tell you we did not find a book that has been referenced to," Putney said. "We did find a weapon. The weapon was there and witnesses have corroborated it, beyond just the officers."
Can the police tell us why they were interacting with Keith Lamont Scott in the first place?