Isis strikes a pose. Couture, not commercial. Her face alone is vogue—café au lait, high cheek bones that say high-fashion. Her pouty lips prove to be the perfect accessory to her doe-eyed smile, catching the light at every turn and tilt of the head. Her long legs slice through the air with precision. She is graceful, composed; a tigress on the catwalk.
While she is not yet a supermodel—she has yet to hit the runways of Paris and Milan—Isis Tsunami is already a role model. A contestant on America's Next Top Model, the former program assistant is a pioneer, the face of the next American "minority." She is a woman who was once a man on a reality show featuring beautiful women.
As Top Model's first transgendered contestant, Isis, 22, joins a budding class of transgendered pioneers on reality TV, including Alexis Arquette of The Surreal Life, Claudia Charriez of The Janice Dickinson Modeling Agency, Calpernia Addams of TransAmerican Love Story, and as of August, I Want to Work for Diddy contestant, Laverne Cox—a small reality-TV army attacking and dismantling negatives stereotypes about transgendered people.
Isis had been source of intense online buzz since well before the show's season premiere on Sept. 3. Her mere inclusion in the Top Model cast generated tons of commentary on community-based Web sites like Reality TV Scoop, Zap2it.com, BuddyTV and the BET blog, Stay Tuned. A single 50-second preview of Isis on YouTube from the show's premiere has generated 42,873 views and 300 comments and counting. The reactions varied—some were supportive, others outraged. "I don't doubt she can rock high-fashion, but I can't imagine her selling CoverGirl or [doing] anything sexy to a man… because that is weird as hell…but she/he is kinda good lookin."
"She's beautiful. God bless."
"Just because you lose your penis and acquire breasts, it doesn't make u a woman."
G/O Media may get a commission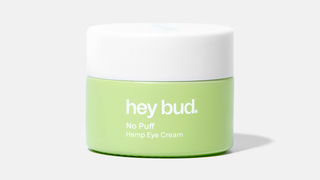 15% off
Hey Bud - No Puff Hemp Eye Cream
All the attention raises an obvious question: Is Isis just being used as a ratings booster? History certainly suggests that the answer is yes. Every season since its inception, Top Model has featured a cast member with a particular cause—Mercedes Yvette Scelba-Shorte of Cycle 2 had lupus, Amanda Swafford of Cycle 3 was legally blind and on-set drama ensued when Cycle 6 contestant Elyse Sewell was rumored to have an eating disorder. Many view Isis as this season's publicity ticket—a way to increase the show's hype, even if it means exploiting Isis in the process.
But if ratings were the ultimate goal, the show's producers were unsuccessful. This season's two-hour premiere was the lowest-rated since the series debuted in 2003. Despite what the actual numbers reveal, there is no denying that Isis has people talking. Being touted as a Top Model beauty is hard enough with viewers dissecting each contestant's appearance and personality, but add questions of identity to the mix and you've got a sure-fire controversy:
"What a joke! Either ANTM is female only or it isn't! Isis has a penis. How can he be allowed to enter! What a freaking joke!"
"She is a transgender WOMAN, not a man. She was born a man and transitioned to being a woman. Pretty simple."
Of course, it's not that simple. For example, when her fellow cast members learned of her transgender status, the responses ranged from supportive to indignation.
"Isn't this supposed to be a girl competition?" said one. "How did you get through the door?"
Another brazenly announces, "I'll stomp that man right out of the competition."
Carrie Davis, transgender community organizer and director of adult services at the Lesbian, Gay, Bisexual & Transgender Community Center in Washington, D.C. asserts that "there is an exploitative element" to the way transgendered people are depicted on television. "Reality television will do whatever it can to see if it can entice the viewer, and transgender people will be on reality television as long as they're seen as controversial and interesting."
The inclusion of transgendered people on reality shows—exploitative or not—has been a recent trend in American television. Alexis Arquette was the first—a transgendered woman, celebrity figure and cast member of VH1's Surreal Life during the show's 2005 season. And earlier this year, the Logo channel, a subsidiary of MTV geared toward the gay, lesbian, bisexual and transgender (GLBT) community premiered the first American reality show with a transwoman (Calpernia Addams) as the leading lady.
Of the small group of transgender reality stars, Laverne Cox and Claudia Charriez are definite standouts. As women of color, they have each, in their own way, pushed the envelope in transgender diversity. By competing to be an assistant to music mogul Diddy on I Want to Work for Diddy, Laverne became the first black transgendered person on reality television. Prior to Laverne's breakthrough appearance, Claudia auditioned to become a model for Janice Dickinson, appearing on the first season of the Oxygen network show.
Although Laverne and Claudia were unsuccessful in their reality endeavors (Laverne lost the contest, Claudia never got signed), they were successful in opening doors for other transwomen looking to redefine standards of beauty.
Enter Isis.
Originally from Prince George's County, Md., Top Model producers found Isis in an NYC assisted living program for homeless youth. She was asked to pose with other models in a photo shoot geared toward raising awareness, and it was at the photo shoot that Isis caught everyone's eye. She stood out from the fringe with a fierceness all her own and, at times, even outshined the actual contestants of cycle 10. When it came time to cast for this season's cycle, producers couldn't forget her. Now, many viewers won't be able to forget Isis either.
"To just see her standing there in public, head up high, knowing she's being used as a publicity stunt, makes me think: It doesn't matter. The world is seeing her, and she is DAMN proud of what she has achieved just believing in herself."
The extent of her achievements has yet to be determined, but ultimately, how others represent Isis is less significant than how she represents herself.
Perhaps, like any minority model, it only matters that she represent, period.
Saaret E. Yoseph is a writer living in Washington D.C. and editorial assistant for The Root.
Saaret Yoseph is a writer and Assistant Editor at TheRoot.com. She manages and blogs for \"Their Eyes Were Watching …\"