The Root honored the 2011 class of The Root 100 at the Andrew W. Mellon Auditorium in Washington, D.C., on Nov. 5. Mayors, policymakers, musicians and media stars gathered to celebrate one another and their achievements. Here, The Root 100 honorees in attendance pose with Deputy Editor Sheryl Huggins Salomon and Publisher Donna Byrd.
Managing Editor Joel Dreyfuss talks to honoree Audie Cornish of NPR and her husband, Theodore Emery, as guests arrive for the evening, which included dinner, dancing and an awards presentation.
G/O Media may get a commission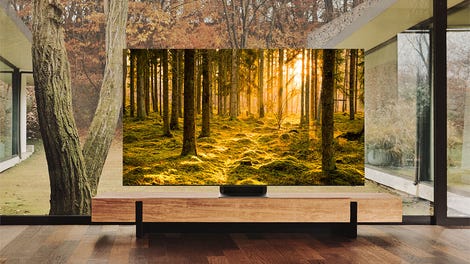 Up to 40% off
Samsung Smart TVs
Denmark West, president of digital media at BET and a 2011 member of The Root 100, happily greets musician Frederic Yonnet, a 2009 honoree.
Comedian and blogger Baratunde Thurston (The Root 100 2011), Cheryl Contee (The Root 100 2009) and Adam Serwer (The Root 100 2011) joke before dinner.
Benjamin Jealous, president of the NAACP and one of the night's honorees, speaks about the importance of activism.
The Root 100 2011 honoree Beverly Bond, founder of Black Girls Rock!, warns an audience of influencers that there is still a lot of work to be done in the black community.
Joshua DuBois, director of the White House Office of Faith-based and Neighborhood Partnerships and a 2011 honoree, talks about black fatherhood.
The Root presented The Root 100 award to the honorees in attendance.
The Root 100 2011 honoree Jesse Holland, Supreme Court reporter for the Associated Press, accepts his award from Sheryl Huggins Salomon.
Atlanta Mayor Kasim Reed shakes hands with Joel Dreyfuss as he receives his award.
Bittersweet news! Publisher Donna Byrd announces that Joel Dreyfuss is stepping down and Deputy Editor Sheryl Huggins Salomon will succeed him as managing editor.


Guests enjoyed French press Starbucks Reserve coffee after dinner.
A guest; Cheryl Contee, co-founder of Jack & Jill Politics; and Rashad Robinson — executive director of ColorOfChange and a 2011 honoree — chat.
Columbia, S.C., Mayor Steven Benjamin (right), a 2011 honoree, poses with his wife, Deandrea, and Yebbie Watkins, a 2009 honoree.
Drinks at the bar were provided by Ciroc, Heineken and Root: 1 wine.
Honorees Maya Rupert, federal policy director for the National Center for Lesbian Rights, and Adam Serwer, a reporter for Mother Jones, pose with their guests.
Rep. Andre Carson (D-Ind.) with his award.
Jamal Simmons — a 2011 honoree — and Ayanna Dunn dance to the musical stylings of DJ Adrian Loving.
The Root's editorial intern Joshua Weaver with The Root's Washington reporter, Cynthia Gordy, and Joel Dreyfuss.
The Rev. Raphael Warnock, senior pastor at Ebenezer Baptist Church in Atlanta and an honoree, with The Root's editorial intern Maquita Peters.
Patrice Webb of Heineken with Sonjay DeCaires.
Donna Byrd (right) with Angela Rye, a 2011 honoree and executive director of the Congressional Black Caucus.
The Root's editorial team: Associate Editor Lauren Williams, Assistant Editor Akoto Ofori-Atta, Sheryl Huggins Salomon, Joel Dreyfuss and Cynthia Gordy.
Zachary Jackson of the UniWorld Group with The Root's national sales manager, Michael Clark; Maci Peterson, marketing strategist for The Root; and Adrian Loving.
Pollster Cornell Belcher and CNN anchor Suzanne Malveaux hold up their The Root 100 awards as they pose with CNNPolitics.com's editor, Bryan Monroe, and Donna Byrd.
Omar Wasow (right), who devised the algorithm used to rank this year's The Root 100, with honoree Adam Serwer.
The Root's volunteer team handed out gift bags, which included books and music from our multitalented honorees.